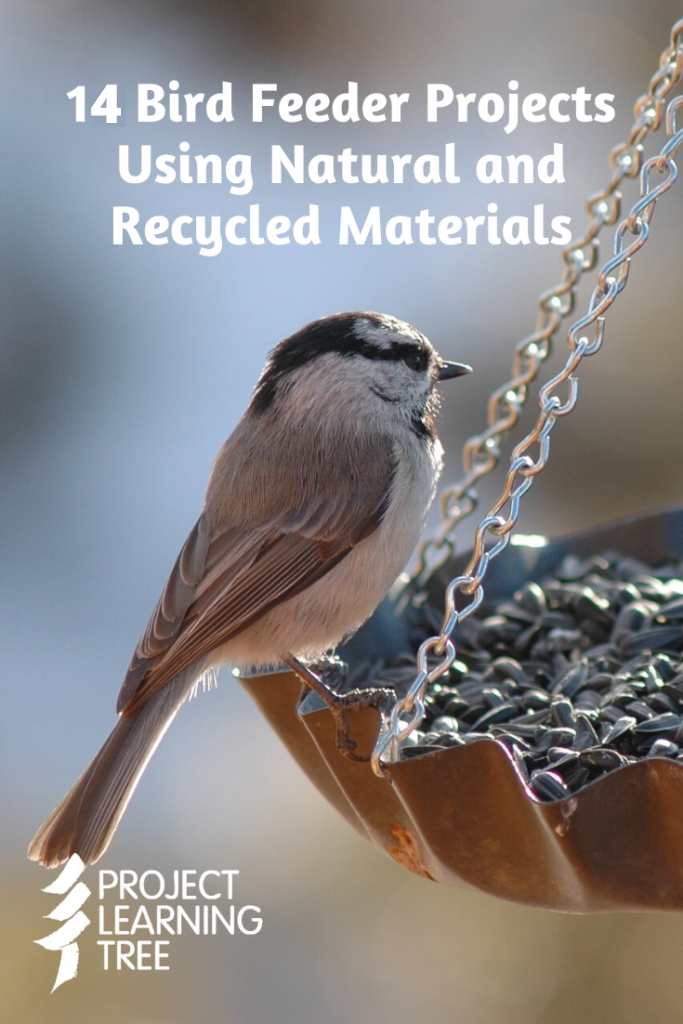 Birds are incredible animals vital to local ecosystems. But the population of wild birds across the Northern Hemisphere has declined by 29% over 50 years, and they could use some help. Feeding wild birds in your area is not only helping your avian friends, but it can also be incredibly fun for your class to create and observe their handiwork in action. Especially in the winter months in colder climates, bird feeders provide an extra source of much-needed energy when food is scarce.
This article covers 14 DIY bird feeder arts and crafts that will be sure to attract plenty of feathered friends for classroom excitement and observations.
While there are many benefits to bird feeding, there are also some risks to wildlife that we should all be aware of, such as an oversupply of food (which may cause birds to rely on artificial feeding and negatively impact their ability to find other food sources).
Bird feed may also favor invasive species such as European starlings and house sparrows, and feeders can inadvertently attract feral and outdoor cats (a leading cause of declining numbers of birds). If you plan to use a feeder with children, you should also be aware that bird and window collisions are more common near feeders—it's best to place your feeder away from buildings to reduce this risk.
While there are concerns about using bird feeders, there are also many benefits! When children take responsibility for a bird feeder, it can help educate them about the wildlife in their community and foster an early appreciation for nature.
If you plan to try some of these feeders with children, take the necessary precautions, and consider using the following activities found in PLT's Explore Your Environment: K-8 Activity Guide to help children look and listen for signs of birds, research their habitat needs, and develop a plan for attracting them to their backyard, schoolyard, or other outdoor setting:
Backyard Safari
Birds and Bugs
Have Seeds, Will Travel
Helpful Tips and Resources for Feeding the Birds
Support Declining Species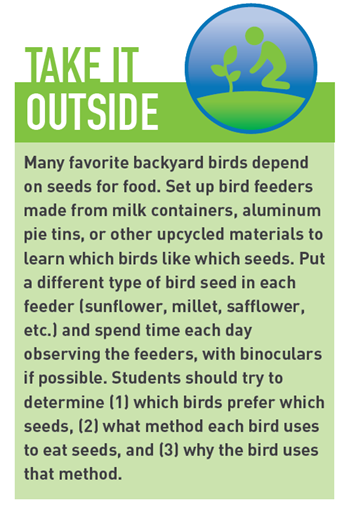 If your class wants to support the 12 families of birds that make up more than 90 percent of the declining North American bird population such as sparrows, finches, warblers, and blackbirds, find a local declining species you'd like to support here. Next, discover the type of food your species prefers and confirm whether their territory includes your location and during what times of year by visiting the online Audubon Guide to North American Birds. You can also visit Cornell's Project FeederWatch for useful information on which types of bird feeders and foods certain species are drawn to.
Make a Plan to Maintain the Feeders
Read about how to promote a safe feeding environment for your local birds by visiting Cornell's Project FeederWatch before setting up your bird feeder. When potentially altering any natural ecosystem, it is always best to do so responsibly. Prevent avian illnesses by learning how to clean your feeders on a regular basis and consider creating a plan to deter larger predators from your feeders.
Make sure that you clean all bird feeders regularly and limit the number of feeders in an area (space them appropriately) to prevent infections and disease outbreaks among visiting birds. Be sure to research bird morbidity in your area to determine if local officials recommend discontinuing bird feedings before you purchase and set up your feeder.
Prevent Nearby Glass Collisions
Collisions with glass are very dangerous to birds, causing up to 1 billion deaths each year in the U.S. alone. Whether you use tape, paint, or film, research and install a few inexpensive and easy solutions to reduce bird-window collisions.
Avoid Allergens
Avoid using certain food items, including nuts or seeds, if the children you work with could be allergic to them. Look out for peanut and sesame seed allergies, in particular.
Resources for Observing Birds
Pick up a physical copy of one of the bird guides recommended by the National Audubon Society for your observations or visit the online Audubon Guide to North American Birds for comprehensive information about identifying different bird species.
There are many free apps like Audubon Birds Guide: North America, The Sibley eGuide to Birds, iBird, National Geographic Birds, Peterson Birds, or Merlin to make identifying bird species easy with ID tips, facts, audio, photos, maps, and more–all available with the scroll of a finger.
Also consider signing your class up for Project FeederWatch's citizen science program and report the number of birds you see from November to April to contribute to citizen science research! Or record your observations in the BirdLog app.
Feeders Made With Recycled and Found Objects
Your class can make bird feeders out of most household products or found objects with a little creativity and some STEM skill practice. Bottles, saucers, coffee mugs, you name it. Here are some project ideas that prove the possibilities for making bird feeders out of recycled and common household objects really are endless.
Bird Feeder STEM Challenge
This STEM activity requires two to three sessions and will challenge students to build a bird feeder that's functional and follows specific construction constraints. After critically thinking about the types of feeders that are out there and what their goal is, students will sketch out designs for their own versions and list all materials needed, including plastic bottles, cardboard, straws, pipe cleaners, string, popsicle sticks, and more.
Hummingbird Feeders
For this project, you can choose to make hummingbird feeders out of recycled spice containers, mason jars, peanut butter jars, or glass bottles. This activity presents helpful information about how big to make the holes on your feeder to keep out insects but still allow hummingbird bills. Once your project is mounted or hung, simply add sugar and water from this hummingbird food recipe and watch the world's smallest (and most adorable) bird zoom to and from your masterpiece.
Upcycled Milk Jugs
Instead of recycling milk jugs, give them a new life as a bird feeder. Students can get creative with the design, including using found materials like sticks and leaves to help it blend in with the trees.
Egg Cartons and Packing Materials
Egg cartons and packing materials made of pressed cardboard are eco-friendly options for homemade bird feeders. The material will decompose when it gets wet, so this is a great option for dryer environments or during the winter in cold climates.
Coffee Mug Suet Feeder
Usually, there's no problem finding unwanted coffee mugs at thrift stores or even in students' homes. It turns out they are just the perfect thing to make simple suet feeders that to attract woodpeckers, nuthatches, jays, starlings, chickadees, and more! It only requires suet, seed, a stick to use as a perch, wire, and something to tie it onto a tree branch.
Note: Check out this wonderful homemade suet recipe that birds will like even better than store-bought suet. Avoid using suet in warmer weather because it can turn rancid and dripping fat can damage natural waterproofing on bird feathers. Nut butter (especially mixed with cornmeal) is a great fat substitute in the summer.
Feeders Made With Food
There is such an astounding number of bird feeders that can be made with common foods, so included here is a sampling of the different kinds of feeders you can craft out of fruit, bread, and Cheerios to bring in the birds.
Orange Bowl Hangers
All you need for this one is half an orange, string, and a bit of seed. It's so simple, yet looks very striking against green leaves and evergreens, and the rim of the orange provides a natural foothold for winged visitors… and the bowl is edible, too!
Berry and Seed-Studded Orange
This feeder provides its visitors with a few different options of foods for added nutritional benefit… and deliciousness. Just stick cranberries or other small berries into an orange with toothpicks. Dip the skinless side of the orange half into seeds and they will stick, or dip into nut butter before dipping into seeds in wintertime when birds might need some extra protein.
Orange Wreath
This orange wreath bird feeder is so elegant and festive, but again so easy. If you want to attract beautiful orange orioles into your yard, they won't be able to resist this wreath made from a coat hanger, cardboard tube, orange slices, and ribbons and berries for added flair.
Sunflower Seed Studded Apple
Not only is it incredibly easy to core an apple, stud it with a few sunflower seeds, and string it up, but also black oil sunflower seeds appeal to the greatest number of birds!
Apple Core Bird Seed Feeder
Simply scoop out the core of an apple half, place seeds inside it, and hang. Add nut butter if you need some extra stick. This makes it easy for birds to get at both the seeds and the inside of an apple, and it also looks great.
Walnut Shell Feeder
Use nut butter to attach birdseed to walnut shells for a totally natural and unique feeder.
Straight from the Wild
When you use objects found in your natural landscape to build your feeders, you save even more classroom resources and cut down on environmental waste! Included here are a couple of ideas to get your gears turning…
Pinecone Bird Feeder
This delicious winter treat is easy to make and uses only a pinecone and a couple of other simple ingredients. Enjoy visits from all kinds of different species like woodpeckers, chickadees, titmice, and warblers. Keep your pinecone well-stocked and you'll get some of the same visitors throughout the whole season.
This activity is included with over 130 other great ones in Project Learning Tree's Environmental Experiences for Early Childhood guide that helps kids explore the great outdoors.
Frozen Bird Feeders
In cold climates, you can get creative with frozen bird feeders. You can make these bird feeders any shape you can imagine! As temperatures rise and fall, the ice will gradually melt away, exposing more of the food for the birds (as long as temperatures don't go too high above freezing, of course!).
Suet Log Bird Feeder
Birds will greatly benefit from this delicious log feeder filled with suet stuffed into drilled holes. Suet is easily digested and metabolized by many birds, so it provides a great source of energy for them during winter.
For many more ideas on DIY bird feeder projects using recycled or natural materials, visit Project Learning Tree's Bird Feeder Crafts and Art Projects Pinterest Board!
As your class embarks on their projects, consider choosing the difficulty level of your project and add your own spin onto them to fit your unique classroom goals. If desired, you can even strategize with your class before you begin. Some questions to consider for your project are:
What specific kinds of birds would you like to attract to your locality?
Will multiple feeders with different types of seeds bring in more varieties of birds?
How far from the ground will you place your feeder(s) to accommodate certain species, and what type of food(s) will do the job?
If you want to spend class time observing the birds, will you track the numbers and varieties of bird species? If so, how?
Do let us know if you tried any of our bird feeder projects in the comments below. We would be thrilled to know what kinds of birds showed up to visit you!