In this issue: Welcome to our "new" e-newsletter filled with tools and resources for educators! Check out the new Literature Connection feature, and more tips from educators working on the ground with students, for example, how to engage students in greening their school, some ideas and resources for using PLT's Forests of the World and other curriculum guides, and what to expect from the new national science standards.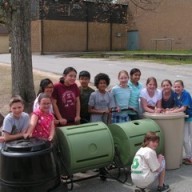 By
Tanya Ackerman
Whether your school is just starting out or has had lots of experience being "green," PLT's GreenSchools! Investigations can help move you forward. Read what a teacher and the principal of Bicentennial Elementary School in New Hampshire have learned as they work with their fifth-grade Green Team.
News & Updates
Taking Action


A Long-Awaited Step ForwardBy Melissa Moeller
During the overhaul of the No Child Left Behind Act, a "well-rounded education" amendment was added that grants states access to funds to build curricula for previously ignored subjects—including the environment! Tell your Members of Congress to add their support for environmental education by co-sponsoring the No Child Left Inside Act.


Educator Tips


Making the Global Connection: Remarkable Trees and ForestsBy Rick Zenn
From a single tree to a remarkable forest to the whole planet, you can help your students make the Global Connection. Internationally recognized environmental educator Rick Zenn shares some great ideas about using this PLT curriculum and other resources. And what's the story with this tree, anyhow?


Resources