April 12, 2020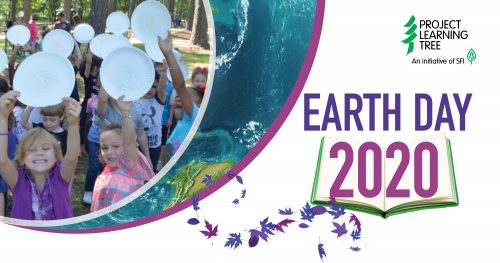 April 22, 2020 marks 50 years of Earth Day! 
Amid the recent Coronavirus (COVID-19) global pandemic, Earth Day Network, the global organizer of Earth Day, will mark the 50th anniversary of Earth Day with the first Digital Earth Day.
To support Earth Day 2020, we've compiled stories and resources to help educators and youth learn about sustainability issues, climate science, and actions they can take this #EarthDay2020 and every day. Plus, PLT teamed up with Earth Day Network, Project WET, and Project WILD to produce a guide that lists all our available education resources to advance climate education. 
ICYMI, PLT is offering a 50% discount off all our e-curriculum with online training. Go to shop.plt.org and enter code EARTHDAY50 at checkout!
NEW: Guide to Curriculum for Teaching About Climate Change 


As leaders in environmental education, Project Learning Tree, Project WET, and Project WILD have produced a handy guide that lists activities from each of our respective areas of expertise to help you teach about climate science and the impacts of climate change. Use our "Teaching About Climate Change: Water, Trees, and Wildlife" guide to help plan a series of lessons that fit with your teaching situation to teach about the impacts of climate change on water, forests and biodiversity.

NEW: Student Worksheet 
TACKLING CLIMATE CHANGE—TOGETHER
193 countries agreed to 17 Sustainable Development Goals. This new PLT worksheet helps students learn about the United Nations' Sustainable Development Goals, and offers some guiding questions for students around climate change to help them understand how the Goals are interconnected and address the global challenges we face, including those related to poverty and inequality.
Free Family Activities:
Children often do not know which resources are renewable and nonrenewable.
Use this activity (in English and Español) to learn what these terms mean and discover why sustainable use of natural resources is so important.

Learn how to analyze how you are currently disposing of waste and whether items being thrown away could be reused, recycled, or composted with our handy chart (available in English and Español.)
Coordinated in partnership with the Wilson Center and the US Department of State, this citizen science campaign utilizes a mobile app to collect data and enable global communities to drive meaningful change, and includes sections focused on plastic pollution and air quality.

Earth Day is about raising awareness about the importance of protecting our planet and taking action. Use these activities to inspire your students to take action this Earth Day, and every day.
Celebrate the many sights, sounds, and textures of the natural world by becoming an artist for the earth. Filled with creative exercises for children and adults, alike, this webpage contains ideas and inspiration for sustainable creative expression.
Free Teacher Stories and Resources:
Getting outside — but at a safe distance from other people — can be one way to boost our resilience at this time. Where you walk will depend on the degree of social distancing your particular situation requires but these activities will ensure your walks are an engaging and enriching learning experience.
Young students don't need to wait until they're older to make a difference!
These inspiring stories that show what's possible when young environmentalists take action.

Did you know the first Earth Day was celebrated 50 years ago through "environmental teach-ins"? Organized by educators in an era of civic action, teach-ins aim to inform local communities and promote environmental education to help tackle our world's climate challenge.
The big events that shaped our environmental history are available in both English and Spanish with this printable timeline that can be used as a research activity for students.