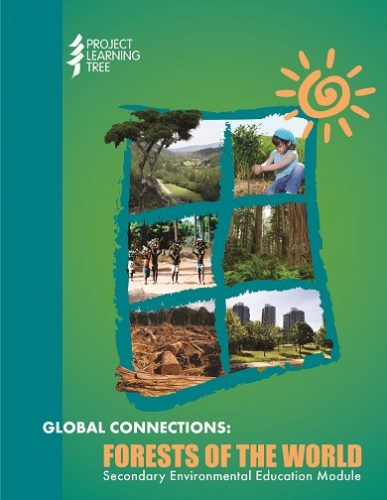 Global Connections: Forests of the World provides opportunities for high school teachers and students to gain an increased understanding of — and appreciation for — the diversity of global forests. The lessons emphasize the interactions people have with forests and our dependence on them. The activities provide students with opportunities to apply scientific processes and higher order thinking skills while investigating world forestry issues and conducting service-learning action projects.
"Ahora es el tiempo para actuar o perderemos para siempre la naturaleza como la conocemos. Aprendamos del pasado y eduquemos a nuestra juventud sobre el medio ambiente. Preveamos el futuro pero actuemos hoy¡"
(English Translation) "Now is the time to act or we will lose forever the natural world as we now know it. Let's learn from our past and educate our young people about the environment. We need a vision for the future, but let's act now!"
  – Julio Carrera López, President
Protección de la Fauna Mexicana, México
"Globally, deforestation, illegal logging and a changing climate all threaten our shared forest resource. Through education we can minimize these threats and advocate for tools that advance forest leadership so that our children are ensured a future with healthy forests."
  – Kathy Abusow, President & CEO
Sustainable Forestry Initiative Inc., USA
Student Lessons
Activity 1 – Making the Global Connection
In this activity, students will conduct a survey to help them assess what they and others know about forests and to consider ways that people are linked to forests around the world.
Activity 2 – What Is a Forest?
Dozens of official definitions of the term forest are in use throughout the world. In this activity, students will analyze various definitions of this term and then consider different cultural perspectives that affect people's perception of forests.
Activity 3 – Mapping the World's Forests
Identifying, documenting, classifying, and accurately mapping the diversity of forests found around the world is an active, ongoing process. A holistic system of global ecological zones related to simple, well-known climate characteristics and vegetation types is now used to classify the world's forests. In this activity, students will examine this system to see how temperature and moisture determine the type of forest in a given locale.
Activity 4 – Analyzing Patterns of Forest Change
Human activities and other forces can change forests in a variety of different ways. Students will identify global trends in forest cover; through maps and historical accounts they will analyze how particular forests have changed over time.
Activity 5 – Understanding the Effects of Forest Uses
In this activity, students will analyze the effects of different ways that people use the world's forests and determine which effects may be sustainable according to one definition.
Activity 6 – Seeking Sustainability: A Global Response
In this activity, students will consider possible indicators that a forest is sustainable, and learn about one international initiative for monitoring forest sustainability. They will find out what is being done locally and in other countries to determine whether forests are managed in a sustainable way.
Activity 7 – Exploring the World Marketplace
In this activity, students will conduct a simulation in which countries use their forest resources to "manufacture" products and to sell them to an international trader. Through the simulation, students will experience what can happen when forest resources are unevenly distributed around the world and will explore some of the tradeoffs of resource use.
Activity 8 – Making Consumer Choices
Using paper as an example, students will analyze the life cycle and consumption patterns of forest products, and they will identify the international dimensions of product use. Using their findings, they will then draw conclusions about consuming forest products in a way that is more intelligent and takes into account the global consequences.
Activity 9 – Researching Forests Around the World
In this activity, students will explore their connections to the world's forests by researching a forest in another country or region, and by creating a profile about that forest.
Standards Alignment
Global Connections: Forests of the World provides a structured alignment to national academic standards. Visit our correlations page to explore connections between Forests of the World and STEM, the Next Generation Science Standards, and the Common Core State Standards for both ELA and Math. 
Get the Materials 
Purchase an E-Book. Available from Shop.PLT.org or through your PLT State Coordinator.
Contact your PLT State Coordinator about scheduled in-person workshops in your area, or work with him or her to plan one for your unique setting! PLT's professional development events are tailored for specific grade levels, academic standards, environmental topics, and formal and nonformal teaching situations. All our offerings are grounded in professional development best practices, designed to meet specific outcomes, and improve student achievement. Learn more.
Additional Resources
Subscribe to our newsletter to receive notice of new resources that support this curriculum, plus ideas for engaging students with their environment in both a formal classroom and nonformal setting.
Please remember that all PLT curriculum materials are protected under copyright law. Reproduce responsibly.
Click here for our Content Reprint and Adaptation Policy.
Global Connections: Forests of the World was developed by Project Learning Tree in
partnership with the World Forestry Center.