When children spend time outside, exploring in nature, it can improve their creativity and imagination, classroom performance, and academic achievement, as well as their overall physical and mental health.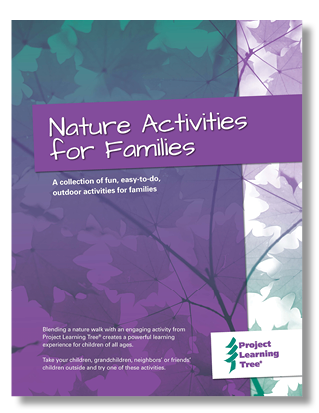 Our Nature Activities for Families introduce children to nature and their environment. These fun and easy-to-do activities can be used while you explore your own backyard, visit a local park, or walk in the woods—as well as indoors! Suitable for children ages 3–15, some activities work better for younger children, others are more suited for older children. The way you present them will change depending on your child's knowledge and ability.
Download individual activities below or visit PLT Shop to purchase printed guides.
Check out our new series Learn About Forests below! These 12 activities engage youth ages 10–16 in learning about sustainable forest management. They're perfect for non-educators, forest sector professionals, and even families, hosting community outreach, career days, or field site visits for youth.
Plus, we've just released a new Pocket Guide: Seeds to Trees . Suitable for educators, group leaders, parents and grandparents for introducing nature to young children ages 3-6 through trees and forests, it slips easily into your pocket or backpack.