SUPPORT PROJECT LEARNING TREE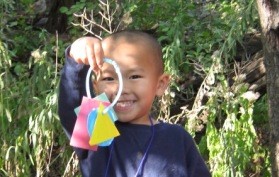 Today's generation of children is the first to grow up indoors. Their plugged-in lives are disconnected from the natural world around them. They do not understand how natural systems work and may care little for the environment. This disconnect, coined "nature deficit disorder", has academic, emotional, psychological, and physical consequences.
There is evidence that people who care for the environment as adults, spent time in the natural world as a child with a caring grown-up. If we wish for today's youth to become tomorrow's stewards, we must engage them with the outside world now.
Project Learning Tree is uniquely suited to introduce our youth to the natural world in their backyards. It is one of the country's most time-honored environmental education programs. It offers award-winning activities that help teachers easily infuse hands-on, environment-based activities both inside the classroom and outdoors. PLT activities are proven to increase student knowledge and foster positive changes in their attitudes about the environment.
Your financial gift to Project Learning Tree helps get kids outside, connects kids to nature, and grows their understanding of the environment.
How Much Would You Like to Donate Today?
$35: inspires students to improve the environment at their school, at home, and in their community.
$60: gets a teacher a set of high-quality curriculum materials for teaching students about the environment.
$100: gets a classroom of students outdoors and applying STEM skills.
$250: supports one teacher learning new teaching skills in an outdoor setting.
$500: creates a new nature activity for families based on PLT's classroom materials.
$1,000: funds a PLT GreenWorks! grant that enables children to improve their community through service learning.
Recurring donations are the best way to give steady support. You can set up monthly giving if you wish to.
**  If you have a special purpose for your donation, please let us know. For example, are you making a donation to acknowledge a particular individual or organization? Or, would you like to contribute to one of these established memorial funds?
Rudy Schafer Memorial Fund – Rudy Schafer was one of the creators of Project Learning Tree. In the early 1970s, Rudy brought together educators, conservationists, industry, and government agencies responsible for natural resources in 13 states, to found the Western Regional Environmental Education Council. The Council started Project Learning Tree, an innovative program that teaches young people about the environment by getting them to think about their role and relationship with the environment. 
Barbara Pitman Outstanding Educator Memorial and Legacy Fund – Barb Pitman was formerly Director of Operations at the national office of Project Learning Tree. Each year, one educator is recognized with the Barbara Pitman Outstanding Educator Award. The award celebrates and honors PLT educators who share Barb's enthusiasm for embracing the importance of children's literature within the field of environmental education.
DONATE NOW
Project Learning Tree is an initiative of the Sustainable Forestry Initiative. Giving options:
Make donations with PayPal:

Complete this donation form along with your payment method. 
Make all checks payable to the
SUSTAINABLE FORESTRY INITIATIVE, INC.

Remit to: 
Sustainable Forestry Initiative, Inc.
P.O. Box 424048
Washington DC 20042-4048
PLT is a program of the Sustainable Forestry Initiative, Inc, a charitable, non-profit organization under Section 501(c)(3) of the US Internal Revenue Code. SFI will provide a receipt for all donations. Donations to PLT may be tax deductible. Donors should consult with their tax professional.
Questions? Contact Vanessa Bullwinkle, vbullwinkle@plt.org
Thank you for your generosity!