SUPPORT PROJECT LEARNING TREE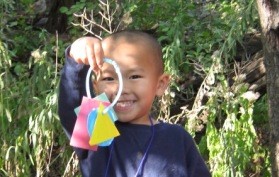 Your financial gift to Project Learning Tree helps connect kids to nature and grow their understanding of the environment.
In the last two years alone, 41,773 educators attended 2,267 PLT workshops across the country and more than 2 million students participated in PLT lessons and activities.
When you give to PLT, you are providing the very best in environmental education to our children. 
How Much Would You Like to Donate Today?
$35: teaches 16 students about forests and the environment.
$60: supports a teacher with professional development and curriculum materials.
$100: gets 47 students outdoors and learning 21st century skills using Project Learning Tree.
$250: creates a new nature activity for families based on PLT's classroom materials.
$500: funds a PLT GreenWorks! grant that enables children to improve their community through service learning.
Recurring donations are the best way to give steady support. You can set up a monthly giving if you wish to.
**  If you have a special purpose for your donation, please let us know. For example, are you making a donation to acknowledge a particular individual or organization? Or, would you like to contribute to one of these established memorial funds?
Rudy Schafer Memorial Fund – Rudy Schafer was one of the creators of Project Learning Tree. In the early 1970s, Rudy brought together educators, conservationists, industry, and government agencies responsible for natural resources in 13 states, to found the Western Regional Environmental Education Council. The Council started Project Learning Tree, an innovative program that teaches young people about the environment by getting them to think about their role and relationship with the environment. 
Barbara Pitman Outstanding Educator Memorial and Legacy Fund – Barb Pitman was formerly Director of Operations at the national office of Project Learning Tree. Each year, one educator is recognized with the Barbara Pitman Outstanding Educator Award. The award celebrates and honors PLT educators who share Barb's enthusiasm for embracing the importance of children's literature within the field of environmental education.
DONATE NOW
Giving options:
Please complete this donation form along with your payment method. 
Make all checks payable to the
SUSTAINABLE FORESTRY INITIATIVE, INC.

Remit to: 
Sustainable Forestry Initiative, Inc.
Dept. 4048
Washington, DC 20042-4048