Every month we carefully select additional resources and new support materials to enhance Project Learning Tree's lessons. These environmental education resources include videos, educational apps and other interactive online tools, books and posters, teacher-generated materials, and more!
Be sure to check back regularly as we continue to add more "EE Resources".  You can also:
For resources that specifically support remote learning, check out this collection COVID-19: Resources, Tips, and Support.
 
Jump to Environmental Education Resources for BIPOC Students and Aspiring Leaders:
Teaching about Climate Change with PLT, Project WET, and Project WILD
Project Learning Tree, Project WET, and Project WILD have updated our easy-reference resource that lists activities from each of our programs to help teach about climate science and the impacts of climate change.
Use our Teaching About Climate Change: Water, Trees and Wildlife PDF to help plan a lesson series that fits your setting and audience about the impacts of climate change on water, forests and biodiversity. Workshop facilitators for PLT, Project WET, and Project WILD can also use this resource to design climate-focused workshops. Learn more by watching this recorded webinar.
Trauma-Informed Approaches to Environmental Education 
Oregon State University's Trauma-Informed Toolkit, developed by Oregon PLT State Coordinator Yasmeen Hossain, supports and complements educators' knowledge and skillset in implementing trauma-informed approaches in educational settings.
Online Support Materials for PLT's Explore Your Environment: K-8 Activity Guide
PLT's new Explore Your Environment: K-8 Activity Guide includes 50 field-tested, hands-on activities that integrate investigations of nature with science, math, English language arts, and social studies. Get a copy today by attending a local PLT professional development workshop, or you can purchase it directly on shop.plt.org, from Amazon, and other places where books are sold.
My K-8 Guide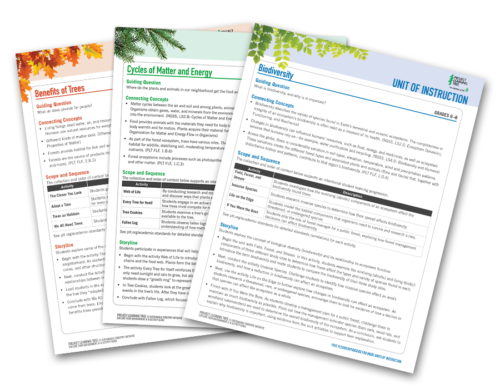 The new K-8 Guide is supported by a free online toolkit and resource hub found at plt.org/myk8guide.
For each activity, you'll find links to:
Curated resources (see some examples below)
Downloadable student pages
Recommended reading
Explicit connections to academic standards, including Next Generation Science Standards, and Common Core State Standards—English Language Arts and Common Core State Standards—Mathematics
Each activity provides students opportunities to explore the three dimensions of science: Science & Engineering Practices, Disciplinary Core Ideas, Crosscutting Concepts, and a Guiding Question to drive phenomenon-based, three-dimensional learning, which involves exploring the real world through learner-centered, multidisciplinary investigations that promote inquiry and problem solving.
Other resources at plt.org/myk8guide include:
Planning an Investigation student page
Assessment Rubric
Tips for using Career Corners and Forest Facts
An online Glossary
24 additional Units of Instruction
And lots more!
Environmental Education Resources for BIPOC Students and Aspiring Leaders
Conferences

The Sustainable Forestry Initiative (SFI) hosts an annual conference where green professionals from all walks of life meet and engage with forest sector thought leaders. This year, the SFI is teaming up with  PEFC International to bring you the 2023 SFI Annual Conference in collaboration with PEFC Week in beautiful Vancouver, British Columbia, Canada, from May 14-18, 2023. 
SFI is sponsoring a delegation of students and young professionals (ages 18–30) to attend the conference! Apply for a scholarship that covers registration costs, travel, accommodations, and meals here. The application deadline is March 6, 2023. 
SFI is also offering all Indigenous communities one complementary conference registration, so that a representative is able to attend on their behalf and participate in the forest-focused learning and relationship building opportunities it provides. Further registrations can be provided at a 50% discount. Please email inquiries related to Indigenous community opportunities at the SFI Annual Conference to [email protected]. 
Click here to see highlights of last year's conference in Wisconsin. 
Organizations and Programs
Free to young adults with interest in the forest and conservation sector, the PLT Green Mentor Program connects  young adults in the United States with more seasoned forest and conservation professionals. Mentors and mentees meet in-person or virtually two or three hours a month for six months. 
This program is a benefit to mentors as well as mentees. Mentees expand their Green Jobs knowledge, goals, and network, while mentors inspire the next generation of leaders, recruit employees, and gain new perspectives. 
 
Check it out and sign up to be a mentor or a mentee to be notified when the next cohort opens up!
The Minorities in Agriculture, Natural Resources and Related Sciences (MANRRS) program "is the voice that promotes academic and professional advancement for minorities in agriculture, natural resources, and related sciences."  
MANRRS offers opportunities to enhance leadership, organizational, and public speaking skills, as well as opportunities to experience professional critique of scholarly work. MANRRS provides a network of counterparts from similar backgrounds with related interests and goals and connects them with mentors. 
 The Junior MANRRS program is available for students in grades 7-12. As members of this program, students engage in academic, professional, and leadership skill building to prepare them for future success, especially in the green field.  
The MANRRS National Conference will be held in Atlanta, GA this April 13-16, 2023. Register today to attend educational training sessions, hear from inspiring speakers, and connect with fellow students and professionals from more than 65 colleges and universities that represent government, industry, academia, and nonprofit organizations. 
Check out last year's conference, held in Jacksonville, FL:  MANRRS36 Conference from MANRRS National Office on Vimeo.
Corazón Latino is a national non-profit organization that seeks to generate social, environmental, and conservation initiatives that foster natural resource stewardship. 
 
With the support of the U.S. Forest Service and other partners, Corazón Latino engages Spanish-speaking communities and leads several projects and programs supporting forestry, human health, and conservation efforts across Arizona, Maryland, California, West Virginia, Utah, Washington D.C., and Puerto Rico.  
 
Learn more about Corazón Latino's mission and programs, including the Descubre el Bosque, or Discover the Forest public service advertising campaign, an extension of their popular English-language Discover the Forest campaign started in 2009. The aim of this campaign is to increase visits from the Hispanic community to the nation's forests and grasslands, as well as to help them develop a love of nature and an understanding of their role in conserving it. 
Guides and Books

PLT Canada's A Guide to Green Jobs in Canada: Voices of Indigenous Professionals is a 60-page booklet featuring first-person stories from 12 First Nations and Inuit leaders working in the forest, conservation, and parks sectors across Canada.  
The Indigenous role models spotlighted in the guide describe what inspired them to pursue green careers and share lessons learned from lived experiences. Their stories reflect the values and perspectives of Indigenous professionals at various stages of their careers. 
Available in Plains Cree, Anishinaabemowin, English, and French, the guide includes 12 career fact sheets with detailed information about various jobs in forestry and conservation, including position descriptions, educational requirements, average salaries, and examples of relevant educational programs. 

The Sustainable Forestry Initiative (SFI), in partnership with MANRRS, developed and published a career pathways guide for young Black Americans interested in a career in the green jobs sector.  
The SFI-PLT-MANRRS Black Faces in Green Spaces: The Journeys of Black Professionals in Green Careers guide. You can also find mentorship opportunities, career development, teacher resources, and more at plt.org/journeys.
The downloadable USDA Native Youth Guide provides information to help  Indigenous youth learn about USDA programs and resources. The guide features information on a variety of resources available, including: research, loan, and scholarship opportunities; internships; summer camps; after-school and extra-curricular activities; and educational resources for parents, teachers, and students.  
Indigenous youth, teachers, and organizations working with them, are welcome to contact the USDA Office of Tribal Relations (OTR) for more information on any of these tools.  
PLT's website contains a plethora of educational resources for students of various backgrounds, including this article with recommended reads for anyone encouraging young children to learn about the natural world through the experiences of young Black, Indigenous, People of Color protagonists. There are also links to a variety of STEM curricular materials for K-8 students.