We regularly select new tools and resources that support and enhance Project Learning Tree's lessons.
Activities to Connect Kids to Nature at Home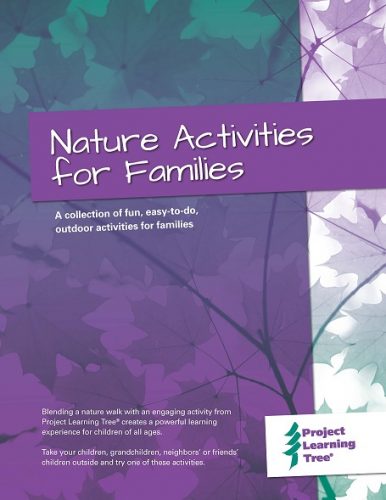 With schools temporarily closing to slow the spread of COVID-19, consider using these (free!) PLT family activities that kids can do at home.
Suggest these nature activities to your students and their parents to help get through the coronavirus pandemic. With social distancing in mind, these resources offer opportunities for youth and families to get out and explore nature together, as well as investigate sustainability issues, like energy use at home.
Adopt a Tree Journal
Encourage children to "adopt" a nearby tree. It could be a tree in their backyard, in a city park, on a street in their neighborhood, or at school. Ask students to keep a journal about their tree they have "adopted" to study. Share or adapt this Adopt a Tree Journal, suitable for grades 1-4, with your students. This 28-page guide, developed by Minnesota PLT with the Minnesota Department of Natural Resources, provides students a template to record and analyze information they collect over time. Use it to help children really get to know about that special tree in their lives over the course of a school year, or a semester. Pages include:
ART: Drawing a tree from different perspectives.
SCIENCE: Making scientific observations about a tree's leaves, twigs, and fruits. Looking for animal clues around a tree.
MATH: Measuring perimeter (circumference) around a tree trunk.
MATH: Measuring crown spread and learning about averages.
ELA: Applying different poetic forms writing about their tree.
(Resource for PLT's PreK-8 Activity 21—Adopt A Tree, Activity 22—Trees as Habitats, Activity 45—Poet-Tree, Activity 67—How Big is Your Tree? and for PLT's K-2 E-Unit Treemendous Science!) 
Earth Day Climate Training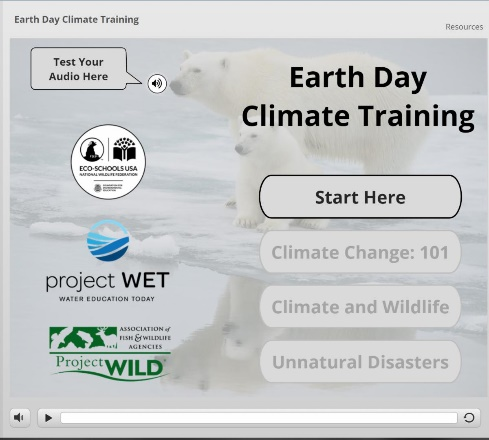 Would you like to keep up with professional development and receive Continuing Education Units (CEUs)? PLT has several online courses and Project WET, Project WILD and the National Wildlife Federation are offering educators a FREE training on climate change for the 50th anniversary of Earth Day.
This Earth Day Climate Training launches March 23rd and will be offered through June. Participants will receive two complimentary Project WET activities, two Project WILD activities and resources from the National Wildlife Federation. Educators can also submit an agenda and certificate for CEUs in their states.
We recognize that many PLT in-person professional development workshops have been cancelled or postponed. You can still access PLT professional development through our online courses. For more information, visit https://www.plt.org/trainings/online/.
National EE Week – April 20-24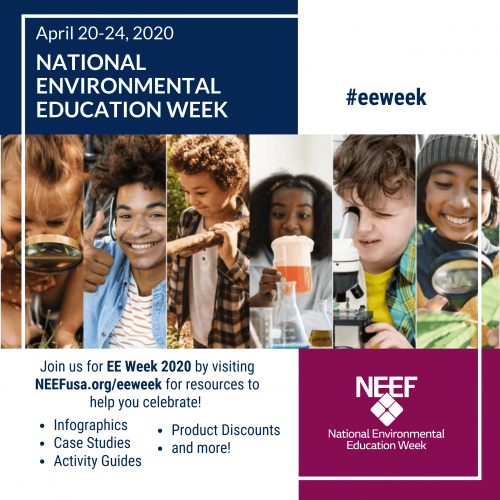 Join the National Environmental Education Foundation (NEEF) in the nation's largest celebration of environmental education—National Environmental Education Week (EE Week)—on April 20-24. This year, educators will enjoy discounts from NEEF partners (including PLT!), exclusive interviews with EE personalities, and access to Greening STEM infographics and activities. NEEF will also be releasing an educator guide for its Climate Superstars Challenge, happening in October.
This year's EE Week is an online celebration that focuses on helping educators use the natural environment and real-world challenges to engage learners and deliver high-quality STEM education. For more information and to register, visit NEEFusa.org/EEweek.
EnergyKids
Developed by the U.S. Energy Information Administration, EnergyKids provides a wide range of articles and resources about energy. Students can explore energy sources, ways to use and save energy and the history of energy with games and activities that promote learning. Challenge your students with energy-related Suduko, puzzles, crossword puzzles, and word searches!
(Resource for PLT's PreK-8 Activity 14—Renewable or Not, Activity 39—Energy Sleuths, Activity 73—Waste Watchers, and Activity 82—Resource-Go-Round) 
Forest Team GO!
Oregon Forest Resources Institute has just completed a fun video for grades 4-6, to show them the range of careers in the forest sector and how these professionals work together to manage forests. Forest Team GO! explains the sustainable cycle of forestry while introducing students to:
tree growers (botanists and seedling managers), who oversee the germination of seeds in nurseries
tree planters (reforestation workers), who plant seedlings by hand all over Oregon
foresters, who ensure trees grow healthy and fast
forest scientists (wildlife and fish biologists, hydrologists), who ensure fish and wildlife habitat is protected and who monitor water quality to provide clean drinking water
forest engineers, the team that takes information from the foresters and scientists and uses it to help design roads, bridges and river crossings so they can handle the trucks and equipment needed to cut the trees
loggers, the people who harvest the trees and load them as carefully as possible so the ground isn't damaged
(Resource for PLT's Green Jobs: Exploring Forest Careers unit)
Teaching About Carbon
Modelling the Movement of Carbon
Carbon may be found in a variety of places and it moves from location to location. PLT has several activities for different grade levels in which students model the movement of carbon atoms in the carbon cycle, for example, Activity 2—The Carbon Cycle in PLT's Carbon & Climate e-unit for grades 6-8, and Activity 7—Carbon on the Move in PLT's Southeastern Forests and Climate Change module for grades 9-12. Rose Banzhaf, a PLT facilitator in Colorado, made Carbon Cycle Station Cards and cutouts for 2-inch cubes to roll for younger/non-reader students. Each station includes two pages: one photograph and one set of directions for movement among stations. The numbered instructions correspond to the roll of the die.
Forest Carbon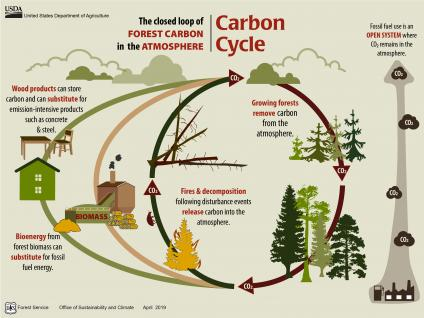 Use these Forest Carbon Cycle infographics developed by the U.S Forest Service that show how forests provide an important ecosystem service in the form of carbon sequestration—the uptake and storage of carbon in forests and wood products. Carbon sequestration is essential to reduce the impacts of greenhouse gas emissions and managing forest carbon is becoming more valuable as the impacts of greenhouse gas emissions are becoming more fully understood and experienced.
(Resource for PLT's PreK-8 Activity 30—Three Cheers for Trees and Activity 86—Our Changing World, PLT's 3-5 E-Unit Energy in Ecosystems: Activity 5—Every Tree for Itself  and PLT's 6-8 E-Unit Carbon & Climate: Activity 1—The Carbon Cycle and Activity 5—Are You A Bigfoot?) 
Native Land Digital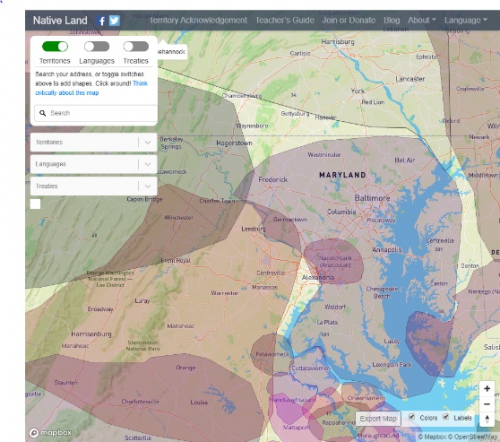 Curated and designed by an Indigenous-led team, Native Land Digital is a tool that maps Indigenous territories, treaties and languages. Download The Land You Live On Education Guide for some exercises to increase students' awareness of the history of the land around them, and for help with discussions about Indigenous history, geography, and the rich and diverse cultures that have evolved from the land. Learn how to connect with local Indigenous organizations and communities to engage in cross-cultural exchanges about the land we live on and the importance of Indigenous land acknowledgment.
(Resource for PLT's PreK-8 Activity 18 –Tale of the Sun, Activity 20—Environmental Exchange Box, Activity 50—400-Acre Wood, Activity 56—We Can Work It Out, and Activity 90—Native Ways)
Flat Smokey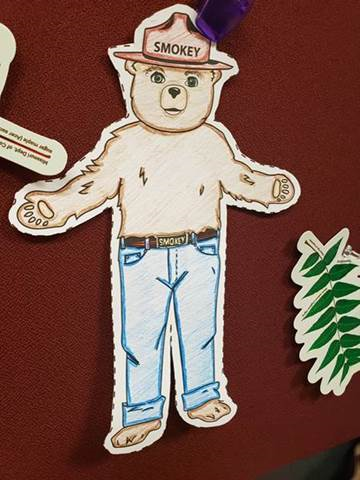 This printable cutout of Smokey Bear, courtesy of the Michigan Department of Natural Resources, can be colored, shared on social media, and sent through the mail to help teach kids about preventing wildfires. Created in 1944, the Smokey Bear Wildfire Prevention campaign is the longest-running public service advertising campaign in U.S. history. Learn the Story of Smokey, find more activity ideas for kids and resources for elementary and middle school educators at SmokeyBear.com, and review these fire safety tips.
(Resource for PLT's PreK-8 Activity 20—Environmental Exchange Box, Activity 69—Forest for the Trees, Activity 81—Living with Fire and for PLT's Early Childhood Activity 1—The Shape of Things and Activity 11—Three Cheers for Trees)
Looking for more resources to support your teaching and PLT's lessons? Subscribe, register, or log in to gain access to all.