Every month we carefully select additional resources and new support materials to enhance Project Learning Tree's lessons. These environmental education resources include videos, educational apps and other interactive online tools, books and posters, teacher-generated materials, and more!
Be sure to check back regularly as we continue to add more "EE Resources".  You can also:
For resources that specifically support remote learning, check out this collection COVID-19: Resources, Tips, and Support.

Teaching about Climate Change with PLT, Project WET, and Project WILD
Project Learning Tree, Project WET, and Project WILD have updated our easy-reference resource that lists activities from each of our programs to help teach about climate science and the impacts of climate change.
Use our Teaching About Climate Change: Water, Trees and Wildlife PDF to help plan a lesson series that fits your setting and audience about the impacts of climate change on water, forests and biodiversity. Workshop facilitators for PLT, Project WET, and Project WILD can also use this resource to design climate-focused workshops. Learn more by watching this recorded webinar.
Trauma-Informed Approaches to Environmental Education 
Oregon State University's Trauma-Informed Toolkit, developed by Oregon PLT State Coordinator Yasmeen Hossain, supports and complements educators' knowledge and skillset in implementing trauma-informed approaches in educational settings.
Online Support Materials for PLT's Explore Your Environment: K-8 Activity Guide
PLT's new Explore Your Environment: K-8 Activity Guide includes 50 field-tested, hands-on activities that integrate investigations of nature with science, math, English language arts, and social studies. Get a copy today by attending a local PLT professional development workshop, or you can purchase it directly on shop.plt.org, from Amazon, and other places where books are sold.
My K-8 Guide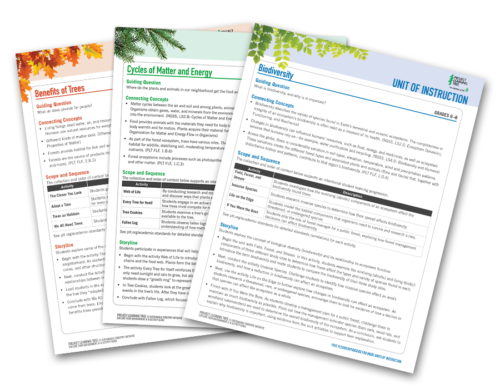 The new K-8 Guide is supported by a free online toolkit and resource hub found at plt.org/myk8guide.
For each activity, you'll find links to:
Curated resources (see some examples below)
Downloadable student pages
Recommended reading
Explicit connections to academic standards, including Next Generation Science Standards, and Common Core State Standards—English Language Arts and Common Core State Standards—Mathematics
Each activity provides students opportunities to explore the three dimensions of science: Science & Engineering Practices, Disciplinary Core Ideas, Crosscutting Concepts, and a Guiding Question to drive phenomenon-based, three-dimensional learning, which involves exploring the real world through learner-centered, multidisciplinary investigations that promote inquiry and problem solving.
Other resources at plt.org/myk8guide include:
Planning an Investigation student page
Assessment Rubric
Tips for using Career Corners and Forest Facts
An online Glossary
24 additional Units of Instruction
And lots more!
Explore Your Environment: Spanish Student Pages Now Available!
Thanks to our amazing partners in Mexico with the leadership of Cecilia Blackallar at the Proteccion de la Fauna Mexicana A.C., we have completed the translation of all Explore Your Environment Student Pages. They are available with your free PLT account. Login at plt.org/myk8guide
New Resources
Events and Programs
This fall marks back to school, which means there are lots of amazing educational programs to check out. Check out these upcoming events and learn how you can bring nature and learning to life!
October 6-27 | Moon Trees LIVE 3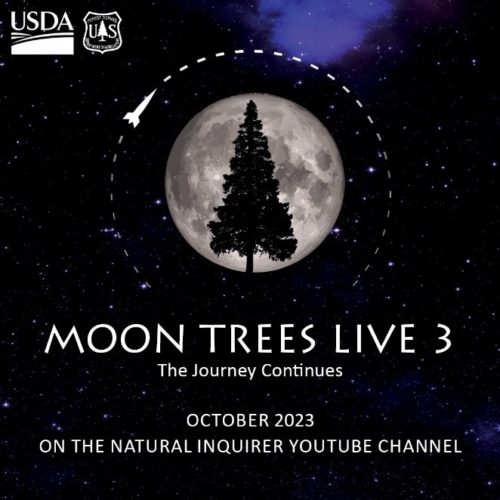 Every Friday in October, join Moon Trees LIVE 3, a distance learning adventure brought to you by the USDA Forest Service and the Natural Inquirer with support from NASA.
The Forest Service provided hundreds of tree seeds to NASA who launched the seeds on the Orion spacecraft in an orbit around the Moon! The tree seeds have returned from their journey and have started sprouting! 
In this series of four videos, we'll be talking about what's next for the seedlings. All videos will be available on the Natural Inquirer's YouTube channel: @NaturalInquirerProgram
Episode 1: Growing Moon Tree Seeds (launches October 6th).
Episode 2: Measuring Moon Tree Seeds (launches October 13th).
Episode 3: Looking to the Future (launches October 20th).
Episode 4: Live Q&A. Experts answer YOUR questions live! This video streams live at 1:00 p.m. ET on October 27th.
Learn more at the Moon Trees LIVE webpage.
October 17-20 | NAAEE's Annual Conference and Research Symposium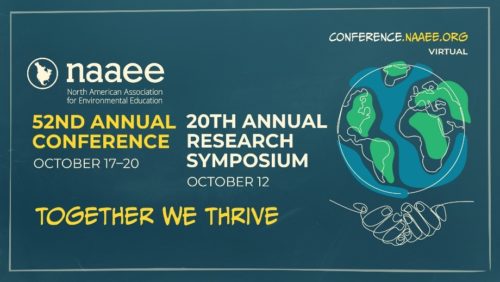 Registration is now open for the NAAEE 2023 Conference (October 17–20) & Research Symposium (October 12), hosted virtually by the North American Association for Environmental Education (NAAEE). Join NAAEE and environmental educators around the world in exploring how "Together We Thrive" using environmental education. This year, we will focus on the importance of collaboration, creativity, and crossing boundaries to address the environmental and social issues we face both locally and globally. We'll dig into vital topics in our field, such as climate change education and climate justice, the benefits of connecting to nature, building a green workforce, protecting biodiversity, and centering equity in our work. 
The Annual Conference and Research Symposium offers inspiring and thoughtful keynotes, a rich variety of workshops, presentations, symposium panels, discussions, bright spots, and posters, along with great opportunities for networking, growth, and change. 
NAAEE is committed to making this online experience accessible to all, with reduced rates and scholarships available. Check out the NAAEE website for more information.
Come "see" PLT at the conference! Several PLT team members will be presenting on various topics:
10/17 1:30-2:10 ET – Becoming More Inclusive with Indigenous Inclusion in EE: Best Practices Learned from the Projects
10/18 11:00-11:40 ET – Building the Next Generation of Diverse EE Providers in Nebraska
10/18 11:00-12:00 ET – Introducing the eeGuidance for Equitable Pay and Hiring
10/18 1:30-2:10 ET – Exceptional Learning: A Model for Designing High-Quality Learning Experiences
10/19 12:00-1:00 ET – TV and Trees: A Collaborative Model for Environmental STEM Education
On Demand Webinars (Available October 9-20):
A Festival of Festivals: EE Events Connecting Nature to Classrooms
Building the Next Generation of Diverse EE Providers in Nebraska
Reinvigorating a Statewide EE Program
Understanding the Landscape of Environmental Education in the Southeast
October 26 | 3:00-4:15 PM ET | Birds for All Webinar
Project Learning Tree, American Bird Conservancy, and NAAEE are coming together for birds! Want to explore inclusive opportunities to engage youth in learning about the world around them using something found outside their own front door? Help students learn more about nature, habitats, and inclusivity using BIRDS! Register today!
Classroom Resources
Benefits of Trees Posters – From keeping the air clean to providing food for critters, trees provide a multitude of benefits. Check out this interactive poster from the Minnesota Department of Natural Resources that shows students the top 48 benefits of trees.
Resource for Explore Your Environment activities: Trees as Habitats (Grades K-2, Variation 3-5); Trees for Many Reasons (Grades 3-5, Variation 6-8), Forest in the City (Grades 6-8)
Guide to Indigenous Lands Project – Every year, students from across the nation visit Washington, DC to learn about our capital, history, and how government works. Check out this amazing walking tour map, Guide to Indigenous DC, that features "sites of historical and contemporary importance to Native peoples across the Nation's capital."
Resource for Explore Your Environment activities: Environmental Health for All – formerly Environmental Justice for All (Grades 6-8)
Tools and Resources
National Park Service's Sound Gallery connects you to a variety of unique soundscapes and animal vocalizations. Invite learners to explore the calls of a bugling elk in the mountains to the song of a white-crowned sparrow in an urban park.
NEW! Resource for Together for Birds Activity Collection: Trees as Habitats (Grades K-2, Variation, 3-5)
CBC Kids "Fact or Fake" media quiz helps develop learners' critical thinking and evaluation of what is real online and what isn't. Use these guiding questions when looking at photos, videos and articles online, and then try out what they have learned with the quiz!
Resource for Explore Your Environment activities: Trees For Many Reasons (Grades 3-5, Variation Grades 6-8)
The En-ROADS climate simulator is designed to allow users to determine climate action which can limit global warming to 1.5 degrees Celsius by 2100. Essential to building support for climate action is an examination of the many other issues that climate change touches. Explore real-world climate solutions that are rooted in environmental justice, while also offering co-benefits in health, well-being, climate resilience, and beyond.
Resource for Explore Your Environment activities: The Global Climate (Grades 6-8) and Exploration Energy! (Grades 6-8, Variation Grades 3-5)
Digital Games and Apps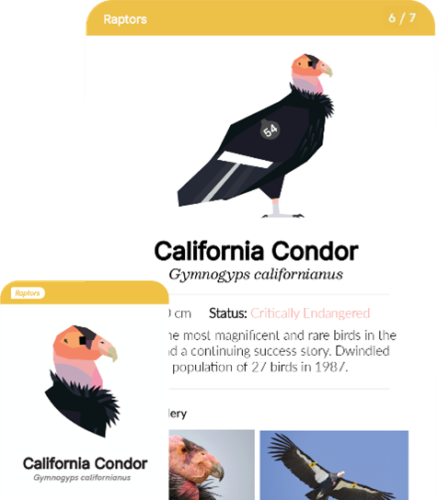 Find the Birds. Players explore real habitats and find real birds with images, video, and birdsong from the Cornell Lab of Ornithology's Macaulay Library. Featuring realistic habitats, birds & conservation quests, Find the Birds introduces generations, young and old, to the joy of birds.
Resource for Explore Your Environment activities: Birds and Bugs (Grades K-2, Variation Grades 3-5), Discover Diversity (Grades 3-5, Variation Grades K-2) and Field, Forest, and Stream (Grades 6-8, Variation Grades 3-5)
NEW! Resource for Together for Birds Activity Collection: Birds and Bugs (Grades K-2, Variation, 3-5)