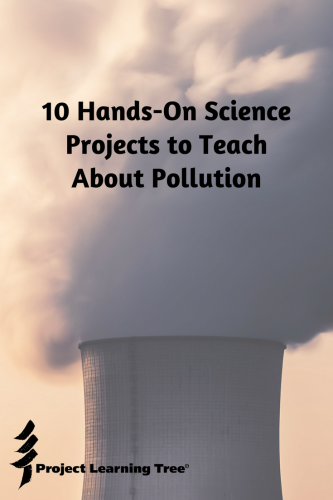 Pollution, of various kinds, is having a significant impact on society and the environment. According to the World Health Organization, some 4.2 million deaths every year are a result of exposure to outdoor air pollution. Ninety-one percent of the world's population lives in places where air quality exceeds WHO guideline limits.
And then there is plastic pollution. According to an article by National Geographic, some 18 billion pounds of plastic waste flows into the oceans every year from coastal regions. The problem is, this plastic destroys local habitats and is known to be a contributing factor to animal mortality.  Clearly, something drastic needs to be done about the surge of pollution. And these are just a few examples.
Education is certainly part of improving the situation. Teachers can educate their students so they can make a difference – whether it be in their own personal lives, or as the environmental scientists and inventors in the future.
To spark the inner environmentalist in students, we've compiled a list of the best hands-on science projects that teach kids about pollution. We have also suggested what grades each activity is suitable for. However, these are just a guide, so feel free to use your discretion and adapt each activity to the grade you are teaching.
1. Oil Spill Simulation
Oil spills are devastating for the environment, and cost millions of dollars to clean up. Videos and images of oil spill disasters can be an effective teaching tool since they can be so emotional. Although caution is advised when showing pictures of affected animals!
Nevertheless, a hands-on oil spill simulation will help your students to understand why oil spills affect the environment so badly and how difficult they are to clean up. You can find specific instructions for this activity here. In a nutshell, the activity requires students to simulate an oil spill in a tray of water, examine the potential effects on wildlife, and suggest clean-up methods using household items.
Suitable for: 3 – 6
2. Real-World Testing of Biodegradability
If objects and materials were more biodegradable, this would help with pollution since the discarded objects would break down more quickly. Some of the materials we use, however, never break down, and they end up clogging up our waterways and littering our soil. In this activity, students will conduct an experiment that establishes what materials really are biodegradable.
You can find instructions here. It essentially involves burying a range of objects (an apple core, leaves, plastic packaging, and Styrofoam) underneath the ground and leaving them there for a month. Students then return to the burial site and dig down to see what has broken down and what has not. The activity also comes with some excellent discussion questions. 
Suitable for: K – 6
For more ideas, see Activity # 14 Renewable or Not? in PLT's PreK-8 Environmental Education Activity Guide.
3. "Happy Earth, Sad Earth" Sorting Game
This activity is a very simple sorting exercise for younger children. It involves putting pictures of things that are beneficial for the Earth, and those that are not, into the appropriate category. The activity could be conducted in groups, or as a class.
For this activity, you will need to print out and laminate (optional) the cards and objects found here (courtesy of www.totschooling.net). How you encourage your students to sort the objects is entirely up to you, but displaying them on a big piece of cardboard that can be put up on the wall when finished is ideal! 
Suitable for: K – 2
For more ideas, see Activity # 24 Nature's Recyclers in PLT's PreK-8 Environmental Education Activity Guide.
4. Modeling Pollution Uptake by Plants Using Celery
Pollution can also end up in food chains, including our own, which can have a negative on health and wellbeing. This activity is a great way to kick off a discussion about pollution and food chains. It involves creating a simple model that demonstrates how pollution can be drawn up into plants.
To do this activity, place a piece of celery in a jar or beaker of diluted food dye. Over time, the food dye moves up the celery, and there it remains. The food dye represents pollution, and the celery could represent any number of plants that are used for food. You can find specific instructions for this activity here.
Suitable for: K – 3 (NOTE – A knife is needed to cut the celery, so just be aware of that. Probably best if adults did that part).
For more ideas, see Activity # 27 Every Tree for Itself in PLT's PreK-8 Environmental Education Activity Guide.
5. Polluted Display Jars
This activity enables students to "see" pollution in the classroom — a great teaching or memory aid when discussing the topic. And it's super easy too! In summary, students collect samples of air and water (even snow), put them in clear glass or plastic jars, and then manually "pollute" them.  
You can find some instructions and ideas here. But here are some quick suggestions regarding what could be added to your jars to pollute them: For your jar of air, you could drop a lit match into the jar, and quickly put the lid on, so that the smoke is caught in the jar. That will certainly give that nice clean air a brown/grey tinge! (Only adults should handle the matches.) For the jar of water, dirt and bits of plastic will suffice. Remember to have jars of clean water, air, and snow so students can compare the clean ones with the polluted ones. 
Suitable for: K – 5
For more ideas, see Activity # 28 Air Plants and Activity # 36 Pollution Search in PLT's PreK-8 Environmental Education Activity Guide.
6. Sea Turtle Fate Game
From the moment they are born, various species of sea turtles have a tough time making it through to adulthood.  Although sea turtles die of natural causes or as the result of predator attacks, they also die as a result of human activity and pollution. This game allows students to explore the effects of humans on sea turtles, and the true scope of the problem.
You can find a detailed explanatory video here. The activity involves drawing plastic eggs out of a bowl of sand, with each plastic egg having a "fate" message inside. The message describes whether the figurative sea turtle in that egg survived or not, and if it didn't survive, why not. Students then sort each ill-fated turtle egg into categories related to whether its death was as a result of man-made or natural causes.
Suitable for: Grades 2 – 5 (it could be used with younger students, depending on the make-up of your class. The themes may be a little too deep for some).
Download a free sample activity from PLT's new e-unit for grades 3-5: Energy in Ecosystems
7. Watering Plants with "Acid Rain"
Acid rain is a significant threat to the environment and is caused by pollutants in the atmosphere mixing with rain as it falls. The topic of acid rain is something students may learn about in both science and geography. This activity allows students to create their own "acid rain" and to asses its effects. 
You can find detailed instructions here. In this experiment, students water three separate plants with either water, a little bit of acid, and a lot of acid. Use either vinegar or lemon juice as the acid. After leaving the plants in the sun to grow for a few days, watering them as they go, students will assess the effects of the acid on the plants. (You will need to be prepared to lose two plants. All for the sake of science of course!)
Suitable for: Grades 5 – 8 (depending on how in depth you go with the theory).
NOTE – You may like to have the children wear lab glasses when handling the lemon juice or vinegar. This can help avoid some stinging eyes, and of course, will make them feel like real little scientists!
8. Water Pollution Detection Experiment
This activity gives students an opportunity to get up close and personal with water "pollution" and explores some of the simple ways we can tell if pollution is present. This activity is excellent because it engages many senses.
The activity involves giving each student/group in your class a cup of clean water. You will then go around the class, adding a few drops of food coloring to each cup of water. The kids then stir the solution, making note of the fact that they can see the "pollution." The same process is repeated, this time adding vinegar to the fresh water. This illustrates how sometimes we can smell "pollution". The third time around, add salt and the students' mix. This highlights that not all pollutants can be seen or smelled (once the salt has dissolved).
You can find detailed instructions for this "Playing Hide and Seek…with Pollution" activity here. There are also some additional questions, activities and suggested teaching strategies.
Suitable for: Grades 2 – 5 
For more ideas, see Activity # 44 Water Wonders in PLT's PreK-8 Environmental Education Activity Guide.
9. Climate Change Sensory Play
In lessons about pollution, teachers often discuss how it contributes to climate change, and this is a great activity to explore this concept using their sense of touch.  You can find instructions here.
Essentially the activity involves using frozen shaving cream (as snow/glaciers), blocks of ice, beads, and plastic animals to simulate a polar environment. Allow students to spend time playing on their own with everything in the environment. After some time, everything begins to melt. The activity dramatically demonstrates the impact of melting ice caps and glaciers. A discussion of pollution and climate change can follow. Be warned: this activity will require a bit of clean up!
Suitable for: Grades K – 3 
For more ideas, see Activity # 84 The Global Climate in PLT's PreK-8 Environmental Education Activity Guide.
Are you planning on trying any of these activities? What are some other ways you teach your students about pollution? Let us know in the comments!