June 4, 2021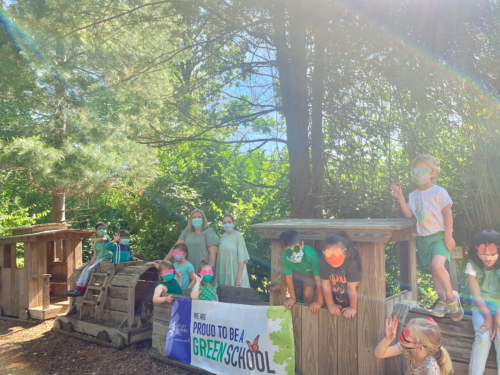 The Country Day School (CDS) celebrated an environmental education milestone today when the school became certified by Project Learning Tree's (PLT) GreenSchools program. The school in McLean, VA, near Washington D.C., is the first early childhood center in the country to be honored as a certified PLT GreenSchool.
PLT's GreenSchool certification recognizes the efforts of teachers and students to make their school a greener and healthier place. The Country Day School has taken significant steps to enhance and fully utilize its school grounds, reduce energy use, conserve water, recycle, reduce waste, and improve air quality, among other projects. Certification also recognizes the school's strong commitment to engaging students in environmental and sustainability education and taking students outdoors to learn.
Students and teachers at The Country Day School designed and implemented action projects to complete the five investigations for certification. Some projects included: partnering with a local organization to plant six new trees on the school campus, starting a school-wide recycling initiative to utilize recycled materials in the curriculum, building a platform for the rain barrels used to collect and conserve water for water play activities, creating signs to communicate to families to turn off their cars at carpool to reduce air pollution.
"I would like to thank the Country Day School staff. They worked through the pandemic year to complete this extensive project. The community rallied together to research and support this project. The children were very engaged. They had a wonderful time in the outdoor classrooms learning how to make Country Day greener" said Diane Dunne, CDS Head of School.  "Many parents have commented to me about ways the children have brought this project home."
PLT's GreenSchools program inspires K-12 students to take responsibility for improving the environment at their school, at home and in their community. PLT's Early Childhood GreenSchools program specifically meets the needs of early childhood educators and younger learners.
An adult leader guide offers ideas and activities for early childhood educators to green their centers while facilitating environmental experiences with their students through art, movement, sensory exploration, and time outdoors – all of which are inherently appealing to young children. A set of student investigations teach young children about their environment and how they can make a difference while developing their skills in language, mathematics, and science. These resources can be downloaded for free at https://www.plt.org/greenschools/early-childhood/.
"More than 5,000 schools across the country participate in the PLT GreenSchools program, but only a few have done everything it takes to achieve certification," said Jessica Kaknevicius, Vice President of Education for the Sustainable Forestry Initiative (SFI). PLT is an initiative of SFI. "The Country Day School is even more extraordinary as it gives the youngest of learners a voice and a role in the projects they undertake."
The Country Day School is an independent private preschool and kindergarten. The campus includes 9 playgrounds and 4 wooded acres used for outdoor classroom learning activities. The CDS program's focus is on developing children's pleasure and excitement for learning. Country Day is NAEYC accredited and serves children 18 months to 6 years old.