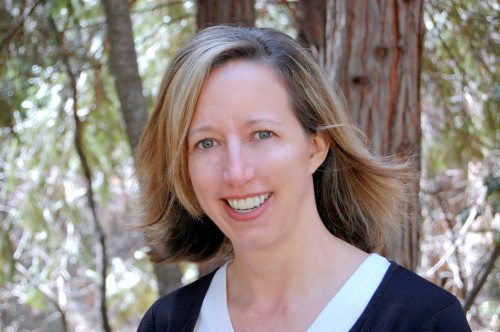 Patricia (Tricia) Dunlap grew up in the Los Angeles area, but spent many weekends and vacations enjoying the unbuilt environment. "My love of the outdoors has defined who I am and what I have chosen to do for all my life," she says, remembering the camping trips and picnics she took with her family as a child.
During college, she became a naturalist-intern at Foothill Horizons Outdoor School in Sonora, where she realized that teaching was the way for her to share her love of the outdoors with others. She earned her teaching credentials in 1992 and has taught in a variety of settings ever since.
Tricia is a science and environmental education consultant, coordinating forestry and other environmental programs within the Tuolumne County Superintendent of Schools Office. She teaches science at Curtis Creek Elementary School and also works with Special Education interns for the Stanislaus County Office of Education. In each of these roles, PLT is front and center.
Tricia's goal is to connect youth with the natural forest community that surrounds them. She organized a program called the Tuolumne County Forestry Youth Partnership, in which high school students shadow U.S. Forest Service staff for six weeks during the summer. Through a PLT GreenWorks! grant, students in the program learned about fire ecology and participated in a unique field trip to the Mt. Elizabeth fire lookout station.
In 2006, Tricia developed the concept and raised the funding for California's fourth Forestry Institute for Teachers, a week-long program for K-12 educators. In her role as the Region 6 Coordinator for the California Regional Environmental Education Community Network, Tricia also plans and carries out workshops for classroom teachers and after-school leaders.
"Tricia is a lifelong advocate for forestry and environmental education. She is committed to the work we are trying to do in California to support and advance EE."
– Kay Antunez, California PLT State Coordinator
Tricia was named National PLT Outstanding Educator in 2009.