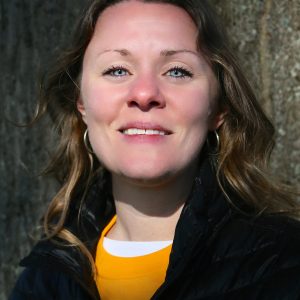 Jennifer Hubbard-Sánchez is the state specialist for sustainable programs and director of the center for environmental education in the College of Agriculture, Food Science, and Sustainable Systems at Kentucky State University. In that role, she connects with Kentuckians of all ages, in both English and Spanish, particularly to teach about climate change. She has been instrumental in making Kentucky PLT and the Kentucky Association for Environmental Education regional and national leaders in the field of environmental education.
Jennifer holds a B.S. in Modern Languages from Saint Michael's College in Colchester, Vermont, an M.A. in Anthropology from the Universidad de las Américas in Puebla, Mexico, and an M.S. in Environmental Studies from Kentucky State University. She became a Kentucky State Certified Professional Environmental Education in 2014 and was honored as Kentucky PLT's Outstanding Educator in 2015.
"She goes above and beyond in organizing and conducting PLT and other EE workshops. Her dedication and passion are an inspiration to many environmental educators, including me."
– Michelle Shane, Kentucky Department of Agriculture
Jennifer was named a National PLT Outstanding Educator in 2016, as well as National PLT Outstanding Educator Honoree in 2015.