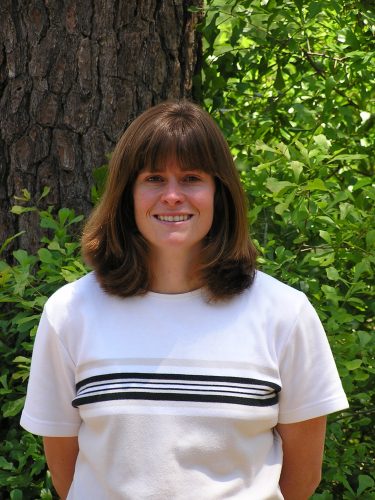 As Director of the Science and Technology Enrichment Program at the Ruth Patrick Science Education Center in Aiken, South Carolina, Anne Bohnet develops a wide variety of natural resource education programs for around 2,700 students in grades 3-12 each year. She inspires students' interest in environmental careers by teaching science lessons outdoors in a natural environment and instructing students in the use of scientific tools. She conducts most of her environmental education classes, as well as PLT teacher-training workshops, at the National Audubon Society's Silver Bluff Audubon Center, a 3,000-acre sanctuary located along the Savannah River. She also conducts student programs at the Savannah River Site, a Department of Energy facility, and she provides teacher workshops at the Ruth Patrick Science Education Center.
Anne exemplifies PLT's "awareness to action" philosophy of environmental education. She brings groups of students from select high schools to the Savannah River Site to work side-by-side with experienced scientists. Students get hands-on experience using forestry tools and managing five acres of public forestland. Empowered by increased awareness and knowledge, students explore different viewpoints, challenge ideas and values, and seek consensus on a course of responsible action.
Anne became a PLT facilitator in 1994. She has trained over 500 teachers from Georgia and South Carolina in the use of PLT and other environmental education curricula. She procures grants to provide these workshops for free, as well as substitute pay for the teachers who attend them. She ensures that pre-service teachers at the University of South Carolina-Aiken are trained in PLT before they enter the classroom. Anne also writes PLT into the curriculum of many educational programs. Every year, she leads PLT wildland fire education workshops for PreK-12 teachers and arranges a prescribed burn at National Wild Turkey Federation's headquarters in Edgefield, South Carolina. Anne is a true advocate of environmental education and she infuses PLT into just about every aspect of her work!
Anne was named National PLT Outstanding Educator in 2006.