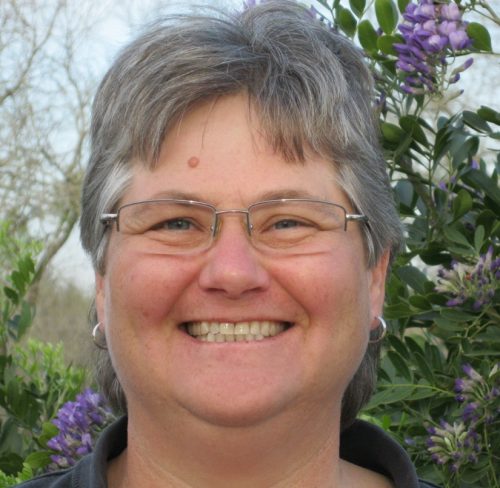 Susan Campbell, Education Coordinator with the City of San Antonio Parks and Recreation Natural Areas, is recognized for her enthusiasm and creativity in educating Texans of all ages about the environment.
Among her many initiatives, she developed URock! Get Outdoors, a one-week camp for middle school students from the South Side of San Antonio. She leads field tours along the Medina River for thousands of students and adults each year. She has also created programs for home-schooled students, senior adults, and students at the University of Texas at San Antonio (UTSA) who are learning to become classroom teachers.
Susan serves on the advisory board of the City of San Antonio's SAVE (Strengthening Awareness and Valuing the Environment) Program, which provides environmental education training to more than 500 teachers every year. She is the South Texas representative on the board of the Texas Association for Environmental Education and is a member of the Pre-Service Teacher Advisory Board at UTSA.
"Susan is a leader in the state for environmental education. She uses PLT in her work with children, college students, and adults locally in Bexar County and regionally across central and south Texas."
– Christine Moseley, Professor at UTSA
Susan was named National PLT Outstanding Educator in 2011.