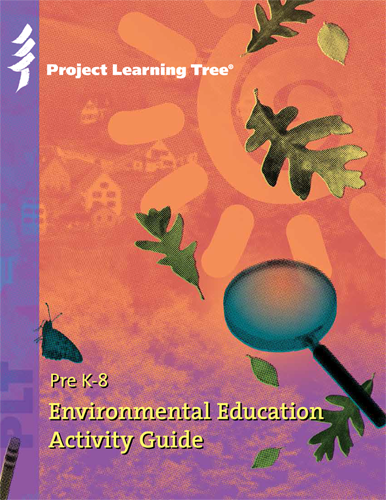 Charting Diversity. Birds and Worms. Pollution Search. These are some of the 96 hands-on interdisciplinary activities found in Project Learning Tree's PreK-8 Environmental Education Activity Guide. Topics include forests, wildlife, water, air, energy, waste, climate change, invasive species, community planning, and more. Each activity is tailored to specific grade levels and learning objectives. The materials provide educators the tools they need to bring the environment into their classrooms — and their students into the environment.
"For the active teacher who is looking for help in lesson planning a new unit, or a teacher who is starting a new curriculum, PLT is a fantastic place to go. The hands-on approach and critical thinking requirements of each lesson fulfill the expectations of today's classroom."
– Charles Schnabel, Medina County Career Center, Ohio
"Project Learning Tree provides teachers with powerful tools that they can immediately incorporate in their classrooms."
– Tom Shimalla, New York State Department of Environmental Conservation
 "We truly have become leaders and role models for our community."
– Christina Ramos, Student, South Tahoe High School, California
Features
96 multidisciplinary activities that integrate core discipline areas, including STEM subjects, reading, writing, and social studies
Background information and science content for teachers
Alignment to state and national education standards, including connections to Common Core State Standards and the Next Generation Science Standards (NGSS) three-dimensional approach
Supporting features, such as literature connections, technology extensions, differentiated instruction, and student assessment tools
Standards Alignment
PLT's PreK-8 Environmental Education Activity Guide provides a structured alignment to both national academic benchmarks and state-specific standards. Visit our correlations page to explore connections between PLT materials and the Next Generation Science Standards, Common Core State Standards, The C3 Framework, STEM, and additional nonformal connections such as Girl and Boy Scout programs. 
Get the Materials 
To get the PreK-8 Environmental Education Activity Guide (available in print or electronically):
Additional Resources
Subscribe to our newsletter to receive notice of new resources that support this curriculum, plus ideas for engaging young children with nature in both a formal classroom and nonformal setting.
Please remember that all PLT curriculum materials are protected under copyright law. Reproduce responsibly.
Click here for our Content Reprint and Adaptation Policy.