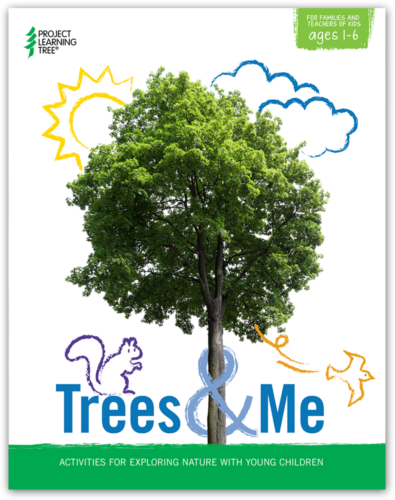 Coming Soon! Nature activities for young children.
Trees & Me: Activities for Exploring Nature with Young Children is PLT's latest resource for families and teachers of ages 1-6.
Trees & Me contains hundreds of ideas for fun, easy-to-do, hands-on experiences to connect young children to nature, with a focus on trees and forests. Through both outdoor and indoor activities, children explore nature through their five senses, experience trees throughout all four seasons, and connect with their community.
Hands-On Learning Experiences
The 12 hands-on Trees & Me activities are designed for families and teachers to use with children ages 1–6 in a range of settings, including preschools, childcare centers, and nature centers, at home, or with families and friends spending time together. Special instructions tailor many experiences to children under 3 years of age.
Families and caregivers, childcare providers, and early childhood educators can easily adapt the activities as necessary to meet each child's unique needs, the environment where they live, and the materials available.
Social and Academic Skills Development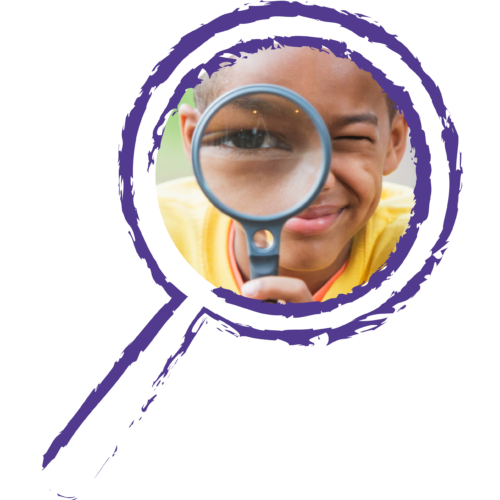 Children learn concepts necessary to succeed in school, including age-appropriate literacy, math, and critical thinking skills. They make music, create things, and gain physical dexterity. They are empowered to work independently and in groups. Through dramatic play and skill practice, they explore careers which plants ideas for a child's future.
What's more, research indicates that early exposure to nature and the outdoors improves emotional and physical well-being, enhances learning, promotes positive social behavior, and makes children more likely to care about their environment throughout their lives.
Easy-to-Use Activities for Families and Teachers
Trees & Me activities are designed for ease of use.
Each activity contains background information for adults, preparation steps, and materials needed to lead each experience.
Group experiences, for example Exploring the Neighborhood and Enjoying Snacks Together, encourage conversation and interaction with others, and free exploration suggests ways children can explore topics on their own through Art, Outdoor Play, Discovery Tables, Math and Manipulatives, Dramatic Play, and Woodworking.
The 12 activities and hundreds of ideas for fun, hands-on experiences are organized into three sections:
Exploring Nature with the Senses
Activity 1: The Shape of Things — Children search for the shapes and colors that define both our natural and built environments.
Activity 2: Sounds Around — Children explore the sounds of nature and imitate them using their own voices and instruments that they make together.
Activity 3: Tree Textures — Children explore trees and their parts using the sense of touch.
Activity 4: Follow Your Nose — Children explore trees and tree parts using their senses of smell and taste.
Experiencing Trees through Seasons
Activity 5: Fall for Trees — Children explore the signs of autumn and play with falling, changing, and dancing leaves.
Activity 6: Evergreens in Winter — Children explore evergreen trees—and the season of winter—using their senses.
Activity 7: Best Buds — Children explore twigs, buds, and tree flowers while they celebrate the coming of spring.
Activity 8: My Tree and Me — Children compare trees and identify distinguishing features.
Meeting Neighborhood Trees
Activity 9: Parts to Play — Children make a tree costume and explore the parts of a tree.
Activity 10: Home Tweet Home — Children discover how plants and animals depend on trees.
Activity 11: Community Explorers — Children explore how their community—and the trees within it—provide things people need.
Activity 12: Three Cheers for Trees — Children explore the many products and benefits that trees provide.
Features and Activity Components
Each activity makes explicit connections with early learning standards in science, English language arts, math, and social studies, as well as the National Association for the Education of Young Children and Head Start.
Each activity suggests topic-related nonfiction and fiction children's books.
Explore Careers invite children to explore a green job that fits an activity's theme.
Art is integrated throughout, and STEM exemplars effectively integrate the disciplines of science, technology, engineering, and math to provide opportunities for young children to practice STEM skills.
Free, downloadable music selections support the activities and experiences in the guide.
Each activity suggests concrete ways that families and friends can enhance the learning experience at home, including helping out in the community.
The guide also provides valuable appendices, such as tested techniques for engaging early learners, tips for outdoor learning, bringing nature inside, and woodworking, that not only support the activities, but can serve as a resource in a range of situations.
How Will the Guide Be Available?
This 176-page guide can be purchased from Shop.PLT.org in Spring 2022. Alternatively, you can receive a Trees & Me guide, along with state-specific tools and resources, by attending  one of the many  in-person and virtual professional development opportunities offered by PLT State programs.
In these hands-on (and fun!) workshops,  you will build your knowledge, skills, and confidence for leading activities outdoors. You'll practice using PLT materials while also gaining insights from facilitators and peers. Find contact information for your state at https://www.plt.org/yourstate.