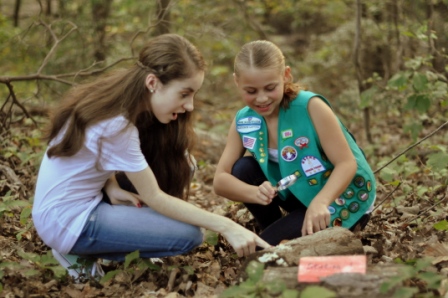 Scout troop leaders and volunteers, and those who provide scout programs at nature centers, parks, and community recreation facilities, can quickly identify Project Learning Tree activities that meet the requirements for Girl Scout Badges and Journeys for each level.
Girl Scouts of the USA is a leadership development organization for girls, with 3.2 million girl and adult members worldwide. Their National Leadership Journeys program encourages girls to discover what they care about and ways they can change the world. Girls explore a variety of interests along a Journey, everything from animals, cooking, and the arts, to the outdoors and STEM (science, technology, engineering, and math). Girl Scouts can also earn National Proficiency Badges in a variety of topic areas. A few examples are gardener, camper, naturalist, trees, flowers, animal helper, healthy living, first aid, citizen, financial literacy, and digital arts.
Dr. Katie Brkich, a professor of Elementary Science Education at Georgia Southern University, believes PLT activities work so well with Girl Scout programs because both programs embrace teaching environmental stewardship and contributing to the improvement of society.
PLT and Girl Scouts in Practice
Project Learning Tree activities, and the background information and student pages they include, are great resources for troop leaders who want more information on specific Journey and Badge topics, such as water, air, insects, and trees.
"When my troop worked on their Trees Badge, I used several activities in PLT's PreK-8 Guide to help them learn first-hand about trees and how they can help trees in our community," said Cadette Girl Scout leader, Vicki Watson from Michigan. "Plant a Tree was one of my favorite PLT activities because the girls discovered the benefits of trees and the activity gave the steps they needed to do a tree planting project. The Student Page was a great reproducible resource."
Katie Brkich uses many PLT activities with her Junior troop including Living with Fire when teaching fire safety for their Camper badge. She pairs PLT's The Fallen Log activity with exploring a giant log replica during a night hike (pictured right). Other favorites include Every Drop Counts and The Shape of Things.
Troop leader Shaileen Backman from Virginia recalls some of the fun PLT activities she's done with scouts, including To Be a Tree and Tree Cookies. Her daughter, Libby, remembers doing The Fallen Log activity on a Girl Scout camping trip. She said, "At first we weren't too sure we wanted to poke around the rotting log, but once we saw all the interesting insects and tiny plants on it, we were fascinated!" The activity can help scouts earn their Animal Habitats and Digital Photographer Badges.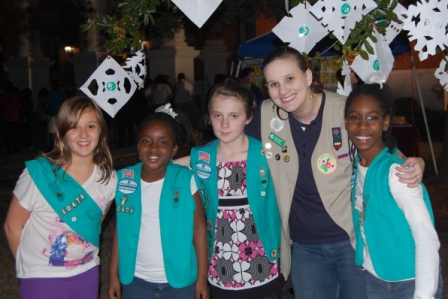 PLT activities can be used in an indoor setting, as well as during outdoor adventures. For an indoor meeting, PLT's Make Your Own Paper activity is a great resource to go along with the recycled paper activity in the Girl Scout Get Moving! Journey. It provides background information and additional ideas for making recycled paper. Shaileen's troop took this idea further by making their own recycled paper notebooks to sell at fundraisers.
PLT's GreenSchools! Investigations can help with action projects for Girl Scouts' Journeys. For example, PLT's GreenSchools Energy Investigation works well with the Juniors Get Moving! Journey by providing additional background information and details on how to carry out energy-saving action projects, and it engages girls in hands-on STEM learning.
Vicki's Girl Scout troop in Michigan used the PLT GreenSchools! Environmental Quality Investigation with the Breathe Journey. "The fact sheets were a nice resource for the girls and they got lots of ideas for action projects," she said.
Find an Activity
Review Project Learning Tree's Correlations to Girl Scout programs to find an appropriate activity for your scout troop.
PHOTO 1: Girl Scouts engaged in PLT's The Fallen Log Activity. Photo taken by Alexandria Dannhardt.
PHOTO 2 & 3: Girl Scouts in GA. Photos provided by Katie Brkich.