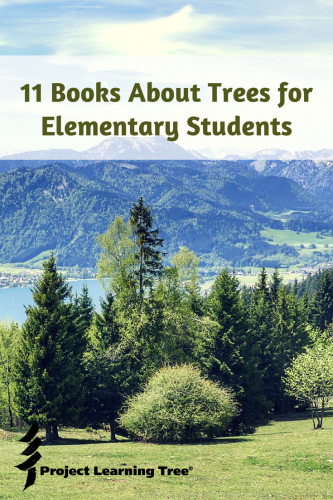 Whether you're putting together a summer reading list or you're looking for a way to introduce a new topic to your students, these books are a great addition to any library. Reading is an enriching learning experience and it certainly gets the imagination firing! Providing your students with books about trees is a great way to start a conversation about our relationship with nature, conservation, and life cycles. These stories will not only help students to learn about trees, but more importantly, appreciate their significance and value.
Here are 11 books about trees for elementary students. Below each book, you will find a general overview and description of what we like about the book.
1. Someday a Tree
by Eve Bunting
The story begins with the protagonist (Alice) describing the many fond memories and events that she associates with an oak tree. However, due to it being poisoned, the oak tree starts to degenerate and eventually, it dies. However, Alice has a plan. She decides to plant an acorn from her personal collection and grow a new oak tree.
The story has a very vivid and nostalgic narrative that gets the imagination going and appeals to the senses. It touches on some of the effects that humans have on the environment and also highlights what can be done to restore it. The book is very easy and enjoyable to read!
Try pairing this book with PLT's PreK-8 Guide: Activity 43—Have Seeds, Will Travel and Activity 79—Tree Lifecycle.
2. This is the Tree – A Story of the Baobab
by Miriam Moss
This story uses a baobab tree as a reference point as it vividly describes the many intriguing happenings in the wild African plains. Using this format, the book delves into the feeding habits and behavior of many African animals and highlights the tree's ecological significance.
The constant reference to the baobab emphasizes the longevity of trees. The book also highlights their environmental and cultural significance. The descriptive language of the book also brings the narrative, and already engaging illustrations, to life. A very entertaining and well-structured read.
Try pairing this book with PLT's PreK-8 Guide: Activity 22—Trees as Habitats and Activity 30—Three Cheers for Trees.
3. The Great Kapok Tree
by Lynne Cherry
The Great Kapok Tree is set in the Amazon rainforest. The story is about a man who enters the forest to chop down a certain tree. However, while taking some rest, he falls asleep. A series of animals then whisper their concerns into the man's ear, presenting their case as to why the tree should not be cut down.
The book has colorful illustrations of animals and forest vegetation as well as simplified maps. The language used in the book really appeals to the senses. It also delves into some strong themes regarding mankind's negative effect on the environment and how our actions can have a detrimental impact on biodiversity.
Try pairing this book with PLT's PreK-8 Guide: Activity 22—Trees as Habitats and Activity 39—Tropical Treehouse.
Download a free sample activity from PLT's e-unit for grades K-2: Treemendous Science!
4. The Busy Beaver
by Nicholas Oldland
One very careless beaver goes about his business of chewing anything and everything in his path, leaving behind a trail of mess and devastation. That is until a tree lands straight on top of him, injuring the beaver. As he is personally affected by his actions, this experience causes the beaver to reflect and change his ways. He sets out on a mission to make everything right and restore the forest to its former glory.
The cartooning in this book is intriguing and catches the eye. The general theme of how our behavior and actions can affect others is a great talking point and could be the segue into many interesting lessons about our personal response to environmental issues.
Try pairing this book with PLT's PreK-8 Guide: Activity 77—Trees in Trouble and Activity 89—Trees for Many Reasons.
5. Who Will Plant a Tree?
by Jerry Pallotta
This book describes the various ways in which seeds can be spread. Specifically, it focuses on the roles of different creatures play in the process. It also highlights some of the basic anatomical features of different seed types.
This takes a little bit of a different approach, focusing on one aspect of the natural planting and growing of trees. It's a great way to introduce lessons on the anatomical features of seeds and how they help with their distribution. The full-page illustrations in this book are detailed and have an old world feel about them.
Try pairing this book with PLT's PreK-8 Guide: Activity 43—Have Seeds, Will Travel and Activity 79—Tree Lifecycle.
6. Arbor Day Square
by Kathryn O. Galbraith
Set in the mid-nineteenth century, Arbor Day Square tells the story of a new, developing town. There is much going on and excitement fills the air. However, one thing is missing. There are no trees. The protagonist, Katie, and her father set about buying and planting trees. Despite their initial doubts, the trees grow big and strong.
The story is engaging and highlights the merit of community participation in achieving environmental and sustainability-related outcomes. The book also conveys the joy associated with planting trees, so it could motivate children to get out there and try it themselves.
Try pairing this book with PLT's PreK-8 Guide: Activity 31—Plant a Tree and Activity 95—Did You Notice?
7. Tell Me, Tree
by Gail Gibbons
This book is more educational in nature than most on this list, describing the features of trees and how they grow. It is very thorough and descriptive as it highlights why trees are helpful to humans and animals and why they need to be planted and maintained. There is also some interesting tree facts and suggested activities at the end of the book.
The colorful images in this book are excellent for helping kids to visualize the features of trees, especially those that are not visible to the naked eye. The descriptions and explanations are clear. There is quite a bit to digest in this book, as it gives some fairly specialized anatomical terms, but it would be an excellent teaching aid or kick starter for a unit on trees.
Try pairing this book with PLT's PreK-8 Guide: Activity 61—The Closer You Look and Activity 62—To Be a Tree.
8. A Log's Life
by Wendy Pfeffer
Many animals rely on this oak tree, but it is struck down during a large storm and becomes a log. The book then explains the numerous changes the tree undergoes, until it finally becomes part of the soil. The story ends with the growth of a new oak tree. In a nutshell, A Log's Life is a succinct story about a tree's life cycle.
The book highlights the usefulness and value of trees as they provide food and lodging for many animals. The brevity is also a feature, and the book could be used to start a lesson with the younger elementary kids. It may also inspire students to get outside and examine the trees and logs at their home or on school grounds.
Try pairing this book with PLT's PreK-8 Guide: Activity 23—The Fallen Log and Activity 31—The Forest of S.T. Shrew.
9. Curious George Plants a Tree
by H.A. Rey
George (a little monkey) goes on a trip to his favorite science museum. There he learns that there will soon be a day dedicated to the planting of trees and collection of recyclables. He is most excited and decides to do his bit. The story follows George as he collects papers and rallies the help of his neighbors to plant trees.
The book is an enjoyable read, with simple, captivating illustrations. The overall themes of recycling and conservation are present throughout the book, so it is sure to make an impression on the reader. There is also a section at the end which offers suggestions as to how families can conserve energy and resources.
Try pairing this book with PLT's PreK-8 Guide: Activity 31—Plant a Tree and Activity 39—Energy Sleuths.
10. We Planted a Tree
by Diane E. Muldrow
We Planted a Tree is a concise story about two families in different parts of the world that plant a tree. It is quite brief and given in a more poetic style with vivid language.
The book explains theoretical concepts and the many benefits of planting trees in a simple and concise way. The illustrations are done in a very engaging, cartoon style. There is a nice use of repetition which provides the story with a memorable structure.
Try pairing this book with PLT's PreK-8 Guide: Activity 21—Adopt a Tree and Activity 31—Plant a Tree.
Do you any other suggestions for books about trees? We'd love to hear them! Share them in the comments below!