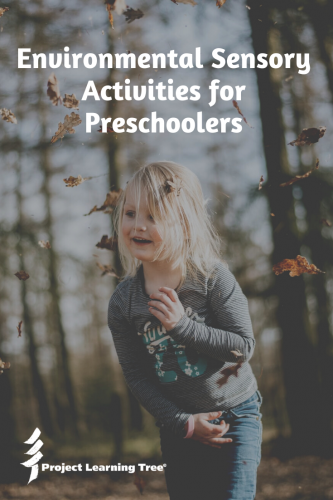 Sensory play is the foundation of all the skills children will build upon later in their educational journey. When young children learn through multiple senses simultaneously, their cognitive skills grow. When preschoolers use their senses to explore objects, they file it way in their memories. These "sensory" memories begin the process of understanding and gaining knowledge.
Has a smell ever reminded you of a special experience? Maybe the first smell of spring brings back a memory shared with a loved one. The olfactory system, which is responsible for smell, is the sense most closed connected to the limbic system. The limbic system is the part of the brain that controls emotions.
Senses are powerful, not only for building memories, but also for building nerve connections in the brain's pathways. By touching, tasting, smelling, seeing, moving and hearing, children retain information that can be built upon later. It is vitally important that early childhood education programs provide opportunities for children to explore through sensory play.
Our senses do not work in isolation from one another; they work together. That is why the most beneficial sensory play engages multiple senses in one activity. Engaging early learners by providing them with opportunities to actively use their senses as they explore the world around them is a great way to pair STEM with children's developmental needs.
We have gathered a list of some terrific multisensory activities focused on nature that you can use in your classroom or at home:
Scavenger Hunts
We're Going on a Sound Hunt from Sun Hats & Wellies Boots combines an outdoor "sound" scavenger hunt that can be enjoyed in any outdoor setting and any season.
This activity pairs hearing and movement for a multisensory experience.
Go on a Scavenger Hunt for Textures with Hands on as we Grow. Textures can be open to interpretation. Allow preschoolers to interpret their own textures as they search for smooth, rough, hard, soft, fuzzy and prickly objects in nature.
This activity pairs touch with movement for a multisensory experience.
The Inspired Treehouse has a free printable Outdoor Sensory Motor Scavenger Hunt. It is a terrific way to explore the outdoors and engage the senses.
This activity engages the sense of touch with movement.
Explore all the senses using Five Senses Nature Scavenger Hunt from Childhood 101.
Use ALL the Senses
How Wee Learn's series Five Senses Activities for Kids Outdoors is an awesome list of creative and simple ways to explore outdoors.
This series of activities can be used together or separately to explore all the senses.
Outdoors Mom inspires children to explore the forest while hiking in your backyard or exploring an urban park. Check out 20 Ways to Explore the Forest Using Your 5 Senses.
This activity engages all the senses while exploring outdoors.
Incorporate Art
Did you know that playing in the mud is beneficial to children? Playing in the mud encourages creativity. It can also be soothing and relaxing to dig your fingers is smooth, silky mud. Make some Forest Faces & Mud Monsters. Cuddles & Muddles & Muddy Puddles blog will help you get started.
This activity pairs touch with sight for a multisensory experience.  
Need some inexpensive art supplies? Look no further than nature. Twigs, rocks, and acorn shells are fun to collect and free. These adorable Bark Owls are just one of the many adorable craft ideas on Fireflies and Mud Pies.
This activity combines touch with sight for a multisensory experience. 
Indoor Sensory Activities
Rhythms of Play features a listing of Nature-Inspired Sensory Bottles. This is the perfect way for preschoolers to safely investigate natural items without putting items in their mouth.
The sensory activity pairs smell with visual learning for a multisensory experience. 
Sensory Smell Bottles are a great way to incorporate smell into unit on the senses. Find essential oils such as lavender or rose that replicate smells found in nature. This is an especially helpful idea for children who have seasonal allergies and cannot smell flowers outdoors. Children can match the scent with pictures of the object from which the scent originated.
This activity incorporates smell and sight for a multisensory experience. 
Explore Seashells in Ocean Moon Dough with STEAM Powdered Family. Students will love molding the moon dough and arranging the shells. Seashells offer opportunities to explore texture, size and shape. Tie in a lesson about the animals that inhabit the shells. You can also use the shell to practice counting, sorting, patterns and number recognition.
This activity incorporates multiple textures. Try adding essential oils to the moon dough to add smell to touch.
Sensory bins are a fun way to bring the outdoors indoors. Add objects related to a theme. For example, you might create a bin with different kinds of seeds, or objects you collected from a nature scavenger hunt. You can also add a filler like sand, soil, water or shredded paper.
Students can use their imagination and explore the bin on their own, or you can incorporate a more structured activity where students need to find certain kinds of seeds or objects in the bin.
The sensory activity pairs smell with visual learning for a multisensory experience. 
Perhaps Swedish outdoor learning expert Anders Szczepanski said it best: "Outside, in real life, is where humans learn best. That's where we make use of all of our senses by seeing, listening, feeling, smelling, tasting and discerning. It fosters curiosity, creativity and cooperation, engages our emotions and makes us care about our environment, as well as our natural and cultural history."
Enjoy exploring outdoors and indoors with engaging sensory play!