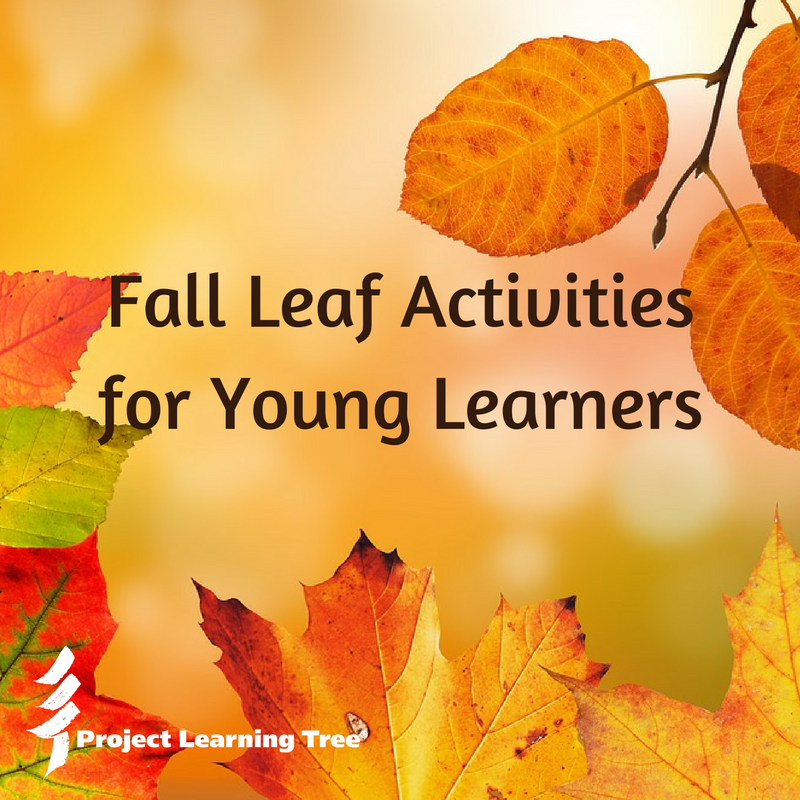 Fall is a great time to teach young students about the changing seasons and the science of leaves. As we watch the green leaves turn to various shades of orange, red, and yellow, your students are likely curious about how and why leaves change color. And, it's still warm enough that you can spend time outside on a nature walk without having to worry about hats and mittens.
To help you get started creating a lesson plan related to leaves, we've compiled over 50 ideas and activities appropriate for preschool through 2nd grade. We've taken a multi-disciplinary approach to this topic – incorporating activities for science, math, art, and literature to engage students in many levels of learning.
In addition to the ideas listed below, don't forget to incorporate PLT's Signs of Fall activity into your lesson plan.
Also, see the full list of leaf-related activities and check out more ideas on our Pinterest page.
Science and Math Projects
Scavenger Hunt
This is a fun component of any lesson plan related to leaves. Students will enjoy being out in nature and using what they've collected in other science activities and art projects.
Leaf Sorting
After a scavenger hunt, sorting the leaves and other items collected from trees can help students learn about the different kinds of trees and different parts of a tree.
Download a free sample activity from PLT's e-unit for grades K-2: Treemendous Science!
Tree Identification
There are many ways to help students learn how to identify trees by their leaves. Use the free app LeafSnap (for iPhone and iPad) to incorporate technology into your classroom. Or, try other sorting methods to help students identify trees by their leaves.
Leaf Graphing
This is a simple way to incorporate math concepts into a lesson about leaves.
Practice Counting, Addition, and Subtraction
Incorporate leaves into your fall math lesson on counting or addition and subtraction.
Parts of Leaves
Use cards or a coloring activity to teach about the parts of leaves.
How a Leaf Breathes
Once students understand the different parts of leaves, they can also learn how a leaf breathes with this simple science activity.
How Leaves Get Their Water
This simple science activity shows how leaves get their water.
How Water Travels through Leaves
This activity is often done with celery to show how water travels through plants, but you can also do it with leaves!
Leaf Color Chemistry
This science activity shows the different colors contained in a leaf.
Leaf Dots
This activity can help show the effect of sunlight on leaves.
Art Projects
If you've collected a lot of leaves from a scavenger hunt, you can incorporate them into your next art project.
Leaf People and Leaf Animals
Let kids use their creative side to create fun people and animals from the leaves and other nature items they've collected.
Self Portraits
Have your students incorporate a little bit of themselves in their art.
Nature Prints
These nature prints could be used as coasters, decorative pieces, ornaments, or stamps.
Sun catchers
Fall colors make these sun catchers stand out.
Fall Leaf Painting
Paint the leaves first and use them as stamps, or paint the outside of the leaves so you see their silhouettes.
Leaf Rubbings
This is a no-mess art project!
Leaf Pounding
This is a different way to take advantage of all the different colors of fall leaves and use them in an art project.
Sensory Bottle
You can use acorns, twigs, small pinecones, and other objects you've collected in your nature walk for this fall sensory bottle – it doesn't have to just be leaves!
Decorated Mason Jar
Create a unique mason jar that show off the colors of fall leaves. This activity is probably better suited for older students because it requires the use of Mod Podge.
Leaf Garlands
Leaf threading helps kids develop fine motor skills. Use the threads as garland to decorate your classroom for fall!
Leaf Drawing
This is another fun fall art project using leaves as inspiration.
Literature Connections
Leaf Poems
Poems are a fun way to introduce the topic of leaves and the changing seasons.
Books about Leaves and the Changing Seasons
There are many children's book on the subject of leaves – these are just a few. See more books about leaves on our Pinterest page.
Word Family Trees
Leaves and trees can also be inspiration for learning about categories of words.
See more activity ideas related to leaves on our Pinterest page.