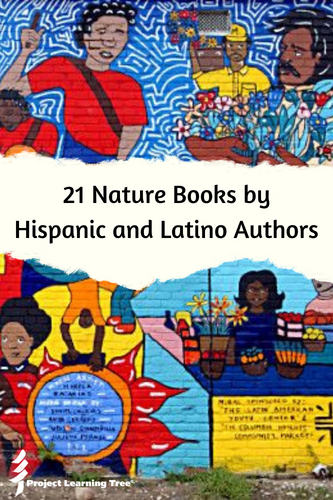 Books by diverse authors give us a view of the world from many different lenses. They also let children see their own cultural experiences reflected in stories with characters that look like them, sound like them, and may resemble experiences they can relate to.
For Hispanic Heritage Month (September 15-October 15), we're highlighting books with a nature theme written by Hispanic and Latino/Latinx authors. Hispanic and Latino communities are incredibly diverse, and especially this month, it's important that we have a chance to tell our own stories.
In this list, the books will explore concepts that are familiar to educators of preschool to elementary-aged students, as well as tell stories that explore our relationship with nature. These books add to a child's cultural understanding and, for many, their sense of belonging. 
We feature some of our favorites below but don't forget to check out the full list on our Pinterest Board!.
PreK Basics
These books on fundamentals focus on exposing little ones to early language skills and basic concepts of comparing/contrasting colors. Exposure to Spanish words introduces concepts of multiculturalism, improves early literacy skills, and normalizes hearing different languages.
A Song of Fruitas (Un Pregón de Frutas)
by Margarita Engle
Younger children will love learning new names for fruits that the narrator uses to promote the fruit stand she runs with her grandfather. Older children will pick up on deeper concepts about the immigrant experience.
My Colors, My World / Mis Colores, Mi Mundo
 by Maya Christina Gonzalez
A desert storm covers Maya's neighborhood in dust. It takes a little bird friend and vivid imagery for the reader for her to realize that the colors she loves are still everywhere. She just needs to look a little closer. The book prompts young readers to do the same with their own surroundings.
Opposites / Opuestos
 by Gladys Rosa Mendoza
Colorful illustrations support the vocabulary development of animals and opposites in both English and Spanish. This board book also has a pronunciation guide if you're unfamiliar with any of the Spanish words featured.
Learning About Animals
Engaging children in stories about animals is a great way to develop an appreciation for all living things. Some of these books focus on the basics of identifying animals, and others feature animals in stories about topics such as friendship and moving to a new place.
Coqu
í
in the City
by Nomar Perez
A young boy looks for reminders from his old home in Puerto Rico while in his new home, New York City. This picture book captures the familiar feeling for many children about moving to a new place, especially when everything seems so strange at first.
The Caiman
by María Eugenia Manrique
A local clockmaker adopts a caiman, and his scaly friend becomes a constant in the neighborhood and in stories passed down for generations. It's a story of friendship, a love for animals, and the power of legacy.
Animals at the Farm / Animales de la Granja
by Gladys Rosa-Mendoza
This board book for early learners focuses on foundational vocabulary development with colorful illustrations of farm animals big and small. Young children will enjoy seeing animals familiar to them presented in a vivid way.
Not a Bean
by Claudia Guadalupe Martínez
Learn about the life cycle of a Mexican jumping bean, which really isn't a bean at all! Young readers will love learning about this interesting concept, and how a tiny moth can cause quite the ruckus inside a little seed pod.
Weather
Learning about weather is a great way to teach children introductory science concepts. Weather events affect our experiences and view of the world, and it's important to hear stories from many different perspectives.
The Weather / El Tiempo
 by Gladys Rosa-Mendoza
Colorful illustrations supplement simple vocabulary about different kinds of weather conditions in both English and Spanish, as well as fun ways to enjoy each type of weather. A pronunciation guide in the back of the book supports bilingual learning.
Maxy Survives the Hurricane

/ Maxy Sobrevive el Huracán

 by Ricia Anne Chansky and Yarelis Marcial Acevedo

Older elementary-aged children will enjoy this bilingual picture book set against the backdrop of a natural disaster. The story is told from the perspective of a little girl in Puerto Rico named Clarita and her skittish pup Maxy. 
Agua, Agüita / Water, Little Water
by Jorge Tetl Argueta
Follow the journey of the water cycle through the lens of a water droplet – in the Earth, as dew, in the clouds. Beautifully illustrated, the author tells the poetic story in English, Spanish, and Nahuatl. This book can provide a lyrical and cultural perspective on a topic that's typically only based in science.
Understanding Our Relationship to Nature
Books about nature lend themselves to companion lessons about not only science but also how students see themselves in the world. When students see themselves in these kinds of stories, they develop a sense of belonging and identify different ways to take care of the natural world around them.
All Around Us
by Xelena González
Family traditions intertwine with questions about nature as a grandfather and granddaughter think about the world around them. Explore ideas about rainbows, the life cycles of plants, and lessons from Mother Nature.
Just Ask! Be Different, Be Brave, Be You
by Sonia Sotomayor 
Introduce children to Supreme Court Justice Sonia Sotomayor with a lesson about diversity. Sotomayor talks about our unique differences and skillsets that make us special while telling a story about a community garden.
Nosotros Means Us
by Paloma Valdivia
Simple language compares the bond between a mother and child to similar relationships in the animal world. The idea of "us," no matter the species, shows that their bond is unbreakable in this bilingual book.
I Know the River Loves Me / Yo sé que el río me ama
 by Maya Christina Gonzalez
A young girl describes her love for the water and her favorite river in this story about the pull of nature. Imaginative storytelling and vivid imagery is used to inspire children to develop their own love of the outdoors.
Call Me Tree
/ Llámame árbol
 by Maya Christina Gonzalez
Young readers will enjoy the colorful images about a child comparing themselves to a tree, grown from a tiny seed to become strong and tall. This seemingly simple story is a stand-in for something bigger, though, and a representation of empowerment and being true to yourself.
Where Wonder Grows
by Xelena González
This book about simple pleasures in the nooks all around us invites children to use their imaginations about their natural environment. It does so with a story about a grandmother introducing her granddaughters to the secrets that hide inside her special garden.
Talking with Mother Earth / Hablando con Madre Tierra by Jorge Tetl Argueta
This collection of poems tells the story of a young boy struggling to feel like he belongs. With the help of his grandmother, he learns to listen to the corn, mountains, wind, and water. This is a story of acceptance, identity, nature, and family rooted in the Salvadoran Pipil Nahua experience.
Fairytales & Folklore
Throughout history, people around the world have used fairytales and folklore to pass on lessons and values to future generations. They are an important component of child development, helping them make meaning of the world.
The Secret Footprints
by Julia Alvarez
This story explores the Dominican legend of the ciguapas, underwater creatures who left no traceable footprints because their feet were on backward. The legend itself should spark some curiosity in readers, but the underlying message is one of kindness.
Bright Star
by Yuyi Morales
Limited language paired with evocative imagery is used to tell the story of a fawn navigating her way through a variety of obstacles. The calm narrative voice is meant to reassure children that the world doesn't have to be a scary place, especially when they accept themselves.
The Sea-Ringed World: Sacred Stories of the Americas
by María Garcia Esperón
This collection of stories comes from what was known to the Aztec people as "the sea-ringed world." Read about how Native Peoples from coast to coast see the origins of the world and how nature influences cultural traditions. 
Confetti: Poems for Children
by Pat Mora
The theme of these bilingual short poems is seeing the natural world against landscapes of the Southwest. Pair this one with lessons where students use their immediate surroundings to write poems of their own.
Any of these books would be a meaningful year-round addition to your school or classroom library, but they can also serve as companion pieces for environmental student lessons during Hispanic History Month and beyond.