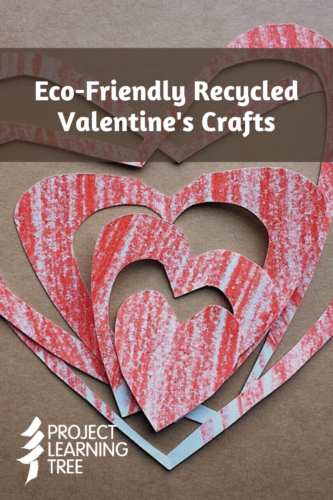 Valentine's Day can be more than cards and candy! The holiday of love can be a great time to teach students to foster their love for the planet too. Let your loved ones know how much you care about them with Valentine's craft made with recycled materials.
We're sharing ideas for crafts that are eco-friendly, sustainable, and still fun for kids. We'll include traditional fare like heart-shaped crafts and cards for arts activities they can bring home. 
Heart-Shaped Decorations
Classic heart-shaped decor is a must around Valentine's Day. These activities use materials like newspaper, old magazines, cereal boxes, and strings of leftover fabrics to create lovely garlands, ornaments, and hanging decorations to add a little whimsy to the holiday.
The top arts craft in this list is made even better with magazines featuring fun images of wildlife, flowers, and other nature scenes. It's a great way to incorporate lessons about other themes they may be learning about across their curriculums. 
Heart Wreaths
Wreathmaking doesn't have to stop after the winter holidays are done. These heart-shaped wreaths are all made out of recycled materials like scrap paper, twine, fabric pieces, toilet paper rolls, even old sets of playing cards that may have a few suits missing out of the deck. Choose the activities that include materials you know you can easily get your hands on, or task students with bringing leftover materials to the classroom.
The first link in the list is a roundup of four unique crafts that includes a heart-shaped hanging birdseed wreath to allow students to show their love for wildlife in their neighborhood. Students will need adult supervision for the boiling water involved, but it otherwise comes together with items that are readily available in most kitchens. 
Heart-Themed Crafts
There's no shortage of heart-themed activities for teachers who want to celebrate Valentine's Day in the classroom. These activities embrace the most popular symbol of the holiday — hearts! — with collages, cutouts, stamped cards, and sensory-based play that are interactive for all students.
The first craft may be fun with an older group of students, as it uses the ancient Japanese art of origami to fold paper into hearts and give as gifts. Any recycled paper will do, but a sturdier variety may be easier to work with for beginners who may need to fold and then refold their attempts. It's truly one of the most adaptable activities out there. 
Valentine Card Holders
These activities repurpose items like milk jugs, empty tissue boxes, paper bags, and shampoo bottles into colorful receptacles for students' cards and treats. 
The top activity turns old cardboard and cereal boxes into mailboxes for Valentine's cards, complete with a little flag to announce mail. Adjust these activities as needed based on the adult support in your classroom and how hands-on you'd like to be as students decorate their crafts. 
Valentine's Cards
Little ones love exchanging cards on Valentine's Day, but they don't have to be store bought. Help them create beautiful cards that speak to their personalities and use up old fabric, paper, and tissue scraps from old art projects. The top craft uses scraps of holiday gift wrap to create Valentine flowers on paper. It's a great way to help families use up wrapping paper scraps that are too small for the next round of presents. If you have extra time, try the Make Your Own Paper activity from Explore Your Environment: K-8 Activity Guide. It'll make your cards even more special!
Roses are red, violets are blue…nothing says love like a sweet poem. With older kids, encourage them to be creative with our Poet-Tree activity from the Explore Your Environment: K-8 Activity Guide.
DIY Seed Bombs
Show Mother Nature some love with these DIY seed bombs that serve the dual purpose of keeping hands busy and growing something beautiful once they're planted, or "bombed." Seed bombs are more than a craft. They're essentially seed pods that include completely compostable materials that can be planted into the ground to allow something to grow where it's placed. They're very much on trend with environmental movements and easy to create with recyclable materials on hand; just make sure you're selecting seeds that are native to your area! In the case of these crafts, they're heart-shaped for Valentine's Day, too!
Love Bugs
These cute crafts are a great replacement for sugary sweets on Valentine's Day. Create "love bugs" out of recycled corks or toilet paper rolls that show off your students' creativity. The top activity goes a step further and turns those love bugs into a fruit cup, complete with googly eyes on top of all of that jiggling. You'll keep the mess factor down by keeping the fruit cups safe in their packaging as students decorate the outside. 
Recycled Fabric Gifts
Help students get creative with their Valentine's gift-giving, or prep gifts of your own to give your class as a special treat. These crafts use recycled fabrics for beautiful (and sweet-swelling!) lavender bags, denim gift bags, and warming accessories for students. 
We've already included the top pin in this list thanks to its idea for a heart-shaped birdfeeder. If you kept reading, you may have been inspired by the DIY Valentine's Day shirts just below. Show students that you don't need to go shopping every time a holiday rolls around. Have each bring in an old shirt or sweater and help them attach a red felt heart with a needle and thread or a simple safety pin for the perfect new top.
Recycled Gifts
Upgrade readily available materials like egg cartons, cardboard, and bits and pieces of old crayons to create fast and easy Valentine's gifts that are much cuter than the treats in the dollar bin. The top craft repurposes old maps or atlases to create a bouquet of roses that would rival any live bunch of flowers. This project does require quite a few fine motor skills between the cutting and folding, so it likely works best with an older group.
All of these crafts are easily adjustable based on the learning needs of your students, and could even turn into small group activities if you're short on supplies. The point is simple: Guide your students in celebrating Valentine's Day as a day where they can give a little back to their communities and their natural environments.