Editor's Note: This article was adapted and modified for PLT.org; a version of this story originally appeared in the October 2021 edition of Roots, the Minnesota Department of Natural Resources' employee newsletter. Share the exciting, meaningful work you are doing with PLT curriculum and professional development for a chance to be featured in an upcoming issue of The Branch!
Showing teachers how to teach outdoors helps create the next generation of natural resource stewards.
"Oh wow! My first graders could totally do this!" exclaimed one teacher in a group learning how to track a fictitious "peppermint beetle" through Trinity School Forest. We had marked a secret scent trail at nose-level on several trees using a cotton ball and a small bottle of peppermint extract.
Then we challenged the teachers, acting as students, to sniff each tree, flag the scented trees, and discover the beetle's trail. Wrapping up the lesson, the teachers discussed how animals use their sense of smell and the importance of using senses to communicate.
One teacher recognized her disadvantage as she had lost her sense of smell after recovering from COVID-19 last year, a lesson in itself. If she were a beetle, she would have trouble finding the trail. Another teacher had an epiphany, "Is that how emerald ash borer beetles find trees to eat?"
Bingo. That's how we learn.
Support for Learning Outdoors
It's becoming more and more clear that children who get exposure to frequent, positive interactions with nature throughout their formative years are more likely to care for the environment as adults. (For more information, visit the Children and Nature Network research library, which aggregates hundreds of research studies on this topic.)
The Minnesota Department of Natural Resources' School Forest Program helps teachers enhance their outdoor instruction, in turn directly influencing support for our forests, wildlife, water, and natural places far into the future.
Most schools do not use their outdoor surroundings to teach. Changing this culture requires a dual long-term approach that includes providing an enriching school forest or outdoor classroom and preparing teachers with lessons, tools, and outdoor skill-based trainings in the woods.
Tools, Training and Resources
Last August, we visited three school forests to share outdoor lessons and build a whole-school cohort of teaching staff that would be comfortable teaching outside in their own backyard. Our goal is to inspire teachers to teach students outside on their own after we leave.
At each training, we familiarized teachers with their own "outdoor classroom." This includes using the correct door for leaving the building, reviewing school protocols regarding outdoor safety, locating the trail entrance, pointing out hazards such as poison ivy, identifying trees and plants, determining trail accessibility, and demonstrating how to use the school's own tools such as maps, field desks, rulers, and binoculars.
Teachers especially want engaging, hands-on lessons. We provided lessons from Project Learning Tree, other school forest teachers, and sometimes Projects WET and WILD. But it's not enough to just hand over copies of lesson plans. The key is getting teachers to participate in each lesson outdoors as if they were students because this helps them see how they can use it with their own classes.
At these trainings, we highlighted the interdisciplinary nature of PLT's activities, linking lessons to:
Math and geometry: calculating tree height and area, measuring perimeter, making estimations
Social studies: map and compass, GPS, Ojibwe and Dakota community use of the land, economics of natural resources, land management
Language arts: reading, writing, poetry, journaling
Science: observing natural phenomena such as water, plants, animals, weather; sensory exploration; making hypotheses and conducting experiments; plot studies; fort-building (engineering)
Physical education: snowshoeing, skiing, hiking, running
Minnesota has 150 school forests, each with its own personality. They include pine plantations, prairies, bogs, small woodlots, and manicured schoolyards. School forests range from one-quarter of an acre to 320 acres, averaging 40 acres. Forty percent of these school forests are located in urban areas.
We tailor each training depending on a school's specific needs. Here's an example of what that looked like for some of the schools we've visited:
Crosslake Community School Forest
Crosslake Community School Forest entered the program in 2020. Their beautiful 3.9-acre forest sits behind the school building and contains little undergrowth and a large diversity of trees: oaks, maples, elm, walnut, spruce, red pine, aspen, and birch. The forest is accessible and comfortable even without trails, with conveniently fallen logs for seating and signs of animal life everywhere.
Osprey Wilds, their charter school's authorizer, requires Crosslake to include environmental education in the curriculum. We found teachers eager for outdoor lessons, while newer staff required an introduction to Minnesota flora and fauna, along with strategies for managing squirrely groups of students outdoors.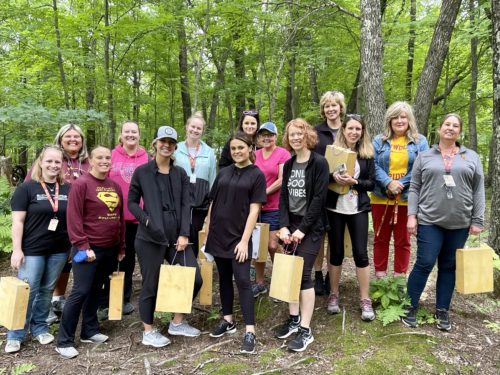 Linwood Elementary School Forest
Linwood School Forest borders the Carlos Avery Wildlife Management Area. It is a well-established parcel, managed jointly with the Linwood Township. The 210-acre site was designated in 1994 and contains established trails, two outdoor seating areas, a wide dock into a wetland, a port-a-potty, and beautiful buckthorn-free woodlands of mature sugar maple and oak.
Linwood Elementary School hired a naturalist to provide outdoor instruction a few times each year and created a supply room near the school's exit door, chock full of tools such as class sets of field desks, magnifying lessons, field guides, and other items. Yet despite having an abundance of resources, tools, and a magnificent site for outdoor instruction, several of the teaching staff were new to the school, had never taught outdoors, and had no idea how to get started.
While outside help is nice, Linwood's current principal wanted to get those kids outdoors more frequently by empowering teachers to work with students directly outdoors. While most teachers were willing to do so, they had no idea how. As a result, we shared dozens of outdoor lessons that met academic standards and demonstrated how to do it using their own tools.
Karen Harrison led the grade 4-8 teachers through an activity that demonstrated the scientific method in a real-world situation (a required Minnesota science standard). First, she explained that earthworms are not native to Minnesota. Then she challenged them to conduct an experiment to answer the question: Does our school forest contain earthworms?
Each group then set up 1-foot square plots in different parts of the forest (using location as a variable), then slowly poured a solution of water and mustard powder into the soil to induce any worms present to rise to the surface. After the worms popped up, groups collected them on paper plates, counted them, and identified them by species.
Closing the loop on the scientific process, Karen showed how teachers could replicate this experiment, guiding students to collect data, analyzing findings, researching earthworms' effects in Minnesota forests, and sharing conclusions.
Trinity Lone Oak School Forest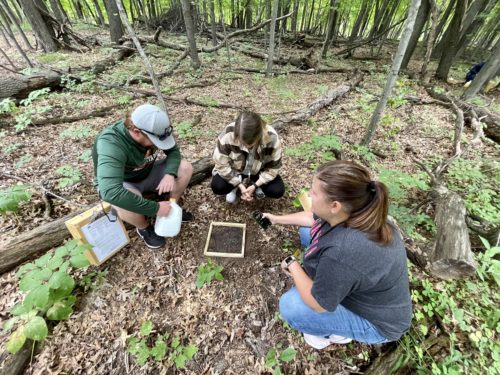 Trinity Lone Oak School Forest in Eagan has a decidedly different personality. The one-acre forest is located in a relatively urban area, just a short walk from the building, and contains a bench seating area and a teaching podium overlooking a pond. The school forest is an open, beautiful, welcoming place, even with jets from the Minneapolis −Saint Paul International Airport flying low overhead.
The forest has come a long way since entering the program in 2013. When we first saw the site, buckthorn prevented all but the most determined explorers from entering the woods and teachers were unfamiliar with teaching outdoors. However, as a private school, Trinity Lone Oak's leadership wanted to attract more families and students by prioritizing and emphasizing nature-based instruction. Beginning in 2013, they enlisted local volunteers to remove the buckthorn, create trails, and maintain the site. They also invited DNR school forest staff to share lessons with the teachers.
Our August 2021 visit marked our fourth training with the Trinity teachers, not too unusual because school staff comes and goes over the years. Notably, the teachers wanted lessons that engage students with GPS technology. We were happy to share our full suite of GPS lessons, along with the school forest loaner trunk that contains 25 GPS units and compasses. We expect increased future engagement with this site because Trinity's preschool wants to add more nature play by creating a safe, natural space for toddlers to explore and learn.
These interactions are, by far, the favorite part of our jobs!
By introducing teachers to exciting, real-world PLT lessons that meet their standards-based needs, we hope that schools continue to provide the next generation of nature stewards with meaningful, more frequent connections to nature.
Top Ten Tips for Teaching Outdoors
For more tips from Laura Duffey, Minnesota PLT State Coordinator, check out her series of articles "Top Ten Tips for Teaching Outdoors" for early childhood, elementary, middle and high school at plt.org/resources/educator-tips/teaching-outdoors.