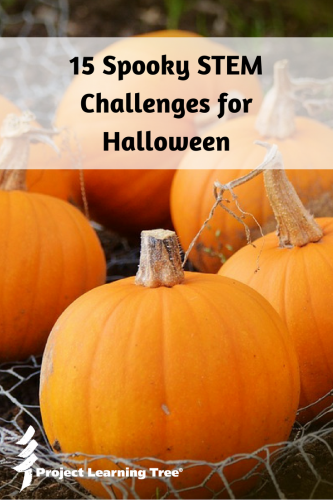 It's hard for kids to contain their excitement as Halloween approaches. Of course, the best way to keep your students focused and learning during the lead up to trick-or-treat is to bring Halloween into the classroom.
We've curated this list of Halloween-themed STEM activities to give you some easy and productive ways to make the holiday part of your curriculum, whether you're teaching preschool, kindergarten, third, or even eighth grade. You can find even more ideas on our Pinterest board.
If your school doesn't celebrate Halloween, don't worry – many of these activities work well in class apart from that holiday. Several involve apples or pumpkins, which you can always incorporate into your lesson plans around Thanksgiving.
Bones and Biology
1. Spider webs
Spiders may be creepy crawlies, but they are also master engineers. Similarly, making spider webs out of yarn is more than a fun art activity to do during Halloween. It gives you a chance to talk about these remarkable animals, their silk, and geometrical webs before your students get a chance to create their own designs. Encourage them to be inventive: no two spider webs in nature are the same, so their webs shouldn't be the same either!
2. Paper bats
You've probably seen your students fly plenty of paper airplanes (with or without your permission). But what about paper bats? Getting a heavier, less streamlined body to stay in the air offers your students a whole different engineering challenge, giving your class a chance to explore concepts like aerodynamics and weight vs. lift –– as well as bat biology.
3. "Bone" bridge
Building a "bone" bridge out of q-tips, pipe cleaners, and clothespins offers your older students an in-depth, Halloween-themed structural engineering challenge that feels like holiday fun. These components aren't just inexpensive: they're able to produce a tremendous variety of structures, which means you can reward a variety of your students' achievements, such as the strongest bridge, the most flexible bridge, and the bridge that can hold the most candy.
4. Articulated hands
Your students can play with skeletons in a biology or engineering class by making these paper, straw, and string articulated hands. Once made, these simple toys are more than fun Halloween fidgeting tools: they accurately convey how muscles and tendons move muscles within the human body.
The Great Pumpkin
5. Pumpkin investigation

Introduce the basics of scientific observation to your younger learners with this simple pumpkin investigation, which even includes a simple experiment testing whether your pumpkin sinks or floats. Of course, after the initial investigation, the class can carve the pumpkin together and roast the seeds for a full afternoon of Halloween fun.
6. Five Little Pumpkins
The popular Halloween rhyme "Five Little Pumpkins" has been made into songs, videos, and books – your pre-k, kindergarten, first, and second grade students may already know it! This rhyme also contains the inspiration for an easy STEM challenge: building a "gate" on which the round, rolling pumpkins can sit. With ping-pong balls for pumpkins and Legos or other building blocks for the "gate," this challenge is safe and achievable for even the youngest students.
7. Candy pumpkin catapults
Constructing candy pumpkin catapults offers a slightly more advanced (and entirely more edible) STEM challenge that is still accessible for the youngest elementary school students. Best of all, they can take their catapults home to be used in a huge variety of play, such as shooting acorns outside or making Lego figures soar over newly-built castles.
8. Pumpkin elevators
Students in third grade and above are ready to tackle this in-depth engineering project of designing and building pumpkin elevators. The challenge works well with miniature pumpkins, but there's no reason you couldn't use smaller ones of the traditional variety. You can get creative with the materials, using boxes, paper clips, rubber bands, and other household items or recyclables.
9. Germinating pumpkins
Sometimes we forget that STEM isn't just about design and building: growing things is a form of scientific engineering as well! Germinating pumpkins inside of miniature pumpkins is a very easy activity that can teach your students about seeds, soil, and caring for plants, as well as about the circle of organic life. A new pumpkin grows out of the decay of the old one within a couple of weeks! Then, depending on what climate you live in, you can plant the pumpkins outside and potentially see new growth from them in the spring.
Creepy Chemistry
10. Candy corn chemistry
It can be hard to keep candy out of your classroom on Halloween. So why not invite it in, and then make it dissolve? This inexpensive and simple chemistry activity involving candy corn introduces young scientists to concepts like isolated variables and control groups through a quick chemical reaction. Your students can record their observations through words or pictures and, best of all, eat any surplus objects of science. Finally, to add another level, include marshmallow pumpkins as well, or pit the candy corn against some Halloween M&Ms.
11. Frankenworms
Whether in the classroom or as a kid, you've probably played around with the reaction between baking soda and vinegar. This "Frankenworms" activity designed for first graders offers a new take on that classic chemical trick. Instead of creating an explosion or fountain, the reaction causes gummy worms to "wiggle" around in a jar of vinegar, offering your students a delightfully creepy, easily contained, chemistry lesson.
12. Monster science experiment
That same reaction between household chemicals can be used to inflate balloons (and amaze preschoolers) in this monster science experiment. By adding a little food coloring to the chemical mixture, you can make the reaction even easier for kids to see and understand, enabling them to draw their own conclusions about how the "monster heads" grow.
Educational Undead
13. Ghost rockets
Take science outdoors with these ghost rockets, made from film canisters (small plastic cups work too) and sent flying by the reaction between corn starch and Alka seltzer. Younger learners will be delighted just by sending the rockets into the air, while older learners should experiment with different quantities and ingredients to discover how best to get a ghost aloft. Of course, ghosts are just one option for what to draw on the rocket: you could make a bevy of speeding bats instead, or let your students customize their rockets in any way they choose.
14. Floating ghosts
Divers made from plastic pipettes have become a staple of the middle school STEM classroom because they're relatively inexpensive to build, and because they convey important lessons about air pressure and buoyancy, even though the idea is over four hundred years old. You can make this classic activity even more engaging by dressing up those pipette "divers" as floating ghosts for a fun Halloween theme.
15. Mummifying apples
Mummies are another form of undead that fascinates students, but they tend to be things we see in museums, rather than bringing into the classroom. However, mummification is a technology, rooted in scientific reasoning and carefully designed over five thousand years ago.
Mummifying apples is a spooky, slightly gross experiment that can teach kids basic facts about chemicals and food preservation as much as it can about Ancient Egypt.
Happy Hauntings!
We hope these fifteen ideas have got you thinking about ways to fill your classroom with skeletal, creepy-crawly, ghastly and ghoulish fun. You can find even more spooky STEM activities over on our Halloween Pinterest board.
And if you've tried these activities, or have some STEM ideas of your own, we'd love to hear from you in the comments. Happy Halloween!