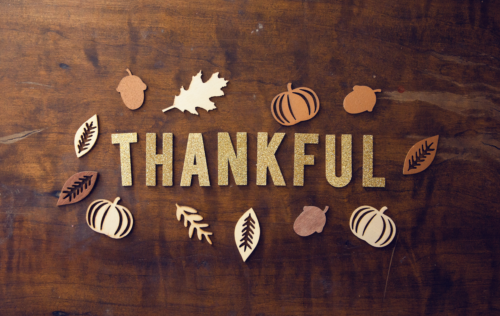 What do you need to build a house, or a deck, or a chair?
Trees, of course.
But you might also need trees to weave a shirt, whip-up a stellar breakfast, or glam-up those Hollywood eyelashes.
Really!
This Thanksgiving, think about some of the more surprising ways trees are rooted in our lives, and use this free Project Learning Tree activity We All Need Trees to help children discover different products we get from trees and how much we depend on trees in our daily lives.
The United States forest products industry is a major contributor to the national economy, representing approximately 4% of U.S. manufacturing GDP (source: American Forest & Paper Association). In Michigan, forest products industries contribute more than $20 billion in economic output.
"Forests are an incredible renewable resource that we manage for wildlife, recreation, and timber production to make a huge variety of goods," said Michigan Department of Natural Resources forest products specialist David Neumann.
How can you tell if the trees used to make forest products were responsibly sourced and replanted? Look for labels and other information that indicate the product comes from a responsibly managed forest. The two most common forest certification labels in the U.S. are Sustainable Forestry Initiative (SFI) and Forest Stewardship Council (FSC). These independent organizations require audits to ensure sustainable forestry practices are being used, such as replanting, protection of water quality, and conservation of biological diversity.
Students in grades 6-8 can explore the environmental, social, and economic criteria of forest certification and examine the steps involved in making a certified forest product using Project Learning Tree's activity What's in a Label? found in PLT's Explore Your Environment: K-8 Activity Guide.
Traditional forest products include commonplace items like paper, furniture, and lumber. But in other goods, where the tell-tale wood grain is hidden, it's harder to know that an item came from a forest.
From the coffee tree beans that might help you greet your day to the cup of steeped tea leaves or barrel-aged brew you might settle down with in the evening, almost everything we do is connected somehow to trees.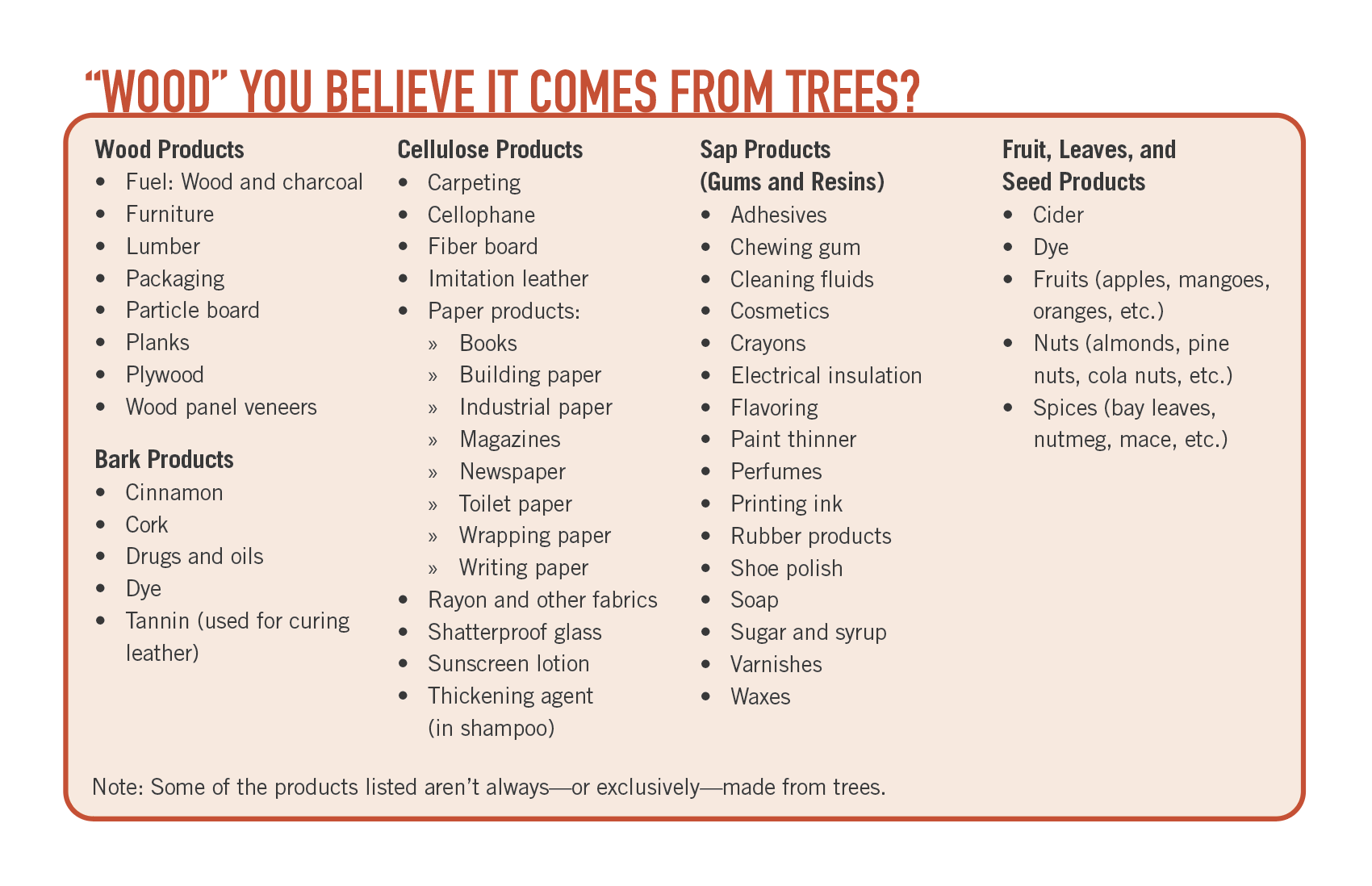 In the kitchen
Next time you sit down for breakfast, look at your plate and try to spot how much of your morning starts with trees. A wooden table, a paper napkin, fresh-pressed apple cider, maple syrup, smoked sausage, or a cheesy, mushroom omelet all can start with trees.
Some of these products are from obvious tree-based sources, like fruits and nuts from orchard trees and the sweet syrup that starts its journey as sap in a maple grove (learn how to get started making your own). Even delicious chocolate starts out as a funky-shaped cacao pod from a tropical tree.
Forest flavors can also be spicy (cinnamon, star anise, clove) or subtle additions to a recipe, such as the smoky bacon or sausage taste that comes from wood chips or the flavors in our favorite brews picked up from the oak barrels used to store them. Barrel-making companies, called cooperages, produce white oak barrels for wine and craft distilling industries.
In addition to adding flavor, trees can provide other helpful ingredients. Natural cellulose fiber keeps shredded cheese from sticking together in one big clump, and farmers-market mushrooms are often grown in sawdust or on cut logs.  
The bathroom
After breakfast, it's time to brush your teeth and get ready for the day. You guessed it – trees are in your bathroom cabinet too. Tree resin and cellulose can thicken toothpaste, smooth out deodorant and strengthen nail polish. Did you know tree sap can also be found in soap and perfumes?
And back to those eyelashes. Cellulose fiber is used in many natural mascara brands to add length and lift. Tree-based ingredients are also used in lipstick and in henna hair dye, which is derived from the henna tree native to North Africa and Asia.
Tree oils, including tea tree and sandalwood, and oils pressed from tree nuts like almond and jojoba (a small, shrubby tree in the southern U.S.) are other personal-care items originating with trees. 
Clothing and footwear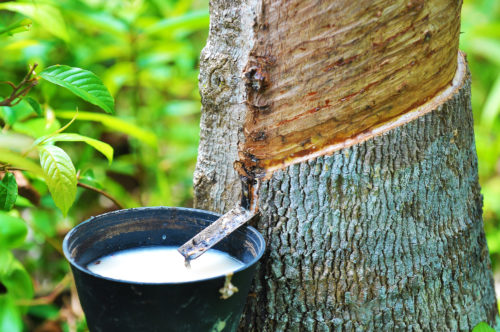 Now it's time to get dressed. But wait, what do rough, scratchy pieces of leaves, tree bark, and wood chips have to do with your favorite activewear? More than you might think. You could be wearing a tree right now!
Figuring out how tree bits made their way into cozy clothing requires taking a step back – way back – to the 1800s. Rayon was the first tree-based fabric made from purified cellulose fibers, a substance that gives tree cells shape and strength.
Created as a substitute for pricy silk, rayon was the first man-made fiber and involved a chemically intensive process that wasn't great for the environment.
However, the next generation of tree-based fabrics is here, and things have changed a lot since the 1800s. Today's lyocell and modal fabrics (sold under the brand names TENCEL or Excel) are made from wood pulp and leaves.
A special process treats pieces of eucalyptus, bamboo, oak, or birch and weaves them into soft fabric. Modern methods now use less water in production than even organic cotton. Solvents used in these processes are reported to be recycled at a rate of more than 90%.
What's the advantage? Tree-based fabrics are great for activewear and outdoor gear since they wick away moisture, are long-lasting, and don't easily snag. Many are certified as using sustainable harvest methods, so you can feel good about wearing a renewable item, too.
In addition to cellulose-based fabrics, you might also be wearing trees on your feet.
Natural rubber boots are made from trees. It started in 1839 when Charles Goodyear of Goodyear Tires invented a way to process the sap of central America's hevea tree, a natural latex source used by Indigenous Peoples. Goodyear named his process "vulcanization," after Vulcan, the Roman fire god.
And there's more
Musical instruments, sponges, car wax, home insulation, a new type of skyscraper, and more are made from trees.
In addition to all the things that trees make, they're also responsible for making our lives better.
Trees clean water and air pollutants, provide places to adventure, raise property values, lock up carbon dioxide gas and contribute to the well-being of communities.
Trees provide a good deal more to our lives than what meets the eye. So, this Thanksgiving, think about trees providing so many different and important benefits to our lives, and thank foresters for maintaining our state's forests and arborists for caring for trees in urban landscapes.
Editor's note: A version of this story originally appeared in October 2021 as part of the weekly Showcasing the DNR feature story series (Michigan.gov/DNRStories), published by the Michigan Department of Natural Resources.