Watch Dr. Seuss' The Lorax movie or read the book with your students. Then, use these activities to teach about the inherent value of forests and the importance of sustainable forest management, as well as other topics related to the movie.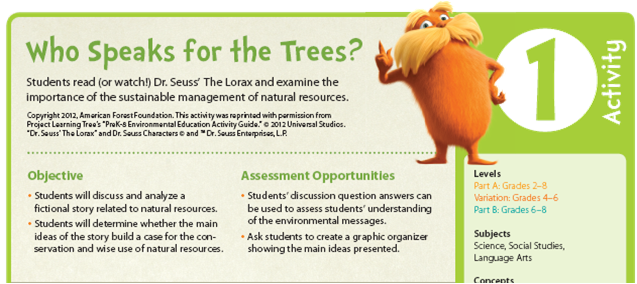 Inside you'll find six redesigned activities from PLT's PreK-8 Environmental Education Activitity Guide including:
Who Speaks for the Trees? – Students read (or watch!) Dr. Seuss' The Lorax and examine the importance of the sustainable management of natural resources. (Grades 2-8)
We All Need Trees – Students are often surprised to learn how many different products we get from trees. Use this activity to help your students learn just how much we depend on trees in our daily lives. (Grades PreK-6)
Three Cheers for Trees – It's easy to take for granted both trees and the many benefits they provide. In this activity, students picture how their community would be different without trees and think about how much trees add to people's lives. (Grades 1-4)
Forest for the Trees – In this activity, students will role-play managing a Tree Farm. By using a piece of land as an example, they will begin to understand the economic factors that influence management decisions for private forest lands. (Grades 4-8)
400-Acre Wood – In this activity, students will play the role of managers of a 400-acre (162 hectare) piece of public forest. Through this role, students will begin to understand the complex considerations that influence management decisions about forest lands. (Grades 7-8)
Plant a Tree – Never underestimate the power of a tree! Besides giving us an amazing array of paper and wood products, trees provide a host of other benefits—from shading our backyards to assisting in the maintenance of the global climate. Students can express their appreciation of trees by planning and carrying out their own tree-planting project. (Grades 1-8)
Resources
Geisel, Theodor (Dr. Seuss). The Lorax. Random House. 1971
Grades PreK-6. ISBN: 0394823370
In this classic children's book, the Once-ler describes how his greedy actions destroyed a beautiful and thriving environment. Children will enjoy the colorful characters and rhyming verse. Also available in Spanish.
This package of Project Learning Tree activities was created by PLT in conjunction with The U.S. Forest Service's (USFS) Discover the Forest campaign to encourage parents and children to spend time in forests and reconnect with nature.  Discover the Forest aims to get children outdoors, create interest in the environment and help children develop a lifelong relationship with the natural world.