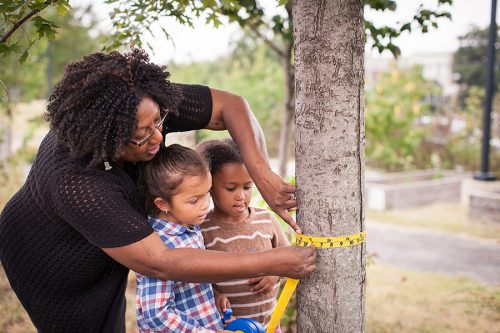 Trees do more than provide products such as fruits and wood. They also improve air quality by absorbing carbon dioxide and pollution, reduce flood risks due to rainfall, and provide energy savings by reducing the need for heating and cooling.
In this activity you will calculate the dollar value of trees using i-Tree MyTree – a free online tool by the US Forest Service.
Take children outside to an area with trees.
Choose a few trees, identify their species, and measure their circumference.
Next, go to https://mytree.itreetools.org/.
Follow the instructions to produce a simple "nutrition-style" label that shows a tree's benefits (see Figure 1).
Complete the Tree Value Chart found in the activity and reflect:
Why is it important to care for trees?
How does the value of one tree compare to the value of other trees?
Do trees with a larger circumference provide greater values?
Why do you think that might be?

This family activity is based on Project Learning Tree's Teaching with i-Tree unit.
All PLT activities are copyright protected. Please remember to reproduce responsibly. 
Click here for our Content Reprint and Adaptation Policy.