In this activity, children will discover that trees have a lifecycle that is similar to that of other living things.
Doing the Activity

Trees, like all living things, have life stages that include starting their lives, growing, experiencing, injury or disease, aging, and dying. As trees go from birth to death, their physical forms change, as well as their role in the forest ecosystem. 
The next time you are at a park or among trees, ask children to identify the various stages of a tree's life.
Are trees alive? How do you know?
How are trees born? Do they die?
How does a tree's life compare to the life of a person?
Can you find a young tree? An adult tree? An elderly tree? A dead tree?
How do people benefit from trees at different life stages?
How do people help trees at different life stages?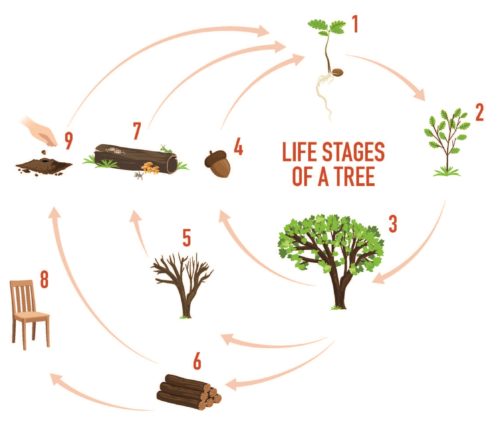 Have children match up the numbers in the illustration with the names of various tree life stages.
#_____ Mature Tree
#_____ Rotting Log
#_____ Harvesting Logs
#_____ Seedling
#_____ Replanting
#_____ Sapling
#_____ Wood Product
#_____ Seed
#_____ Dead Tree or "Snag"
Plant Personification
Have children act out the lifecycle of a tree.
They can curl up as a seed, kneel to sprout, stick arms out like branches, wiggle fingers for leaves, stand up to grow tall, spread feet to show roots, and fall over to die.
Get the Full Activity
This family activity is adapted from Project Learning Tree's Explore Your Environment: K-8 Activity Guide and our PreK-8 Environmental Education Activity Guide which can be obtained from PLT's Shop or in conjunction with an in-person professional development workshop or online course.
All PLT activities are copyright protected. Please remember to reproduce responsibly. 
Click here for our Content Reprint and Adaptation Policy.