August 4, 2022
The Sustainable Forestry Initiative (SFI) and Project Learning Tree recently convened a cohort of green mentors and mentees at the 2022 SFI/PLT Annual Conference in Madison, Wisconsin.
The delegation of 19 students and young professionals were matched with forest and conservation sector professionals also attending the conference from June 14–17, 2022. They joined over 350 people from the SFI and PLT networks for a week filled with learning and discussion opportunities on the most pressing issues and challenges facing people and the planet, and how forests and environmental education can provide solutions.
After meeting in-person at the conference, the mentor-mentee pairs will continue building a mentoring relationship and developing skills over the next four months. And, six mentees are part of the Minorities in Agriculture, Natural Resources and Related Sciences (MANRRS) network as part of SFI's partnership with MANRRS to ensure young Black Americans have greater opportunities for rewarding careers in the forest and conservation sector.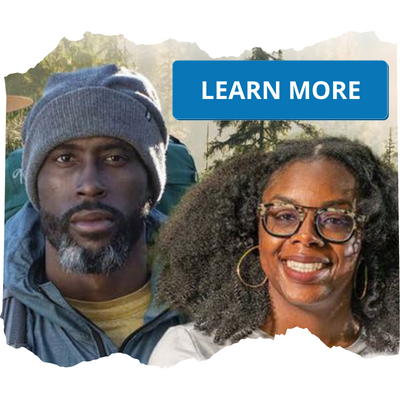 Green job resources for Black Americans
With support from Weyerhaeuser and the U.S. Forest Service, PLT is also working with MANRRS to create a career guide that tells the stories of Black Americans who have pursued green career pathways and who have advice and resources to share. Learn more about Black Faces in Green Spaces: The Journey of Black Professionals in Green Careers here. The guide will be available for purchase and will be distributed through PLT State Coordinators as well. PLT is distinguished by the quality, commitment, and extent of its network of national and state partners and sponsoring organizations. Learn more about PLT's network and partners.
Supporting a lifetime of learning through PLT's network and resources
Project Learning Tree is investing in the next generation by growing three major skills and interests in youth from early childhood through young professionals: environmental education, forest literacy, and green career pathways. And considering there are PLT Coordinators with roots in all 50 states, Canada, and other countries–PLT's reach and impact is greatly supported by the strength and diversity of our expansive network of educators, local leaders, parents, and natural resource professionals.
We do this by offering a variety of materials and wrap-around services that encourage emotional growth, empathy, and collaboration. Our hands-on activities get kids outdoors, sparking curiosity and supporting critical thinking and language skills. The skills PLT imparts arms the next generation with the 21st-century skills necessary to tackle the world's most pressing sustainability challenges–and connects them, at both a community and national-level, to a network of changemakers.
PLT teaches an easy-to-adapt, scalable skill set, to be used throughout a student's life, in every facet. Starting in early childhood, through to young adulthood, PLT has products and programs to support success at every age, and every stage of life.  But it is the scale of the PLT and SFI network and connection to a larger community of like-minded people, that is unique to our approach.
PLT Coordinators and Facilitators, as well as mentors and mentees, are able to coalesce and mobilize in the face of emerging concerns, and capitalize on opportunities, supporting youth with the knowledge and local connections to make better choices and change the trajectory of their life and career path. To create and sustain vibrant and resilient green communities.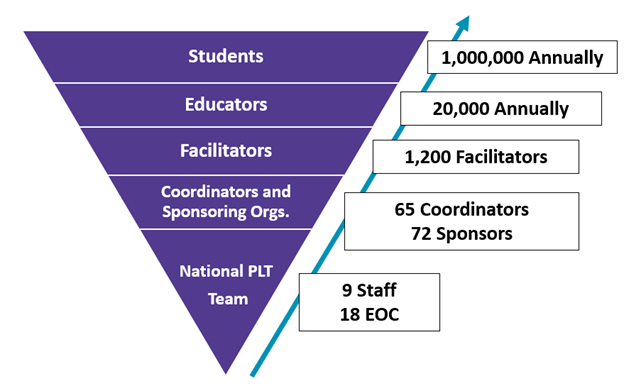 Join PLT Canada or PLT US' Green Mentor Program

Do you know an environmental educator, conservationist, or sustainability professional looking to give back, discover new resources, and connect with others? Please encourage them to become a mentor!
PLT Canada, an initiative of the SFI, launched the Green Mentor Program to help young adults expand their forest and conservation knowledge, goals, and network. The program connects them with professionals working in green jobs using an industry-leading algorithm that creates successful mentorship matches based on personalities, goals, interests, and more.
PLT Canada is recruiting Canadian mentors and mentees for the next cohort set to launch in October 2022! Applications close Aug. 29, 2022.
Apply to be a mentee in Canada    |   Apply to be a mentor in Canada
And building on the success of PLT Canada's half-decade of successful career pathways programming and support, we are bringing the Green Mentor program to the United States.
Sign up to be among the first to learn about the US PLT Green Mentor cohort at plt.org/mentorship!
Discover PLT near you

There are so many reasons to get to know your PLT Coordinator (and in some states, multiple Coordinators!)
Here are just a few examples of the ways your local PLT Coordinator can make connections to local resources and provide tailored assistance:
instructional resources tailored to your state's standards and environment
ideas and tips specific to your setting for incorporating environmental education and outdoor learning into your instruction
connections to mentors and mentees, community members, and resource professionals
information about in-person, blended, and online professional development workshops in your area and continuing education credits
process for becoming a local PLT workshop facilitator

Reconnecting our community of practice in-person
It was wonderful for our PLT network to catch up in-person for a week filled of learning from our community of practice at the SFI/PLT 2022 Annual Conference.  After two years of virtual gathering, we were recharged hearing education and environmental leaders discuss some of the greatest challenges we face and how we can work together to create solutions.
A few of the sessions and topics discussed:
Advancing opportunities for diverse communities in the forest sector
Collaboration for communities and forests
How to grow forest literate citizens
Urban and community forests: collaborating for environmental and social health
Green career pathways in K-12 education
You can make that with trees?
Reaching schools and districts with PLT
Environmental justice and culturally responsive teaching
Trees & Me & you
Informative as-always, our speakers represented the PLT network and partners' wide-spread geography and breadth of knowledge with entertaining and informative sessions. We also enjoyed a field trip to the U.S. Forest Products Laboratory and the Aldo Leopold Foundation, home of "the Shack"! But some of our most fond moments took place in the more quiet, less scheduled moments – in the dinners and exhibitors spaces, at the silent auction, chatting while waiting in line – in reconnecting after time apart and sharing space with new and old friends.
Another special event was our PLT Gold Star and Leadership in Education Awards ceremony!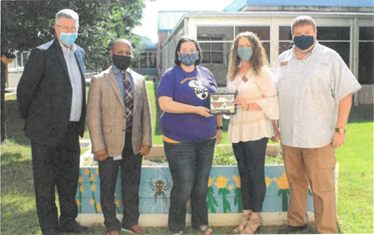 Jackie Scott: Lab Science and Physical Science Teacher and Soccer Coach at Mann Magnet Middle School, Arkansas
In 2020, Scott was one of the recipients of an Arkansas School Garden Grant from the Arkansas Department of Agriculture to build a garden space in her school courtyard. She, other teachers, and students built raised bed gardens and painted murals of native plants, animals, and nature scenes on them. And in 2021, she secured additional funding through DonorsChoose for her students to plant  raised beds and container gardens.. Scott is also the Formal Education Representative at the Arkansas PLT Steering Committee. Recent awards include: 2021 Arkansas Environmental Education Association Outstanding Formal Educator, 2021 ArkanSONO Grant recipient, 2021 Arkansas Department of Agriculture Forestry Division "Tree"-mendous Educator, 2020 LRSD Middle School Teacher of The Year, and 2020 Teacher of the Year at Mann Magnet.
Janet Schnauss: Elementary Science Specialist at Duval County Public Schools, Florida

Schnauss has been a PLT facilitator since 2015, and from 2019-2021, she facilitated seven PLT  professional development events for 133 educators in Florida. In Schnauss's role as a K-5 Science Specialist with Duval County Public Schools, she supports classroom teachers, including providing PLT professional development opportunities and mentoring teachers in incorporating PLT into their curriculum. For example, this year she provided ongoing support to an English-language learner (ELL) teacher and PLT educator in implementing "PLT Fridays" at his school. She is a member of the Florida PLT Steering Committee, the Florida Association of Science Teachers (FAST) and the FAST Region 4 Director, the Florida Association of Science Supervisors, the National Science Teachers Association, and the League of Environmental Educators of Florida. Schnauss also won the 2020 Florida PLT Educator of the Year Award.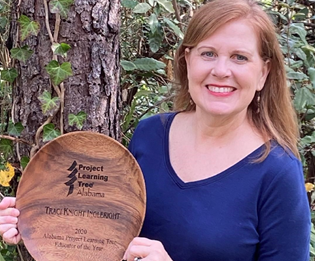 Traci Knight Ingleright, District Enrichment Specialist for Hoover City Schools, Alabama
Knight Ingleright's mother was a teacher and her father was a forester, so she recognizes both the need to help others understand more about forestry and natural resources and to teach children about resource conservation. She has served on her community's Arbor Day planning committee and celebrated Arbor Day with students at Gwin Elementary and now the Hoover City Schools district with tree plantings, essay contests, and more. In 1994, she created Kids, Camps, and Critters—a school event that uses PLT and Project WILD activities to engage students and teachers in learning about the world around them. Knight Ingleright has also facilitated a PLT workshop for preservice educators from the University of Alabama College of Education Multiple Abilities program since 1994. And four years ago, she created a Girls Engaged in Math and Sciences (GEMS) club at her school. Knight Ingleright was also the 2020 Alabama Outstanding PLT Educator of the Year.
Check out more photos from the 2022 SFI/PLT Annual Conference on our Facebook page and stay tuned for news of when we'll meet again next March in Skamania, Washington!
The PLT Green Mentor program is supporting PLT's growing work in career pathways and connecting young people to opportunities in the forest and conservation sector.
For more information about green careers visit www.plt.org/workingforforests.