August 6, 2019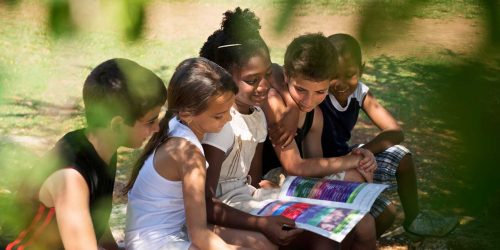 Tree Campus K–12, a new recognition program of the Arbor Day Foundation, provides access to resources and a simple framework for using campus and community trees as a learning tool — and the opportunity to earn recognition as a result. Any school that already has a "green team," celebrates Arbor Day, or covers tree-centric curriculum (for example… Project Learning Tree!) at any level, is already on the path to earning recognition.
2019/2020 Back to School Launch
Tree Campus K–12 can help drive student engagement in nature-based learning and offers an easy-to-follow framework through its four program goals, which can be completed throughout the school year individually or in combination. Beginning with the 2019/2020 school year, all elementary, middle, and high schools can earn recognition by meeting four goals:
Establish a Tree Campus Team
Create an Education Plan
Lead a Hands-On Experience
Hold an Arbor Day Observance
Schools that already use PLT curriculum or are working on a School Site Investigation are prime candidates for Tree Campus K–12 recognition as one or more program goals may already be fulfilled. Links to PLT materials are featured in the Tree Campus K–12 Learning Hub.
Tree-centric Introduction to Environmental Education
If your school already participates in any sustainability programming or tree-centric activities throughout the year, you may have a head start on the path to becoming recognized as a Tree Campus K–12 school and celebrating with your community. If not, Tree Campus K–12 may be the perfect opportunity to introduce environmental education to your school.
If you are a community member or organization that's passionate about trees, find out how you can participate.
Visit treecampusk12.org to learn more about the program and how to get it going at your school, including a helpful to-do list.