June 15, 2015
Do you want a refresher course, or know someone who wants training in environmental education but can't make it to an in-person workshop? Help us spread the word about PLT's new online professional development courses!

For 40 years, Project Learning Tree has provided teachers and other educators with high-quality professional development in environmental education and fun activities that meet current education standards for PreK-12 students. The core of our professional development program has been, and continues to be, in-person workshops.  About 20,000 educators participate in approximately 1,200 workshops offered across the country by PLT state programs every year.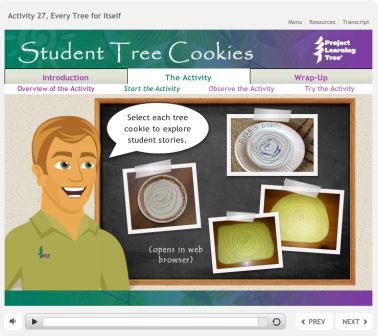 The times are changing though—for educators, for school districts, and for society—and we have embarked on an exciting process to complement our in-person professional development workshops.
We are pleased to announce that PLT now also offers educators online professional development opportunities that reflect current research and model best practices. Our first online workshop is for PreK-8 educators, and more are in development. Online training to support PLT's GreenSchools! program, and online professional development specifically for early childhood educators, will debut this Fall.
The Underlying Premise
PLT workshops are designed to help educators engage students in learning about the environment—both outside and in the classroom. Our hands-on activities make teaching and learning fun, and can be easily incorporated into existing curriculum or nonformal education programs. The activities are multi-disciplinary, teach core subjects (especially STEM, reading, writing, and social studies), and are correlated to state and national academic standards, including Common Core and the Next Generation Science Standards' three-dimensional approach.
Our online workshops are comprised of several coursels. A coursel is a 20-30 minute self-paced learning experience that makes up the larger course. In other words, a coursel is a morsel of a course!
PLT encourages educators to use the outdoors for learning, and while our new training opportunity is online, our course is designed to help—and show—educators how to take their students outside using PLT activities.
What's Included
PLT's PreK-8 online workshop costs $40 and takes approximately 4 hours to complete.  It includes:
seven self-paced coursels
an e-published version of PLT's popular PreK-8 Environmental Education Activity Guide, containing 96 activities (print version available for an additional fee)
video demonstrations for four PLT activities
interactive learning experiences to help educators plan how best to facilitate activities with their students
lesson planning activities and real world examples
simulations to demonstrate activities from a student's perspective
links to online and state-specific resources 
certificate of completion and course evaluation
Some states (currently Colorado, Kentucky, Michigan, New Hampshire, Wisconsin, and Wyoming) have supplemented the basic online course developed by National PLT with state-specific supplemental materials – and they can also arrange continuing education credits for educators in their state who complete their state's online course along with any other requirements specific to receiving credit. More states are expected to follow suit in the coming months.
Feedback
Here are some comments we've received from the first individuals to complete PLT's PreK-8 online workshop.
"Good online PD. Easy to use and navigate."  — Zach C. (Colorado)
"I enjoyed the how to videos, and also the worksheets that let me brainstorm for implementing with my students"  — Seth M. (Michigan)
"I am very excited to start using this program in my classroom!"  — Sally G. (Texas)
GreenWorks! Grants
Finally, a note about PLT's GreenWorks! grants.  Anyone who has attended a PLT workshop – either in-person or online – is eligible to apply for a PLT GreenWorks! grant to fund an environmental service-learning project for their students.  The deadline to apply is September 30th, so if you haven't yet been trained in PLT, consider signing up for an online course!