July 21, 2017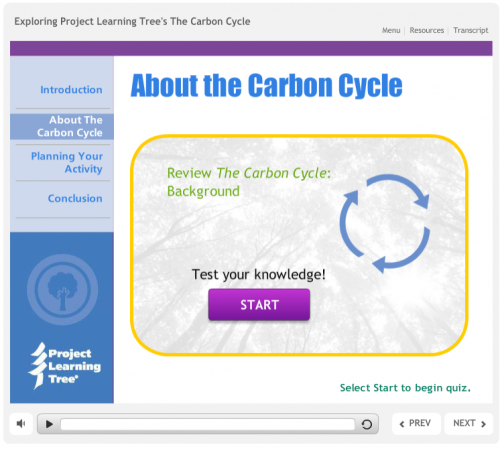 Almost everyone who attends a PLT in-person workshop praises the experience. In addition to solid information and PLT materials, participants make connections with others interested in environmental education and experience the power of hands-on learning that they wish to impart to their students.
Until recently, PLT only offered in-person workshops. But there are many times, because of schedule, geography, or a host of other reasons, when online training makes the most sense. Now, in its continual efforts to innovate based on educator needs, PLT offers online professional development for its new e-units, as well as for PLT's PreK-8 Environmental Education Activity Guide, Environmental Experiences for Early Childhood, and GreenSchools programs.
"The online workshops reflect best practices and are grounded in research," said Jennifer Pic, PLT Manager of Instructional Design and Technology. "For example, we have built in opportunities for reflection and lesson planning, along with videos to see PLT lessons in action."
The training is designed for real-time application, as teacher Megan Madu discovered. "This was a fabulous workshop and I look forward to taking my learnings into the classroom next week," she said. "Great resources and very clear presentation of the material."
Structure of PLT Online Workshops
The workshops are organized as follows:
Duration of 3 to 6 hours; chunked in 30-minute pieces called "coursels"

E-units and Early Childhood: 3 hours

K-8: 4 hours

GreenSchools: 6 hours;

Self-paced; complete the workshop however you like (whichever order, how many times); includes interactive components to create an active learning experience;

Anytime, anywhere; convenient for busy schedules, needing only an Internet connection;

Videos of select activities to observe the activities in action, facilitated by a PLT-trained educator;

Lesson planning and reflection opportunities to begin planning how to facilitate the activities in the classroom;

Certificate of completion as a verifiable document to show completion of the workshop;

Eligibility for continuing education units or credits in some states (contact state coordinator for more details);

Customized by state; direct contact information for state coordinator and, in many cases, additional state-specific activities or resources.
Accessing PLT Online Professional Development
Learn more about our online workshops and watch this video slide show A Closer Look at PLT's Online Workshops: What's included, and how to get started.