May 28, 2019
Project Learning Tree is thrilled that 5 schools and one school district that highlighted PLT's professional development, curriculum, and GreenSchools programming in their nominations are recognized this year as U.S. Department of Education Green Ribbon Schools (ED-GRS).
Delaware  — The Jefferson School, Georgetown, and Caesar Rodney School District, Wyoming
Massachusetts — Boston Green Academy, Brighton
Missouri — Raintree School, St. Louis
Pennsylvania — State College Friends School, State College
South Carolina — Dutch Fork Elementary School, Irmo
They are among 35 schools, 14 school districts and 4 postsecondary institutions that have been awarded for their innovative efforts to address the three "Pillars" of the ED-GRS program:
reducing environmental impact and utility costs
improving health and wellness
ensuring effective sustainability education
Congratulations to these awardees and to all the schools and school districts who have been honored with the ED-GRS award this year. Thirty-six percent of all 2019 ED-GRS honorees serve a disadvantaged student body. ED-GRS is part of the U.S. Department of Education's effort to identify and communicate practices that result in improved student engagement, academic achievement, graduation rates, and workforce preparedness. The honorees were named from a pool of candidates nominated by 28 states. 
Two PLT Highlights
Here are some highlights from the nomination packets of two registered PLT GreenSchools recognized this year as U.S. Department of Education Green Ribbon Schools.
Boston Green Academy, Massachusetts
Boston Green Academy (BGA) serves a diverse population: 80 percent of students are considered high needs; 67 percent are economically disadvantaged; 32 percent are students with disabilities; 35 percent are students for whom English is not their first language; and 93 percent are students of color. Through outdoor learning experiences, real world interdisciplinary projects, and diverse leadership opportunities, BGA empowers its students to create a more just and sustainable world.
Energy
BGA receives 48 percent of its energy from renewable sources. The school repaired and replaced 203 steam traps, yielding a 25 to 30 percent energy savings and all classrooms and offices have been equipped with occupancy sensors.
Students in the Career Technical Education (CTE) program are conducting a cost-benefit analysis to explore retrofitting current school lighting with LED bulbs and use thermal-imaging cameras to assess the building envelope and window efficiency.
Students in middle school use Kill A Watt meters to figure out which devices in BGA use the most electricity.
Ninth-grade students are working with the city on a solar feasibility study for a solar array on the building.
Water
All bathroom sinks are equipped with faucet aerators that reduce the flow of water and self-closing metered faucets.
Students collect and reuse rainwater in the garden, and custodians do not irrigate lawns.
Waste & Recycling
All BGA students receive a free stainless-steel water bottle at the beginning of the school year and utilize 11 new water fountains and refillable bottle stations located throughout the building.
BGA maintains a single-stream recycling system.
Students started a composting initiative in the lunchroom and a share table in the cafeteria helps reduce untouched food waste.
Environmental Quality
BGA's chemistry teacher is trained and supported to teach green chemistry by Beyond Benign.
School Site
The school's entire south-facing lawn has been converted into an outdoor classroom and garden for students, which was designed, built, and is maintained by students. There are 11 4 x 8-foot raised beds for growing produce, eight outdoor tables for working and eating al fresco, and six work benches for planting, growing seedlings, and collecting the harvest.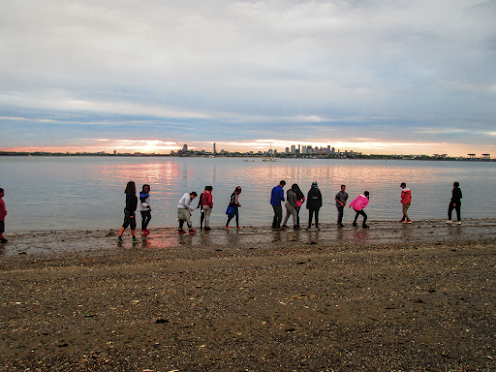 BGA's director of sustainability created Green Milestones, a continuum of green-focused academic and career opportunities. All juniors and seniors complete a four-hour job-shadowing experience in a sustainability field, and all seniors complete a six-week, 150-hour sustainability internship.
During an annual project week, students spend an entire week off campus with the greater Boston community and beyond. Each BGA middle school grade stays on Thompson Island for an immersive three-day outdoor environmental science learning adventure each fall and participates in a one-day teambuilding and leadership experience each spring. The entire eighth-grade class visits the White Mountains in New Hampshire every spring for a three-day, two-night outdoor leadership experience. All sixth graders visit Hale Reservation in Westwood, Massachusetts, for a day of outdoor teambuilding and leadership training.
Dutch Fork Elementary School, South Carolina
Dutch Fork Elementary School–Academy of Environmental Sciences (DFES) is a whole-school environmental sciences‐themed magnet school located in the midlands of South Carolina. The total student enrollment is 531, with 48 percent of students identifying as African American. It is the first school in South Carolina to receive the national Green Ribbon award from the U.S. Department of Education. Here are some highlights:
Energy
In addition to its more conscious use of energy, changes to lighting components have led the school to reduce energy consumption by approximately 11 percent in the last two years.
Water
The school uses rain barrels that collect water for the school's gardens and students crafted rain chains (an alternative to traditional, closed-gutter downspouts) made from recycled materials.
Waste & Recycling
Students collect food scraps from the cafeteria, maintain worm bins, and add the compost to the garden. Data they collect shows approximately 5,000 pounds of food waste is diverted each month from landfills, saving approximately $1,700 in hauling fees per year.
Student recycling captains help run a schoolwide recycling program for paper products, plastic containers, and aluminum cans.
Environmental Quality
Students audit vehicles for the purpose of instituting anti-idling policies.
Dehumidifiers are used when moisture is high to prevent indoor mold.
School Site
An interpretive nature trail behind the school was completed in 2015.
Students cook fresh meals from garden produce they grow and have started a pollinator garden, monarch highway, and beehive.
Dutch Fork prides itself on being a comprehensive, inquiry‐based, hands‐on program focused on immersing children in discovery and exploration, collaborative study, scientific research, the use of scientific tools and technology, and a strong sense of community. The school uses the natural environment and nature-human interactions as the catalyst for student learning outcomes and critical thinking.
Amy Umberger, the school's resident scientist, told WLTX-TV that she sees students subconsciously picking up litter on field trips and truly caring about the environment. "For them to start caring about where things go and for them fussing at their parents, that's really making a difference," she said.
Learn more about PLT's GreenSchools program and discover how PLT's GreenSchools Investigations connect with ED-GRS's three Pillars that the U.S. Department of Education uses to define a green school.