May 7, 2021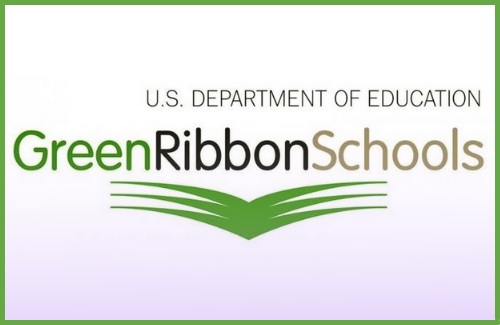 Ten years ago, many national and state agencies and organizations joined together to urge the US Department of Education to help promote sustainable school facilities as a proven means to engage students in hands-on learning and increase achievement. The group urged the Department to create an award to provide incentive for more green school activity across the United States. Today, the award is known as the Green Ribbon School program, serving as a symbol of green school excellence.
This year, we are thrilled to announce that many registered PLT GreenSchools have been recognized as awardees of the US Department of Education's Green Ribbon Schools (ED-GRS) program. They are among the 27 schools, three early learning centers, five districts, and five post-secondary institutions that are being honored for their innovative efforts to:
reduce environmental impact and utility costs
improve health and wellness
ensure effective environmental and sustainability education
Among these outstanding, award-winning PLT GreenSchools are:
Alabama  — Tuscaloosa City Schools, Tuscaloosa, AL
Florida — Christ the King Catholic School, Jacksonville, FL
Indiana — Discovery Charter School, Porter, IN
North Carolina — Wake County Public School System, Cary, NC
Utah — Shadow Valley Elementary School, Ogden, UT
Virginia — Prince William County Public Schools, Manassas, VA
Wisconsin — Helen R. Godfrey University Child Learning and Care Center, Stevens Point, WI
Highlights from Two Registered PLT GreenSchools
Gain a little inspiration with these highlights from the nomination packets of two registered PLT GreenSchools recognized as 2021 US Department of Education Green Ribbon Schools:
Discovery Charter School
Discovery Charter School (DCS) is a Title I school in Porter, Indiana, comprised of 60 staff and nearly 500 students in grades K through eight. The school was founded in 2010 as the direct result of efforts undertaken by a group of families who wanted a school that incorporated place-based education for their elementary school-age children.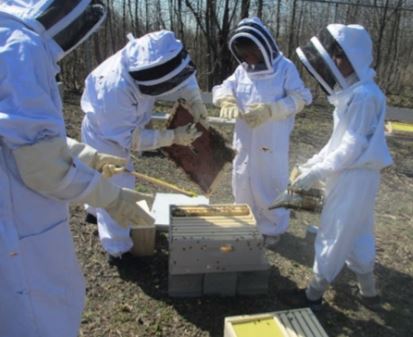 The school building is adjacent to woodlands and the Indiana Dunes National Park, so DCS students have easy access. The neighboring forest and 14,000-year-old dunes provide a natural laboratory for students to make observations, explore plants, animals, waterways, to learn to care for the environment and develop a sense of place.
The school grounds are recognized as a Schoolyard Habitat by the National Wildlife Federation. In addition, the native plantings have been recognized with the Shirley Heinze Land Trust's Bringing Nature Home Award.
The site was designed to benefit pollinators, too! DCS is a certified Monarch Waystation with beehives and pollinator plantings, bat houses, and a rain garden.
Care is taken to spend time outdoors, and DCS is committed to using their outdoor spaces to contribute toward students' mental, emotional, and physical health. When weather permits, students dine in an outdoor lunch space and learn in an outdoor classroom that allows for outdoor seating and includes a rolling table and chalkboard.
Teachers plan regular field experiences where students reinforce their classroom learning outdoors with a hike or other outdoor activity. The school also has a dedicated school naturalist who prepares mini-lessons and creates resources for teachers, leads outdoor activities, organizes schoolwide events, and helps maintain garden spaces.
Environmental education is a cornerstone of the DCS experience, built into the curriculum of every grade level.
Here is an example of what that might look like across the school:
Kindergarten students use their five senses on the trail to explore the forest adjacent to the school. They visit the Coffee Creek Watershed Preserve once a month throughout the school year to observe seasonal changes.
First Graders are learning about soil through a hands-on program, then explore different soils on school grounds and use soil colors to paint; finally, they put together a classroom worm bin to observe soil formation in action.
Second Graders are integrating STEM while learning about weather, creating structures to withstand different "wind speeds" from a fan.
Third Grade hunts for examples of common and proper nouns (or other parts of speech) as they hike the trail.
Fourth Graders learn to identify and tap maple trees on school grounds; they calculate quantities of sap and syrup by applying volume conversions and adding fractions.
Fifth Graders learn about energy sources, energy use, and conservation; students receive Take Action Kits filled with energy-saving products for their home.
Sixth Graders learn to identify invasive plants in the field and to use appropriate tools to remove them from the native forest ecosystem.
Seventh Grade identifies the need to improve the school's nature play area through an "Earth Force" project and research outdoor play elements, writing letters to request donations, installing a boundary rope, planting native plants to restore surrounding forestland, and creating a video for fellow students.
Eighth Graders work with the school naturalist and the technology teacher to procure labels for native plants along a school nature trail, complete with QR codes linking to student research on each plant.
Christ the King Catholic School
Christ the King Catholic School (CTK) is an urban parish school in the heart of Jacksonville, Florida. Built in 1955, the school grounds include 40 acres and serves nearly 300 students from grades pre-kindergarten to eighth Grade.
CTK's green school journey began in 2008, when parents met with the principal and middle school science teacher to discuss how to make the school's science education more memorable and meaningful. CTK's subsequent pursuit of sustainability and STEM-focused education has paid off with several awards and accolades, including being designated a Florida Green Apple School and the first STREAM (Science Technology Religion Engineering Art and Math) accredited Catholic School in the State of Florida.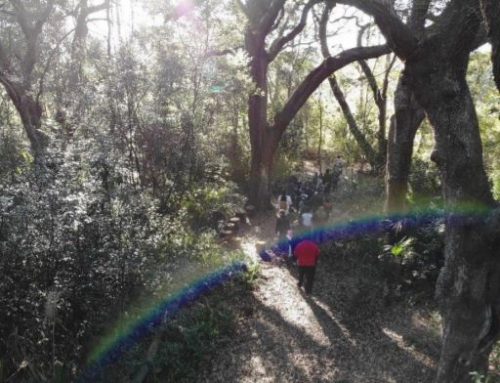 The school is known for its successful agricultural focus, and students participate in agricultural education programs that highlight student choices to reduce environmental impacts by collecting organic matter for composting, sustaining vermicomposting, and using recovered rainwater. CTK has impressive school gardens that feature a salad bar and stone beds. They are also in the process of developing field trips to the extension service canning facility to make canned foods from produce collected from garden harvests, as well as becoming a part of a program to raise chickens through their 4H club.
More than 75% of CTK's educators have received Project Learning Tree training for environmental science and integrate our hands-on lessons across all grades. Environmental science and STEM are integrated into long-term projects for each grade level. These projects are data-driven and are carefully woven into the curriculum, designed for different progressions of learning:
Kindergarten students study butterflies, propagating lantana and other butterfly "food," and tagging the butterflies as part of a national butterfly migration study. Students learn about the life cycle of Monarch butterflies by counting caterpillars and chrysalis in the garden and observing them until they hatch. They also have an engineering project where they create "hand pollinators" for milkweed plants.
First Graders grow lettuce and marigolds as part of their salad garden. The students incubate chickens and raise them over the course of the year, partnering with 7th grades and 4H Club members to show chickens at the Jacksonville Agricultural Fair.
Second Grade is in charge of the composting system that provides the soil for all of CTK's gardens. Students advertise and collect composting scraps each week, weighing the compost and measuring moisture and temperature. This data is used to make adjustments to the compost and students graph their data in math classes.
Third Grade maintains the blueberry garden by weeding, fertilizing, maintaining bedding covering, and harvesting. The students then use their crops to make blueberry muffins to sell and raise funds for the L'Arche Harbor House, a nearby community for people with intellectual and developmental differences. The students even practice their engineering skills by designing a robotic "blueberry picker"!
Fourth Graders serve as energy "consultants," using solar panels to do experiments to improve energy efficiency. Students have online digital access to the output of both panels at any given time and are able to see the effects of weather, season, and panel angle on output.
Fifth Grade serves as CTK's 4R (Reduce, Reuse, Recycle, Rethink) experts. Students take a yearly field trip to the local recycling center and take part in the Junior Master Gardener program offered through the University of Florida's Extension Service, meeting weekly with two master gardeners to plant, harvest, and maintain the school's gardens.
Sixth Grade is part of the St. Johns Riverkeeper backpack program. The now seven-year-old project began by going to the creek and wetlands on Christ the King Property to learn about long-term data collection and observations. Then students, teachers, and volunteers visit the creek weekly to gather data on tides, water depth, turbidity, pH, nitrates, nitrites, ammonia, salinity, and species identification. The students spend time with Riverkeeper educators learning how to utilize the tools to collect data and create presentations of their observations.
A Healthy, Efficient Learning Environment
Now, more than ever, green schools are inspiring students and educators and connecting communities to nature. US Department of Education Secretary Cardona recently spoke about how many of the green schools were uniquely prepared for the global pandemic with outdoor classrooms and social-emotional curriculum. And still, many took the creative initiative to keep kids engaged while learning remotely and with new distancing protocols.
Hear Secretary Cardona announce the 10th annual cohort of Green Ribbon Schools and share what makes a green school successful. The Secretary goes on to describe how the awardees "use sustainability in context to teach important civic values and skills that encourage students to grow into responsible, compassionate, and contributing global citizens…This is even more important as we work to recover from a global health pandemic, where all schools have been forced to confront issues of school air quality, nutrition, and outdoor learning more directly than ever."
Congratulations to the above awardees and to all the 2021 Green Ribbon Schools, school districts, and post-secondary institutions who have been honored with the US Department of Education's Green Ribbon Schools recognition awards this year. 
Learn more about PLT's GreenSchools program and discover how PLT's GreenSchools Investigations connect with ED-GRS's three Pillars that the US Department of Education uses to define a green school.