February 18, 2020
Project Learning Tree is now in Chile, thanks to a new licensing agreement with Fundación Ibáñez Atkinson and the Sustainable Forestry Initiative (SFI). PLT is an initiative of SFI. The program officially launched the week of January 13th with a series of PLT workshops held in Santiago, attended by a total of 54 participants.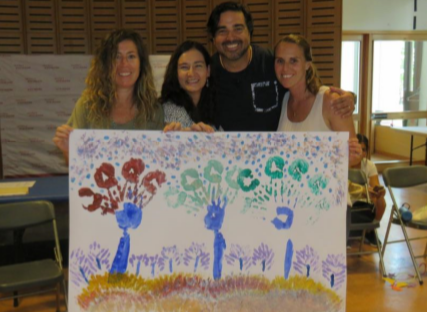 Under the SFI/PLT licensing agreement, Fundación Ibáñez Atkinson, based in Santiago, will train educators and families to use PLT activities to teach Chilean youth about their relationship to the environment. Through PLT, the Foundation hopes to encourage behavioral changes in individuals and improve health and sustainable development in Chile.
"Fundación Ibáñez Atkinson is interested in programs that generate social, environmental and economic value, and which demonstrate innovation, replicability and the ability to reach a considerable number of beneficiaries," says Antonia Ibáñez Atkinson, Environment Manager with Fundación Ibáñez Atkinson. "We researched several programs and chose PLT as our partner for expanding our operations in the realm of sustainability and care for the environment."
The Foundation plans to develop a scalable PLT program to reach Chilean youth through grade-specific curriculum and educator professional development. PLT activities will be adapted to the local environment and translated into Spanish.
"Fundación Ibáñez Atkinson has a successful track record of implementing teacher training programs in different program areas, and we are thrilled to work with them to grow PLT internationally," said Melina Bellows, Chief Education Officer for Project Learning Tree at the Sustainable Forestry Initiative. 
A series of multi-day PLT workshops for PreK-8 and Early Childhood educators took place January 13-17, 2020, hosted at the International School Nido de Águilas in Santiago. Mexico PLT Coordinator, Cecilia Ochoa, and Rafael Salgado, former co-chair of PLT's Education Operating Committee and Executive Director of Cal-Wood in Colorado, traveled to Chile to facilitate and model these initial PLT trainings.
A total of 54 individuals attended the trainings, including teachers and representatives from the Education department of the Chilean Ministry of Environment. Eight people were also trained as PLT facilitators and will be responsible for hosting future workshops in the country.


"Cecilia and Rafael were wonderful, and the teachers in Chile were very excited about the program. They are eager to take PLT to their classroom," said Antonia Ibáñez Atkinson. "The facilitators' training was incredible too! I think we have a very good group of facilitators to grow the program in Chile."
"At last, a program that allows students to incorporate curriculum learning in a multidisciplinary way with an emphasis on the importance of trees and our natural environment," said Nicola Holtung, a teacher at Villa Maria Academy, who attended the PreK-8 workshop and also became certified as a PLT facilitator. "The activities are adaptable to all subject matter and emphasize student-centered learning. As a teacher, it's incredible to see my learners grow not only academically, but also become more conscious about the important role that nature plays in their lives and vice versa."