January 10, 2019
Project Learning Tree has published four new activities in its "Connecting Kids to Nature" series. These easy-to-do family activities help connect children and teens to the outdoors and nature in ways that are both fun and educational.
Teaching with i-Tree Family Activities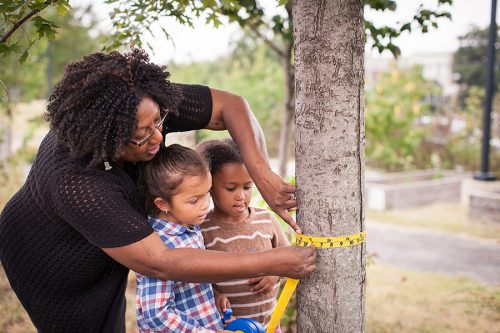 The four new activities are based on PLT's latest curriculum, Teaching with i-Tree, and are specifically designed to help families and youth learn together about the many ecosystem services that trees provide. The activities can be done in your own backyard, while exploring a local park, or walking in a forest. They also all include an indoor component as they incorporate the use of i-Tree Design software, a free, state-of-the-art online tool developed by the U.S. Forest Service and its partners.
In the activity Name that Tree, for example, you'll first use your smart phone to snap a picture of a leaf. Then, using a free mobile app, you can identify the tree species and from there do some further research to learn some of the common uses, products and benefits we get from that tree species.
2. As part of the activity What's the Value of that Tree?, you'll use the free online tool i-Tree MyTree to calculate the dollar value of an individual tree, or a set of trees. Find out how much carbon dioxide that tree in your backyard, for example, sequesters and what that's worth; how much rainfall that tree intercepts to reduce flood risks from stormwater runoff; how much air pollution it absorbs; or the energy savings it provides.
3. Planting trees around your home can improve how it looks, plus trees provide important environmental benefits. In the activity What Tree Should I Plant?, you'll use another free online tool i-Tree Species to determine what tree species is best suited to your location, and what tree is the best one to plant based on the benefits it provides that are most important to you and your family.
4. Did you know you can reduce heating and cooling costs by strategically planting trees around your home? In the activity Reduce Your Utility Costs with i-Tree, create a quick sketch of the perimeter of your home or building where you live and mark a few spots where you could plant trees. Then upload your sketch to i-Tree Design to determine where is the best place to plant a tree around your home for maximum energy savings.
Download PLT's Family Activities
Individual activities are posted online and can be downloaded for free. Some activities work better for younger children, others are more suited for older children. The way you present them will change depending on your child's knowledge and ability.