April 27, 2015
Do you remember Tamagotchi? Well, the interactive virtual pet just got a major upgrade – with real-world benefits!
Raise virtual trees in the new Tree Story game, and Project Learning Tree, the US Forest Service, and several other Tree Story partners will plant real trees in forests and urban areas all across the country.  Every tree that you raise in the game will support real reforestation efforts, providing new or restored habitat for wildlife, clean air for everyone to breathe, and other important ecological services.
The creators of Tree Story, Zig Zag Zoom (ZZZ), develop mobile games that entertain, connect, and empower people to make a real difference in the world. Together with ZZZ, PLT and other partners have made it our collective goal to plant 1 million trees. We just need your help to get started!
How Tree Story Works
In the Tree Story game, you choose a tree and a location for it to grow.  Feed and water your tree in the app and play interactive, forest-themed mini-games to keep it healthy and happy. Once you have nurtured your trees from seedlings to full-grown trees, you can send them to a grove to be planted in the real world. 
Game Features:
Care for and protect your virtual tree – Feed, water, and prune your trees to keep them healthy and looking great. Give them plenty of sunshine and be sure to fend off harmful pests!
Play games and other activities – Play a variety of forest-themed action and puzzle mini-games to keep you and your tree entertained.
Dress and customize your trees – Have you ever wondered what a tree would look like in a costume? Choose fun and stylish outfits and accessories for your trees to wear.
Learn as you play – Discover new tree facts embedded in the game.
Experiment with potions – Grow even more trees by using potions that speed the growth of your virtual trees.
Support real reforestation efforts – Nurture your virtual seedlings until they become full-grown trees. Every tree you nurture will help us reach our goal to plant 1 million trees and build and reforest natural habitat.
Planting Real Trees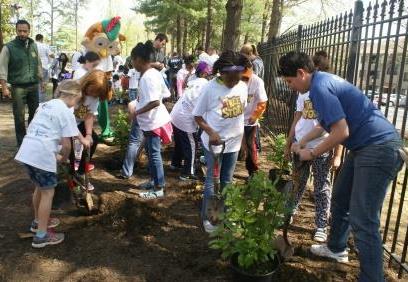 To celebrate the official launch of the new Tree Story game, PLT participated in the first tree planting at Washington Yu Ying Public Charter School, a PLT GreenSchool! in Washington, DC. The inagual planting on Earth Day, April 22, 2015, was organized in part by PLT and the Anacostia Watershed Society. As you can probably imagine, students were thrilled to be able to play a mobile game during an assembly, before heading outside to get their hands dirty alongside Woodsy Owl, PLT, and the U.S. Forest Service!
PLT's next opportunities to help turn virtual trees into real trees will take place over the next few weeks in Colorado. The first CO tree planting will take place at the School in the Woods in Colorado Springs, an area that was heavily impacted by the Black Forest Fire in June 2013, one of the state's most damaging wildfires. Other plantings are planned for Guadalupe Elementary School in the South Conejos School District and at Big Thompson Elementary School in Loveland, a site devastated by floods in September 2013.
Select which tree planting you want to support when you start playing the game!
Download Tree Story
 Tree Story Partners