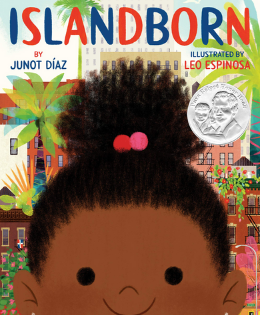 Islandborn
Age Range 5-8 years
Written by: Junot Diaz
Illustrated by: Leo Espinosa
Published by: Penguin, New York, 2018
ISBN-13: 978-0735229860
Recommended Reading
This book gracefully grapples with challenges of immigration.  
The main character, a 6-year-old girl named Lola, moved to the United States with her family when she was so young that she has no memories of her homeland. The narrative follows Lola's quest to investigate her mysterious nation.
Use Lola's story and her inspiring curiosity to:
Explore Your Ancestry
Lola's teacher, Ms. Obi, asks the class to draw a picture of the country they are from. Most families living in the United States originally emigrated from other countries and continents.  elsewhere. What part of the world does your family come from? If you don't know, how could you find out?
Interview Your Elders
Lola realizes there are people in her community that remember much more than her, and they can provide clues that lead to learning more about her homeland. She just needs to ask! Who could you ask to learn more about where you are from? And what might you ask them?
Learn a New Language
Spanish words and phrases are scattered throughout the text: abuela, guira, wepa, agua, hija, and more. Use an online translator, or other digital application, to not only define these words but other important terminology from the text. Use educational videos and Google Translate to ensure proper pronunciation. Practice using them with friends and family.


Explore Customs & Communities
The people of Lola's island remember blanket bats, crispy empanadas, music and dancing, and beach poetry. What makes your community special? What traditions does your family hold? What stories do you tell?
Think Like a Detective
Throughout the text, Lola gathers clues about her island. What do the clues tell you? The book never reveals Lola's true home, but can you decipher it? What information do you know and what other information must you find out?
Connections to PLT Activities
Consider coupling this story with the following PLT activities to investigate diversity and community:
PreK-8 Environmental Education Activity Guide:
#9 Planet Diversity
#10 Charting Diversity
#40 Then and Now
#74 People, Places, Things
#92 A Look at Lifestyles
For older students, consider exploring local communities with PLT's Exploring Environmental Issues: Places We Live