Walk in the Forest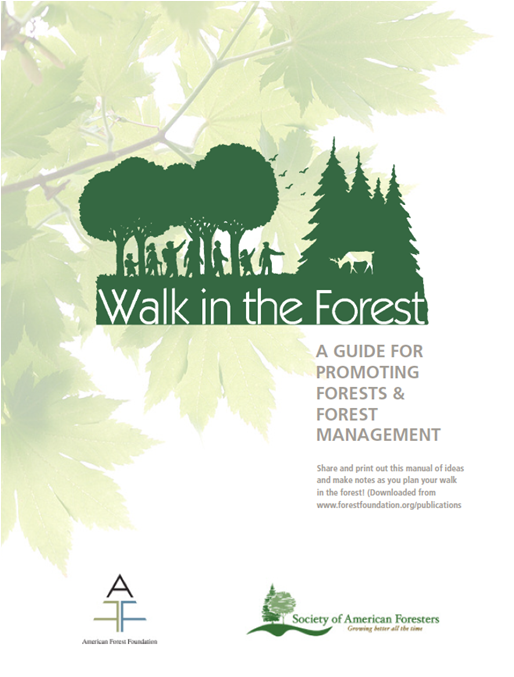 Walk in the Forest: A Guide for Promoting Forests and Forest Management
The Walk in the Forest program is a wonderful opportunity for the public to experience forests and forestry hands-on. This guide will help you plan a Walk in the Forest event--for adults, families, students, or teachers.
In this issue: We're excited to unveil PLT's new online collection of nature activities for families. Plus, PLT-trained educators can apply now for a GreenWorks! grant this year. See the STEM Connections for one of PLT's most popular springtime activities, "Bursting Buds." Read about one young woman's job as a forester that will inspire your students, and meet the 2014 National PLT Outstanding Educators.
View All Newsletters
Curriculum Resources

Exploring Environmental Issues: Focus on Forests

In Exploring Environmental Issues: Focus on Forests module, students examine ecological systems of a forest; analyze interdependencies within a forest ecosystem; and explore factors, like fire, that shape the development of forests. In addition, they develop critical thinking skills and discover the importance of scientific analysis when making decisions about forest issues.

more >

Pre K-8 Environmental Education Activity Guide

The guide is designed to meet the common components of national education reform by using the constructivist approach to learning, whole language teaching, cooperative learning, problem solving, and authentic assessments.

more >

Environmental Experiences for Early Childhood

Exploring nature is a complete sensory experience, and early experiences with the natural world have been positively linked with the development of children's imaginations and their senses of wonder and curiosity—important motivators for lifelong learning. PLT's Environmental Experiences for Early Childhood encourages children to explore, discover, and communicate in expressive ways, and provides an introduction to environmental education at a key developmental period in children's lives.

more >

View All



Family Activity Pages

Connecting Kids to Naure

Nature is a great teacher! Try these fun and easy-to-do activity ideas from Project Learning Tree to connect the children in your life to the outdoors and nature. Suitable for children ages 3 - 15, some activities work better for younger children, others are more suited for older children. The way you present them will change depending on the child's knowledge and ability.

more >



View All