Walk in the Forest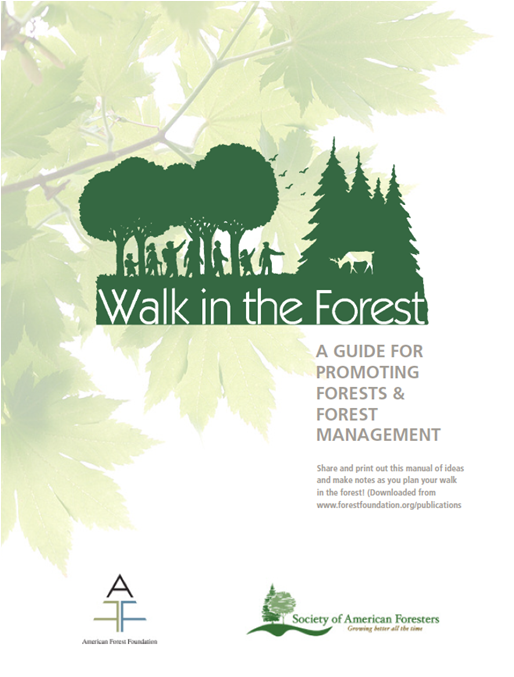 Walk in the Forest: A Guide for Promoting Forests and Forest Management
The Walk in the Forest program is a wonderful opportunity for the public to experience forests and forestry hands-on. This guide will help you plan a Walk in the Forest event--for adults, families, students, or teachers.

In this issue: Find out what Next Generation Science Standards mean for environmental education and how PLT supports STEM learning. Do you have an idea for a service-learning action project for your school or community? Read about the 47 GreenWorks! projects that were selected for funding this year, some highlights from last year, and how to apply. Also, two teachers in Maine provide tips and inspiration to teach outside in winter.
View All Newsletters
Curriculum Resources

Exploring Environmental Issues: Focus on Forests

In Exploring Environmental Issues: Focus on Forests module, students examine ecological systems of a forest; analyze interdependencies within a forest ecosystem; and explore factors, like fire, that shape the development of forests. In addition, they develop critical thinking skills and discover the importance of scientific analysis when making decisions about forest issues.

more >

Pre K-8 Environmental Education Activity Guide

The guide is designed to meet the common components of national education reform by using the constructivist approach to learning, whole language teaching, cooperative learning, problem solving, and authentic assessments.

more >

Environmental Experiences for Early Childhood

Exploring nature is a complete sensory experience, and early experiences with the natural world have been positively linked with the development of children's imaginations and their senses of wonder and curiosity—important motivators for lifelong learning. PLT's Environmental Experiences for Early Childhood encourages children to explore, discover, and communicate in expressive ways, and provides an introduction to environmental education at a key developmental period in children's lives.

more >

View All



Family Activity Pages

Activity 1 - The Shape of Things

We depend on all of our senses – touching, tasting, hearing, smelling, and seeing – to gather impressions of our environment. In this activity, children will focus on the many shapes that are found in both natural and built environments.

more >

Activity 4 - Sounds Around

Our ears are constantly being bombard with sound - so much so that we automatically "tune out" a lot of it. This activity helps children "tune in" to the sounds of their environment and helps them to explore the sounds of nature.

more >



View All