We regularly select new tools and resources that support and enhance Project Learning Tree's lessons.
Contest for Middle School Teachers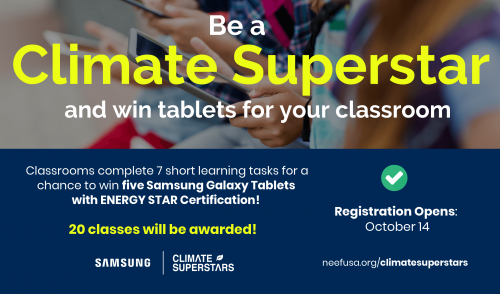 This 10-day online environmental challenge from the National Environmental Education Foundation (@NEEFusa and EPA's @ENERGYSTAR!) will get kids excited about the environment and teach them the value of collaboration. If your classroom completes at least 7 of 9 tasks between Oct. 21-31, you'll have the chance to win free tablets, courtesy of Samsung (five Samsung Galaxy Tablets with ENERGY STAR® certification!) Complete tasks daily and by midnight on October 31 you will be entered into a drawing for five free tablets, courtesy of Samsung (20 classes will be awarded!) Tasks are short learning activities, roughly 10-15 minutes each, and may include taking a quiz about energy use or answering questions about local climate. Learn more. 
(contest takes place from Oct. 21-31. Registration opens Oct 14.)
PHYLO: The Ecosystem Trading Card Game
A study 20 years ago found that British kids were better at identifying Pokemon than real wildlife. So a Canadian professor of teaching has crowdsourced ideas and created a competitive card game that teaches kids about ecosystems.
Learn more about this scientific Pokemon-type card game called Phylo: The Ecosystem Trading Card Game. Download rules and a starter deck for free and watch this video to learn how to play.
(resource for PLT's PreK-8 Guide: Activity 9—Planet Diversity, Activity 26—Dynamic Duos, Activity 81—Living with Fire, Activity 36—Pollution Search, Activity 22—Trees a Habitats Part B, Activity 45—Web of Life, Activity 49—Tropical Treehouse, and Activity 88—Life on the Edge)
Poster: Animals at Risk from Climate Change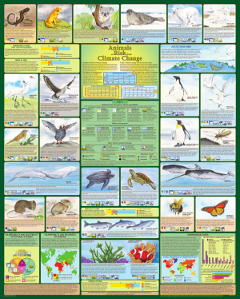 Animals at Risk from Climate Change is an educational poster developed by the Global Education Project. The poster presents a succinct overview of the fundamental impacts of greenhouse gases and features 25 animals currently at risk because of climate change. Through illustrations, symbols and brief explanatory text, learn about the biological traits and environmental conditions that cause a species to be susceptible to climate change. This 24″ x 30″ poster is available in folded, flat, and laminated formats.
(resource for PLT's PreK-8 Activity Guide: Activity 10—Charting Diversity, Activity 22—Trees as Habitats, Activity 84—The Global Climate and Activity 88—Life on the Edge) 
Foldable Paper Microscopes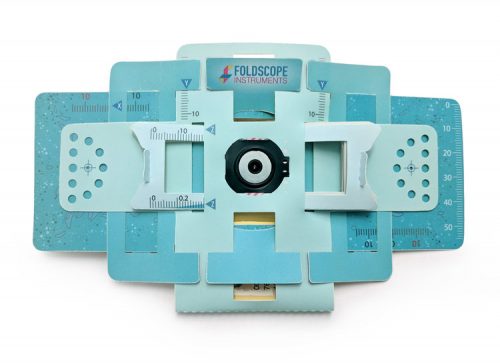 Foldscope is a foldable microscope made mostly of paper that achieves the goal of being less than one U.S. dollar in parts to produce. These origami microscopes weigh less than 10 grams and provide the magnification power of your standard classroom microscope. Produced by Foldscope Instruments, the company's mission is to produce low-cost scientific tools that globally expand access to science. Use the code FALL2019 (ends October 2nd) for $10 off. This discount applies to Deluxe Individual Kits and/or Combined Deluxe Individual Kit and Basic Classroom Kit containing 20 foldscopes.
(resource for PLT's PreK-8 Activity Guide: Activity 11 – Can It Be Real?, Activity 45—Web of Life, Activity 46 – School Yard Safari, and Activity 47 – Are Vacant Lots Vacant?) 
Podcast Series: Learning About Green Careers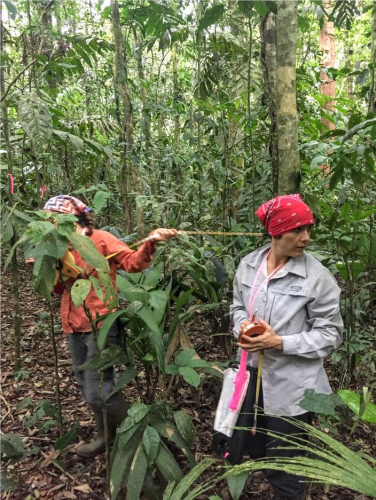 Learn more about the work of a tree conservation ecologist in this episode from the podcast series Planted: Finding your roots in STEM Careers. Dr. Silvia Alvarez-Clare works at The Morton Arboretum, located 25 miles west of Chicago. She collaborates with individuals and institutions all over the world to save the brandegee oak (Quercus brandegeei) from extinction. Dr Alvarez-Clare talks about her career path and discovering her passion in tree conservation and shares how climate change is impacting tree life cycles.
(resource for PLT's PreK-8 Activity Guide: Activity 49—Tropical Treehouse, Activity 50—400-Acre Wood, Activity 55—Planning the Ideal Community, Activity 56—We Can Work It Out, Activity 64—Who Works in this Forest)
PLT's PreK-8 Guide: Teachers' Supplements
Tree Cookie Cross Section
Observe annual growth rings using this Tree Cookie Cross Section of a 102-year-old ponderosa pine from northwest Nebraska to learn about the many changes in a tree's lifetime. Early on, the ring widths show average growth for a tree in arid northwest Nebraska but they began to narrow considerably when the tree was about 20 years old. Too many trees in this area of forest were competing for the same limited supply of resources. A timber harvest in 1927 removed some of the trees, reducing competition, and this ponderosa pine increased its growth as a result. When the drought of the 1930s struck, this once again reduced the available resources for this tree, as evidenced in the reduced ring widths.
Also check out what a delegation of Girl Scouts from Poland discovered when asked "What happened around 1917 that might have changed the way this tree grew?" when they looked at this Western Red Cedar tree cookie at the World Scout Jamboree.
(resource for PLT's PreK-8 Activity Guide: Activity 76 – Tree Cookies)
Forest Diorama
Engage your students in developing their ELA skills and storytelling with this resource Creating a Forest Diorama from Debra Wagner, a 4th grade teacher and PLT School Coordinator at St. Paul Lutheran School in Florida. You'll reach students who would never "picture" themselves in a forest or other habitat! Wagner was named a National PLT Outstanding Educator in 2010.
(resource for PLT's PreK-8 Guide: Activity 8—Forest of the S.T. Shrew and Activity 45—Web of Life)
Branching Out in Working Forests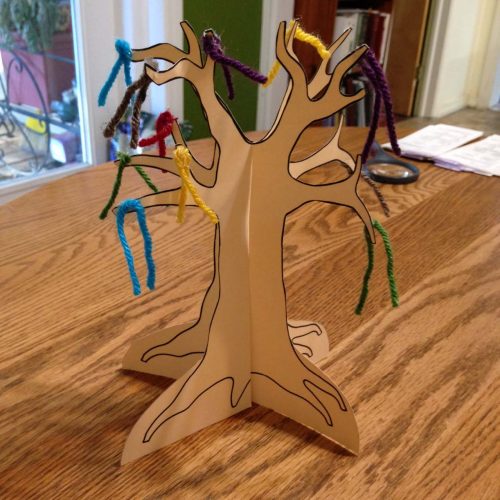 Also created by Debra Wagner, Branching out in Working Forests is a game that students can play to gather information about the value of trees as an agricultural commodity in their state. Students will summarize their stops throughout a 'forest' by practicing writing sentences using fractions or percentages.
Follow these instructions for the game. You'll need some card stock for the tree templates, 6 different yarn colors, scissors and glue. Modify the dice templates and tree station facts as needed with information appropriate to your state.
(resource for PLT's PreK-8 Guide: Activity 32—Forest of Many Uses and Activity 69—Forest for the Trees)
Woodlands Siesta Activity
Shared by Sandy Greene, an environmental educator in Virginia, this Woodlands Siesta activity helps connect students to the outdoors as they create a sound map and see the forest from a different perspective (while lying in a hammock!). Greene suggests this activity be enjoyed as part of a summer afterschool program or day-time camp. It does require some funding to purchase hammocks or you could use blankets or a tarp instead so students feel comfortable lying on the ground.
Greene was named a National PLT Outstanding Educator in 2006.
(resource for PLT's PreK-8 Guide: Activity 4—Sounds Around, Activity 44—Every Drop Counts, and Activity 62—To Be a Tree)
PLT's Southeastern Forests & Climate Change: Missouri Supplement
Missouri has created a supplement to PLT's secondary curriculum Southeastern Forests and Climate Change that provides some Missouri-specific and Midwest background information for the following activities: Activity 2—Clearing the Air, Activity 8—Counting Carbon, and Activity 12—The Carbon Puzzle.
Looking for more resources to support your teaching and PLT's lessons? Subscribe, register, or log in to gain access to all.