Every month we carefully select additional resources and new support materials to enhance Project Learning Tree's lessons. These environmental education resources include videos, educational apps and other interactive online tools, books and posters, teacher-generated materials, and more!
Be sure to check back regularly as we continue to add more "EE Resources".  You can also:
For resources that specifically support remote learning, check out this collection COVID-19: Resources, Tips, and Support.
Online Support Materials for PLT's Explore Your Environment: K-8 Activity Guide
PLT's new Explore Your Environment: K-8 Activity Guide includes 50 field-tested, hands-on activities that integrate investigations of nature with science, math, English language arts, and social studies. Get a copy today by attending a local PLT professional development workshop, or you can purchase it directly on shop.plt.org, from Amazon, and other places where books are sold.
My K-8 Guide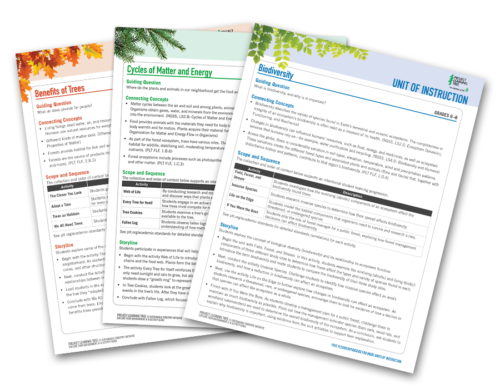 The new K-8 Guide is supported by a free online toolkit and resource hub found at plt.org/myk8guide.
For each activity, you'll find links to:
Curated resources (see some examples below)
Downloadable student pages
Recommended reading
Explicit connections to Common Core State Standards—English Language Arts and Common Core State Standards—Mathematics
NGSS Correlations
Activities in the Explore Your Environment: K-8 Activity Guide provide students opportunities to explore the three dimensions of science–Science & Engineering Practices, Disciplinary Core Ideas, and Crosscutting Concepts. For each of the 50 activities, we've identified where science connections can be found in the activity, explicit NGSS correlations, and a Guiding Question to drive phenomenon-based, three-dimensional learning, which involves exploring the real world through learner-centered, multidisciplinary investigations that promote inquiry and problem solving.
Other resources at plt.org/myk8guide include:
Planning an Investigation student page
Assessment Rubric
Tips for using the Career Corners and Forest Facts
An online Glossary
24 additional Units of Instruction
And lots more!
EE Resources for PLT Activities
Below are some examples of the many resources we've curated for activities found in the new Explore Your Environment guide.
INDIGENOUS CONNECTIONS
Learn how the Minnesota DNR worked with tribes to adapt several PLT activities to include Ojibwe and Dakota culture and knowledge, and get some tips for teaching about Indigenous Peoples with knowledge and respect. Access the Ojibwe and Dakota PLT Lessons that connect students in grades K-8 to forests using Indigenous knowledge and perspectives.
Resource for Explore Your Environment activities: The Closer You Look (Grades K-2), My Green Future and Trees for Many Reasons (Grades 3-5), If You Were the Boss, Our Federal Forests, and Renewable or Not? (Grades 6-8)
VIDEOS
The Tree – A poem for the future of NAAEE
The Tree – A poem for the future of NAAEE is a 3:22-minute whimsical reflection on the power of an idea, written and narrated by New York Times best-selling author Aimee Nezhukumatathil and directed by James Parker to celebrate the 50th anniversary of the North American Association for Environmental Education..
Resource for Explore Your Environment activities: Poet-Tree (Grades 3–5, Variation Grades 6-8)
Why Cities Need Trees
Why Cities Need Trees is a 5:26-minute video that illustrates how trees are an essential part of successful cities. It tells the tale of two ancient cities and the trees that determined their destinies, and the importance of trees in modern-day cities–from helping to protect a city's infrastructure to improving the health of its residents.
Resource for Discover Your Urban Forest and Explore Your Environment activities: Trees in Trouble (Grades 3–5) and Forest in the City (Grades 6-8)
INTERACTIVE TOOLS

En-ROADS
En-ROADS is a climate change solutions simulator, developed by Climate Interactive and MIT Sloan Sustainability Initiative, that gives everyone the chance to design their own scenarios to limit future global warming. It models scenarios for how changes in our energy supply, land-use, transportation, carbon removal, and more, can affect a variety of climate change impacts, from global temperature change to sea level rise. This is a free tool that was developed for policy makers and it includes resources to help educators use it successfully in their classroom with middle and high school students.
Resource for Explore Your Environment activities: The Global Climate and Exploration Energy! (Grades 6-8)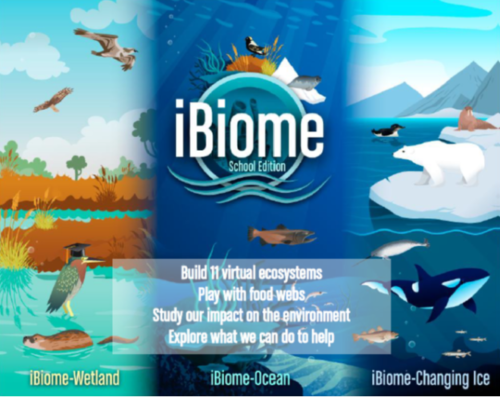 DIGITAL GAMES AND APPS
iBiome Digital Games
The iBiome series of educational STEM games invites students to play while learning about environmental science. Build virtual ecosystems to study human impacts on the environment and explore what people can do to help.
Resource for Biodiversity Blitz and Explore Your Environment activities: Discover Diversity (Grades 3-5) and Field, Forest, and Stream (Grades 6-8)
Seek by iNaturalist
The Seek App uses image recognition technology to identify the plants and animals all around you. Earn badges for seeing different types of birds, amphibians, plants, and fungi and participate in monthly observation challenges.
Resource for Biodiversity Blitz and Explore Your Environment activities: Backyard Safari (Grades K-2), Discover Diversity (Grades 3-5) Life on the Edge (Grades 6-8)


#NatureForAll Trivia Game
The #NatureForAll Trivia Game tests your knowledge on parks and protected areas from around the world with this fun, interactive quiz. Topics include biodiversity, conservation heroes, current events and geography.
Resource for Explore Your Environment activities: Get Outside! (Grades 3-5) Improve Your Place (Grades 6-8)
Litterati
The Litterati app and web dashboard captures litter data through geo-tagged photos. Students can collect, map, & visualize data about litter and engage in impactful activities to help keep your community clean and demonstrate your school's impact.
Resource for Explore Your Environment activities: Peek at Packaging (Grades 3-5), Reduce, Reuse, Recycle (Grades 6-8)

NOAA's Science on a Sphere – Mobile
Download SOS Explorer® Mobile and explore Earth and space from anywhere! Researchers at NOAA developed Science On a Sphere® as an educational tool to help illustrate Earth System science to people of all ages. Show animated images of atmospheric storms, climate change, and ocean temperature to explain complex environmental processes.
Resource for Explore Your Environment activities: Global Goods and Environmental Justice for All (Grades 6-8)
Looking for more resources to support your teaching and PLT's lessons? Subscribe, register, or log in to gain access to all.