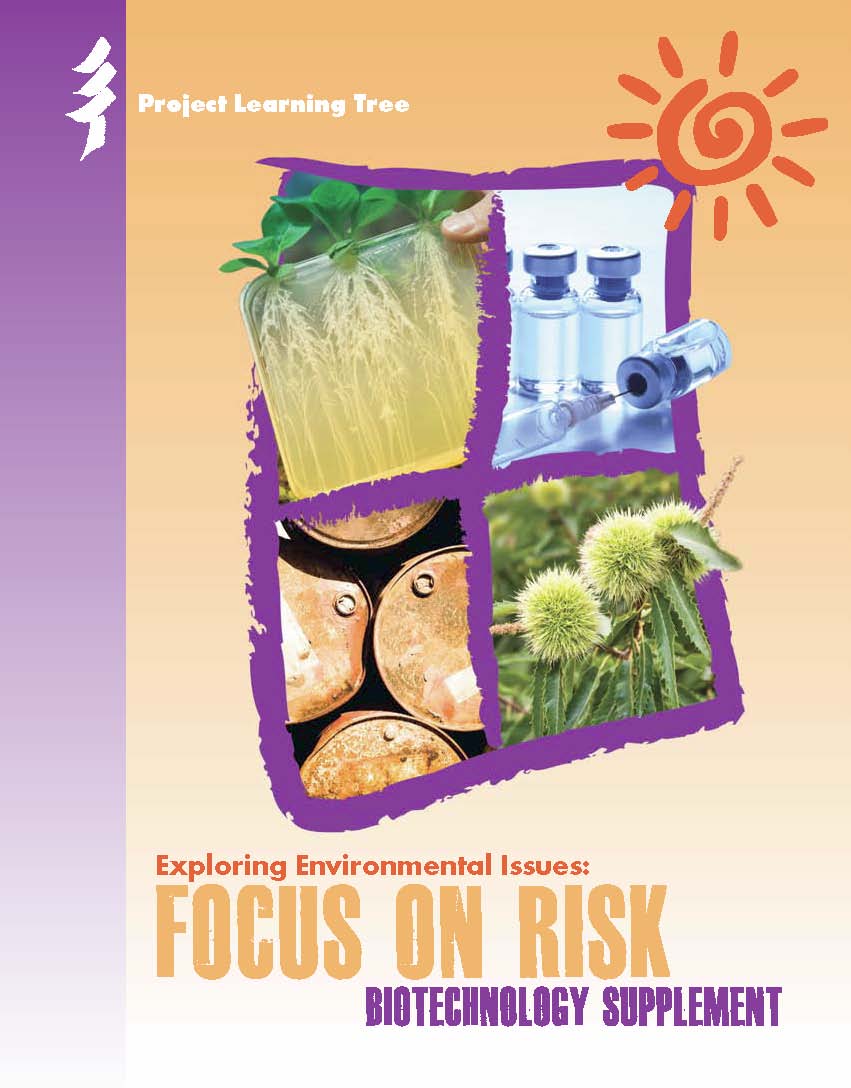 The word "biotechnology" usually conjures images of modern techniques and topics of controversy such as cloning, stem cell research, and genetically modified organisms. However, the practice of manipulating organisms to create a product has long been used by human societies.
Project Learning Tree's Biotechnology supplement is designed for high school and community college educators in the fields of Biology, Environmental Science, Social Studies, and Agriculture. A special effort has been made to construct activities that support instruction in AP Biology, AP Environmental Science, and AP Human Geography. This module was created as a supplement to PLT's Focus on Risk curriculum.
"Biotechnology does much more for us than what is depicted in popular criminal investigation shows on television.  Teaching biotechnology in the classroom can be a wonderful way to increase student interest in science and technology while at the same time showcasing how much biotechnology is part of our everyday lives.  Biotechnology has been with us for a long time, it is here to stay, and with the help of PLT you'll enjoy teaching about it in your classroom!"
– Cindy Ghent, Ph.D., Assistant Professor, Department of Biological Sciences
Towson University, Maryland
Contents
PLT's Biotechnology supplement is comprised of four hands-on activities, and an introductory piece. 
Introduction to Biotechnology
The word "biotechnology" usually conjures imag­es of modern techniques and topics of controversy, however, the prac­tice of manipulating organisms to create a product has long been used in human societies. This introductory piece for educators describes the historical and current uses of biotechnology.
Activity 1: Biotechnology and You
In this activity, students will explore artificial selection, as well as learn how advances in science are allowing increasingly specific methods of genetic manipulation in organisms (genetic engineering). Students will explore the risks and benefits of genetic engineering and concerns that affect what we eat and wear.
Activity 2: Bioremediation
In this activity, students will learn how living organisms have been used traditionally to process materials or to produce certain products or results. Students will also explore how modern bioengineering techniques have been used to mimic natural processes for the cleanup of sewage, oil spills, and other environmental toxins.

Activity 4: Forest Biotechnology
In this activity, students will learn how traditional methods of artificial selection and modern methods of bioengineering have been used in an attempt to improve the quality of forests products worldwide. Students will investigate both the risks and benefits of genetically modifying trees.
Get the Materials
Purchase Exploring Environmental Issues: Biotechnology from our store.
Additional Resources
Subscribe to our newsletter to receive notice of new resources that support this curriculum, plus ideas for engaging students with their environment in both a formal classroom and nonformal setting.
Please remember that all PLT curriculum materials are protected under copyright law. Reproduce responsibly.
Click here for our Content Reprint and Adaptation Policy.