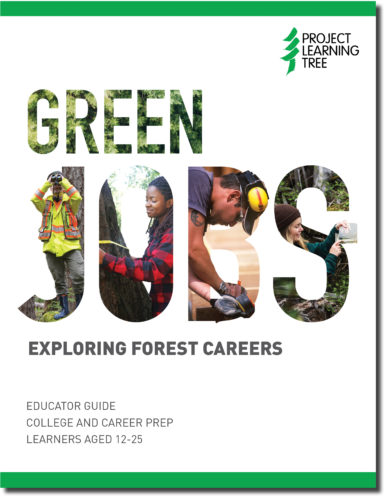 Green jobs represent one of the fastest growing and changing segments of the global economy.
At the same time, today's youth are seeking rewarding careers that help us move towards more sustainable lifestyles and greener economies. The next generation wants to work with purpose. They want to find a job they can be proud of; they want to feel like they are making a difference in the world.
Engage Middle- and High-School Youth in Exploring Green Careers
Help youth discover careers in sustainable forestry and conservation!
Project Learning Tree's Green Jobs: Exploring Forest Careers unit includes four hands-on, NGSS aligned, instructional activities to help youth research forestry jobs, and practice managing and monitoring forest resources.
It is designed for educators, career and guidance counselors, Scouts, 4-H, and FFA leaders, foresters, and job training advisors to use with learners aged 12–25 in settings ranging from community youth programs and school classrooms, to college and career prep.
With our supplemental Green Jobs Online Professional Development Course, you'll learn how to modify the activities for different learners, get tips for adapting the activities for a virtual environment, earn Continuing Education Units or Continuing Forestry Education credits, and more. 
We invite you to preview the Course Welcome for a glimpse of PLT's newest on-demand Online Professional Development Course. 
Green Jobs in Forests
"Green" jobs — defined by the Bureau of Labor Statistics as jobs that produce goods or services that benefit the environment or conserve natural resources, or jobs that use more environmentally friendly processes or fewer natural resources — have outpaced jobs in other categories by almost 250 percent over the last decade.
According to the International Labour Organization, there were 9.8 million "green" jobs in 2017 and by 2030, there will be an additional 15-60 million new green jobs.
Green jobs are not just in the renewable energy, manufacturing, or technology sectors. Some of the greenest jobs involve forests, and Green Jobs: Exploring Forest Careers introduces high-schoolers to the exciting array of career options in this field.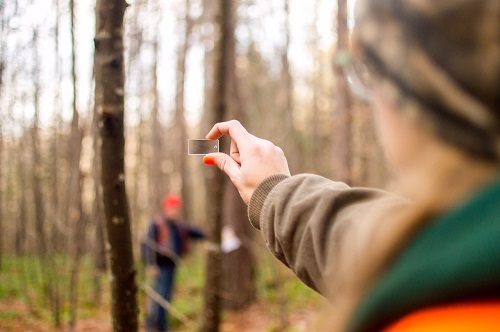 Introducing Forest Jobs
There is a wide array of jobs related to forests, offering opportunities for people with diverse backgrounds, skills, interest areas, and personal qualities. Youth and adults alike might be surprised at the range of green career opportunities. Some of the jobs profiled in Green Jobs: Exploring Forest Careers include:
Arborist
Architect
Environmental Educator
Forester
Forest Engineer
Logger
Lumber Mill Worker
Park Ranger


National Park Service, Flickr

Policy Advisor
Social Media Director
Soil Scientist
Sustainability Manager
Wildland Firefighter
Wildlife Biologist
These jobs that help sustain forest ecosystems and ensure that forest products are produced in the most sustainable way possible also ensure that wildlife habitat is conserved, trees are replanted, and workers are treated fairly.
Learning Activities
Green Jobs: Exploring Forest Careers includes four hands-on instructional activities that help youth explore forest-related careers and get excited about green jobs.
The activities are designed to be flexible. They may be taught as individual, stand-alone lessons or all together as a cohesive unit of instruction. Depending on your program, you may teach them in the sequence provided, switch the order around, or pick and choose components from different activities.
Activity 1 — Who Works in This Forest?
As an introduction to some of the people who work in and on behalf of forests, learners research different forest sector careers to learn what it takes to perform these jobs.
Activity 2 — If You Were the Boss 
Acting as foresters, learners grapple with decisions about how to manage a forest sustainably while serving different needs.
Activity 3 — Monitoring Forest Health
Through a variety of health indicators, learners assess the health of a forest area and see how soil scientists, wildlife biologists, arborists, and other forest professionals monitor forests.
Activity 4 — Seeking Sustainability
Learners explore the concept of sustainability by examining the United Nations' 17 Sustainable Development Goals, while also taking a look at some jobs involved in ensuring forest sustainability.
In addition to Worksheets for learners to complete, Green Jobs: Exploring Forest Careers includes:
A self-assessment of STEM skills encompassing interpersonal as well as technical skills needed in forest careers, and
An interactive, online quiz Find Your Green Job to help youth match their personality type with an array of green jobs opportunities.
Background information about the benefits of green jobs and additional resources for further exploration of green careers
Features of PLT's Green Jobs: Exploring Forest Careers unit
Flexible
Formal and nonformal educators can use this resource in settings ranging from community youth programs and classrooms, to forest tours and field-trips. We have also created Adaptations for Remote Learning for several activities to help educators during COVID-19. To access these PDFs, and other resources for each activity, register (for free!) and log in.
Career Connections
Suggests tools and resources to broaden and/or deepen learners' exploration of forest careers.
STEM Skills
Offers a self-assessment and suggestions for enhancing connections to STEM teaching and learning encompassing technical and leadership skills important for green jobs.
Hands-On
Includes four hands-on instructional activities that help youth explore forest-related careers and get excited about green jobs.
Correlated to NGSS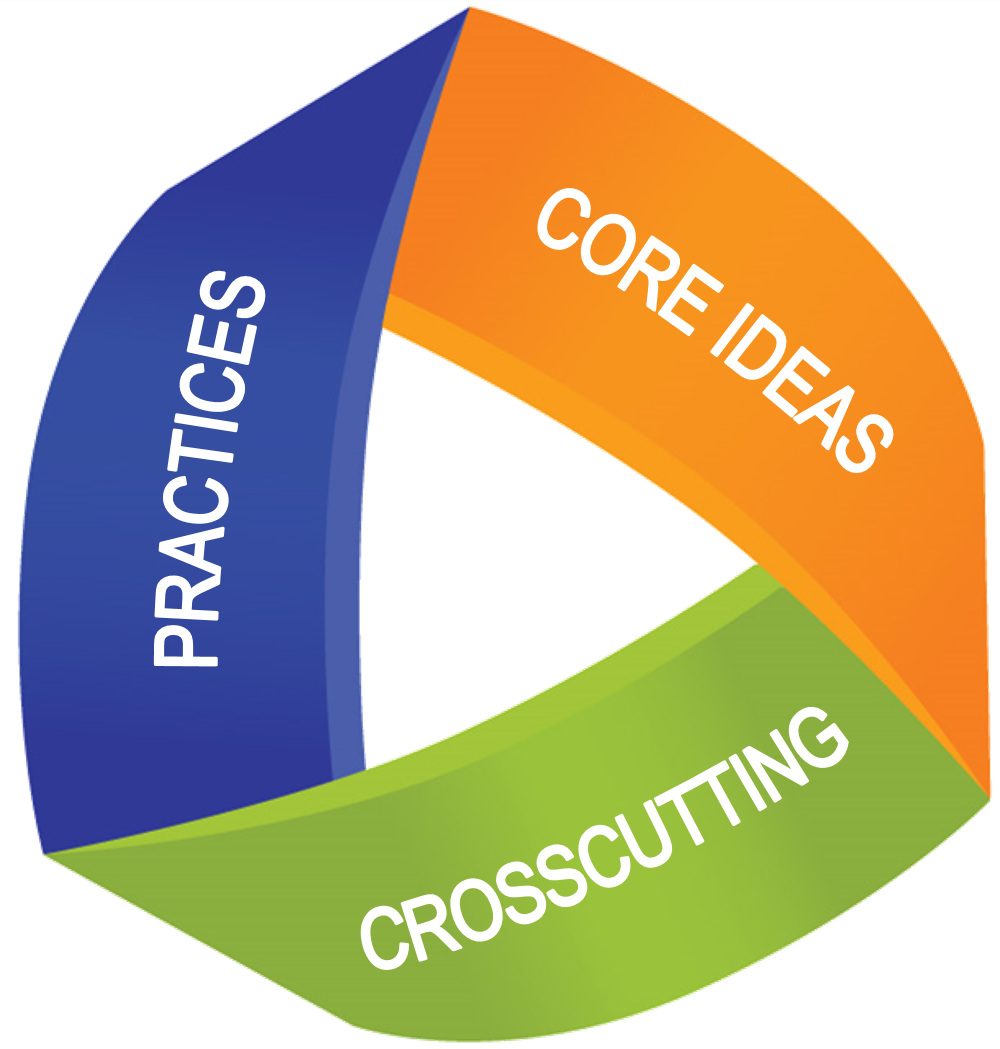 Next Generation Science Standards (NGSS) set the expectations for high-quality science instruction in the U.S. The activities in PLT's Green Jobs: Exploring Forest Careers guide have been explicitly correlated to NGSS to meet the needs of teachers and their students. They support the NGSS approach for three-dimensional teaching and learning of science, and advance a specific NGSS middle school Performance Expectation: MS-ESS3-3, namely that students should be able to apply scientific principles to design a method for monitoring and minimizing a human impact on the environment. 
Download this PLT Green Jobs NGSS Correlations Toolkit. The Toolkit includes guiding questions, a list of science connections, and explicit NGSS correlations for each activity. Each is organized around the three dimensions of science, making it useful for educators even if their state has not adopted NGSS.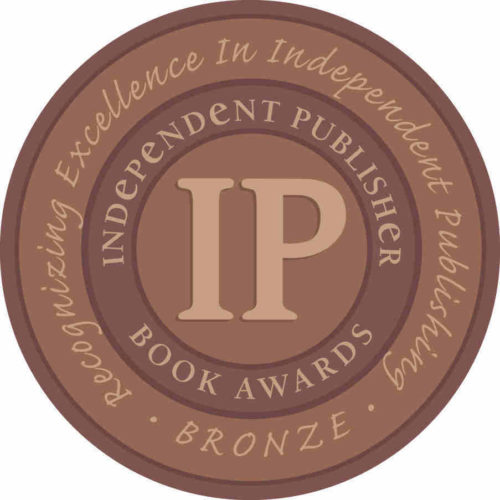 Winner of a 2021 Independent Publisher Book Award in Education: Workbook/Resources
We're proud to announce that Green Jobs: Exploring Forest Careers was chosen for a bronze medal in the 2021 Independent Publisher Book Awards contest in the category Education: Workbook/Resources. For 25 years, the IPPY Awards have recognized excellence in independent publishing.
Get the PLT's Green Jobs Resources Now!
For more information, see How to Use this Resource.
Earn Continuing Education Credit With Green Jobs Professional Development
Our Green Jobs Online Professional Development Course supplements the Green Jobs Guide and demonstrates the best ways to use and adapt the activities, while also giving you the option to earn Continuing Education Units or Continuing Forestry Education credits. The course is eligible for SAF CEFs 1.50 Cat 1 credits.
With the Green Jobs online course, you will be able to explore green careers in the forest and conservation sectors with your learners, anytime and anywhere. 
You will be able to:
Lead Green Jobs Guide activities, whether indoors, outdoors, or remotely
Apply tested tips and tricks when leading the activities
Modify activities to align with your learners and setting
Identify high-quality resources to supplement instruction
Learn more about the Green Jobs online course in our recent news announcement and hike through the Guide with the following video:
Additional Resources
Subscribe to our newsletter to receive notice of new resources that support this curriculum, plus ideas for engaging students with nature in both a formal classroom and nonformal setting.
Please remember that all PLT curriculum materials are protected under copyright law. Reproduce responsibly.
Click here for our Content Reprint and Adaptation Policy.
This resource was created, in part, with support from the USDA Forest Service and the Society of American Foresters.