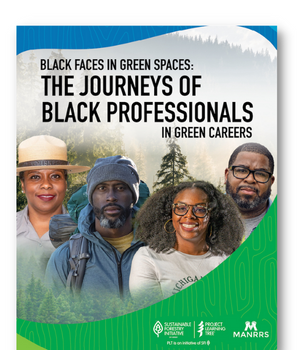 New! Career resource for Black American young adults.
SFI-PLT-MANRRS Black Faces in Green Spaces: The Journeys of Black Professionals in Green Careers is a first-of-its-kind career resource guide developed in partnership with Minorities in Agriculture, Natural Resources, and Related Sciences (MANRRS). The guide introduces youth to the many jobs in the forest and conservation sector through the lens of Black professionals currently working in the sector. 
Individual print copies and boxes of 25 guides are available for purchase. Consider donating a box that PLT will distribute to Historically Black Colleges and Universities, MANRRS chapters, and Title 1 schools. A digital version of the guide is also available to download for free.
Inspire the Next Generation of Green Leaders
The Journeys Guide is designed for middle and high school students, pre-professional youth, parents, and natural resource professionals looking to increase diversity within the natural resources professions. A 2019 U.S. Census Survey found that fewer than three percent of foresters and conservation scientists identify as Black American (Moore, 2019). There is a general lack of awareness of this discipline among communities of color and the lack of awareness of the many contributions made by these same communities. Within this guide, 22 Black professionals share their journeys to their green careers in hopes to inspire the next generation.
What's Included in the Guide
Filled with inspiring stories and profiles, this guide provides the reader with insight on the diverse career paths taken by several individuals who found their way into a green career through their love of nature and the outdoors.
Profiles of Forestry & Conservation Professionals
Over 20 Black professionals from different backgrounds, ages, and disciplines share their journeys to their careers starting with their introduction to nature, the challenges they overcame in the workplace, why mentorship is critical, and their advice to the next generation.
A Brief History of Black Americans in Forestry
There isn't much written history on the contributions of Black Americans in forestry, agriculture, and natural resources; however, many in this community have made major impacts in this sector dating as far back as colonial America. This page shares that history with the reader.
Hidden Figures
Eight hidden figures from the past and present are highlighted to pay homage to some of the trailblazers who are often not recognized.
A Connection to Forest and Human Health

There is a direct correlation between the lack of trees to the poor quality of health in Black and Brown communities. This section highlights those disparities faced by these communities and encourages the reader to take action and make a difference.
Career Factsheets
Green career factsheets are integrated in this guide that summarizes the top 14 jobs in the green job sector included with salary ranges, skills, and education needed for each career.
Additional Resources
Educator's Toolkit
Download the accompanying Educator Toolkit, designed to help upper elementary, middle- and high-school educators, as well as college-level career advisors, use the guide with their students. The toolkit may also be helpful for school guidance and career counselors, homeschooling parents, youth group leaders, or informal educators looking to enhance their students' career explorations. 
To enhance the use of this guide in schools and other settings, PLT offers a set of digital posters spotlighting the professionals profiled.
To learn more about supporting resources for this guide, please visit www.plt.org/journeys.
In addition to creating this resource, SFI and MANRRS worked with several Black small businesses and individuals to construct the guide to capture the essence of these stories while economically supporting Black businesses. Additionally, the SFI-MANRRS Advisory Committee supported the project throughout the development. These individuals are highlighted on the contributions page of the guide.
Professional Development
For more in-depth training and guidance for teaching outdoors and tips for bringing nature indoors, PLT also offers a variety of online and in-person professional development opportunities across the U.S., and in several other countries. For more information, contact your state PLT coordinator.
Get the Guide
This 120-page guide can be purchased from the PLT Shop as an individual print copy or as a box of 25, and a digital copy is available for free.
Price includes shipping & handling. If you are a teacher, librarian, or administrator looking to place an order with a purchase order, please contact PLT's Systems Coordinator at [email protected]
Donate a Box of Guides!
To ensure this guide reaches as many young adults as possible, donate a box of 25 Journeys guides that PLT will distribute to Historically Black Colleges and Universities, MANRRS chapters, and Title 1 schools throughout the United States.