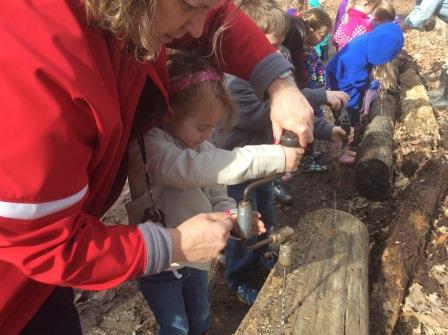 As educators, we teach our students during the nine or so months we have them in our classrooms—but we also aim to create a love of learning that they will carry forward throughout their lives. One way I have found to do that is to find ways to involve parents. 
In my experience as a kindergarten teacher at several Indianapolis schools, I have seen how Project Learning Tree and other environmental education activities can "plant a seed." They are an effective and fun way to instill in children and their families that they have a role to play in taking care of the environment at school, at home, and in the community. 
Three Rules for Involving Parents
Here are a few ideas for involving parents that have worked for me.
1.  Be Welcoming
We educators are so used to our schools and classrooms that we can forget that they are intimidating to some parents. The most important way to involve parents is to make them feel comfortable when they show up.
2.  Give a Choice
Some parents will want to be involved in instruction, others will not. I always tell parents what I need, with lots of leeway based on their own skills and interests.
3.  Use friendly language
In conversation and in written communications, I make our activities sound fun and non-threatening. For example, for a PLT workshop for parents (described below), our flyer invited parents to "learn science the way your kids do."
Three Ideas for Including Parents
At my school, parents often help out during the school day. In many cases, however, parents' schedules or school routines do not make this sort of participation possible. Here are three ways to involve parents outside of school hours—each tried and tested at a different school here in Indiana.
1.  Outdoor Restoration Day
I began my journey in environmental education in 2005 at Indianapolis Public School #102, an inner-city school. The school had an overgrown outdoor schoolyard habitat first created in the 1980s. After getting rid of poison ivy and generally making the area safe for children, I began by involving my kindergarten students in putting in a rock walkway and some flower beds. Their work got the rest of the school excited. 
Building on this excitement, we organized a work day and invited parents to pitch in. On a Saturday, students, teachers, and family members came together to carry the project forward. Parents who couldn't or wouldn't want to help out in the classroom enthusiastically joined us outdoors. In fact, it was a great way to involve some parents who are not English-speakers. They pitched in on the many activities in which language was not a barrier, such as helping to clean out the area and plant.
2.  Parent PLT Workshop
From 2010 to 2014, I taught at Cold Spring Environmental Magnet School. As a Title I school, Cold Spring had a coordinator whose responsibilities included serving as parent liaison. With her help, I conducted a PLT workshop for parents. It gave her a great way to meet parents face-to-face and a great way for me to introduce them to science through PLT. 
The workshop took place from 5 to 7 pm in the cafeteria. We provided free dinner and invited all members of the family, so parents didn't have to find babysitters. One good resource is PLT's Nature Activities for Families. I also adapted a few other PLT activities, including Activity 51, Make Your Own Paper and Activity 5, Poet-Tree from PLT's PreK-8 Environmental Education Activity Guide, in which parents and kids created poetry inspired by trees. Both of these activities were very well received. 
The evening was successful for many reasons: It got parents into the school, spending fun time with their children and teachers.  It introduced them to concepts their children were learning. My colleague appreciated having this novel way to connect with parents. In fact, when we ran past our scheduled 7 pm ending time, no one rushed to leave!
3.  Junior Naturalist Club
I came to Center for Inquiry #84, an International Baccalaureate school, in September 2014. Many parents volunteer at the school during the day, and I have welcomed them into my classroom.
In addition, I launched a Junior Naturalist Club for kindergarten through grade 2. It turns out the club is a great way to involve parents who have helped us create bird and butterfly gardens. 
Backed Up by Research
As educators, most of us see the benefits of involving parents. In fact, research confirms our experience. About 20 years ago, Dr. Joyce Epstein from Johns Hopkins University defined six types of involvement that could lead to improved academic progress, including volunteering and learning as a family at home. In addition, a 2005 meta-analysis available on the website of the Harvard Family Research Project reviewed more than 75 studies on the overall effects of parental involvement on K-12 education. 
However you decide to involve parents, environmental education through PLT is a great way to do it!