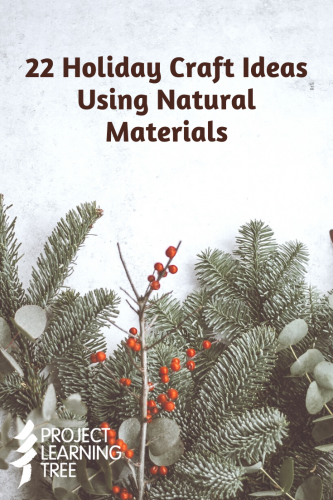 Crafts around the holiday season can include much more than just frosting cookies and building the traditional snowman. When students use natural materials to create fun art projects in the wintertime, it helps them form deeper connections with the outside world. 
As temperatures drop in North America's temperate zones for the winter, trees lose their leaves, evergreens stay evergreen, animals adapt to survive, and snow covers the ground and insulates plants and certain organisms from the cold. 
A few common materials found outside in winter that are perfect for crafting include pinecones, branches, and seed pods.
By transforming these materials into something entirely unique and inventive, students will learn valuable lessons that they'll carry into their futures: 
We can cut down on our waste and help the earth when we use what's already found in nature. 

Just by using our imaginations and experimenting, we can turn ordinary things into something new we envision. 

Making festive, interesting projects doesn't have to cost much at all. 
Use the following ideas for inspiration:
Wreaths
Wreaths' circular shapes represent eternity since they have no beginning or end. They're a popular decoration to celebrate the end of the year and the beginning of winter. In ancient pagan cultures, evergreens symbolized protection and prosperity and are often used to create wreaths today. Add whatever else you like such as rosehips, winterberries, juniper berries, or pinecones for a bit of color to last the season.
1. Evergreen wreaths
Making wreaths with evergreen clippings adds to the eternal symbolism since these trees stay green all year long. 
2. Pinecone wreaths
If you have enough of them, you can even make an entire wreath just out of pinecones! They can be made in a traditional wreath shape, or you can experiment with other shapes such as snowflakes.
3. Wreaths with other natural materials
If evergreen trees aren't common where you live, or if the winter months don't necessarily bring snow, you can use other kinds of objects like leaves and seed pods to create wreaths.
Bird Feeders
Winter can be lonely, but it's also an opportunity to focus on the little things that bring joy. It's also a great time to attract some very hungry feathered friends and give back to nature. Cold winters can be tough for birds that don't migrate, and bird feeders can help them get through cold nights. Food sources can be scarce due to deforestation, so getting a boost of energy from a bird feeder can help them keep warm in colder months. Bird feeders also make great gifts for the holidays!
4. Pinecone bird feeder
 This delicious winter treat is easy to make and uses only a pinecone and a couple simple ingredients. Hang it in the yard (where it's easy to see from a window, if possible) and enjoy visits from all kinds of different bird species like woodpeckers, chickadees, titmice, and warblers. With a little bit of luck and keeping your pinecone well-stocked, you'll get some of the same visitors throughout the whole season. It's an art project that keeps you entertained all winter.
This activity is just one of over 130 experiences from Project Learning Tree's Environmental Experiences for Early Childhood guide that help kids explore the world outside.
5. Bird feeder made from a log
Using natural materials to make bird feeders not only helps them blend in with the environment, but it also makes them very affordable!
Lights, Lanterns, and Luminaries
The tradition of lighting candles, lanterns, and luminaries can be found in many cultures around the world during this time of year:
A candle holder called a Kinara is used in Kwanzaa celebrations. Each of the candles on the Kinara represents the seven principles of African culture and community. 
Bodhi Day, or Rohatsu, commemorates the day the Buddha experienced enlightenment under the Bodhi tree. One of the traditions includes decorating a Bodhi tree with lights and colorful decorations.
Diwali is a festival of lights celebrated by Hindus, Jains, and Sikhs between mid-October and mid-November, coinciding with the new moon. On what is considered the darkest night of the Hindu lunisolar calendar, the lights serve as a reminder of the Hindu belief that good will prevail over evil.
During Hanukkah, the menorah is lit to celebrate the rededication of the Second Temple and the miracle of a one-day supply of oil lasting for eight days and nights. 
Lantern lighting is an ancient tradition used to celebrate the winter solstice and the return of the sun. 
On the four Sundays before Christmas, Christians light a candle on an Advent wreath. Each of the four candles symbolizes hope, love, joy, and peace.
6. Winter solstice lanterns
Celebrate winter and the days getting longer with these winter solstice lanterns.
7. Sand and sea shell menorah or kinara
There are many ways you can make your own menorah or kinara, and using sand and sea shells is one way to use natural materials.
8. Paról – Filipino Christmas lantern
Use sticks to create a traditional Filipino Christmas lantern with materials found in nature. For younger students, opt to create a 2D version instead of the 3D version shown below.
9. Tree luminaries
Bring light to the room with these special luminaries made of twigs that house flameless candles.

Tree ornaments
To work on some fine motor skills, encourage your young crafters to put their own flair into designing these Christmas tree ornaments or other decorative pieces you might see brightening up a house during the holiday season.
10. Christmas gnomes
These adorable Christmas gnomes could easily double as a Santa if you add a beard! 

11. Walnut reindeer
If your class thought Rudolph was a little "nuts" for flying Santa's sleigh in a snowstorm, this is the craft for them.
12. Santa ornaments
Milkweed is highly sought after by pollinators such as bees and butterflies. It's actually the only host plant for the monarch butterfly, so you can see why it's so important. Caterpillars snack on milkweed leaves and grow into beautiful monarch butterflies.
Other natural materials like dried okra pods and peanut shells can also be used to create Santa ornaments.
13. Tree-shaped ornaments
Evergreen trees and Christmas trees often come to mind when we talk about the holidays. These tree ornaments are made out of materials collected from trees themselves!
14. Pinecone angel
With wings and all, this pinecone angel is sure to charm.
15. Star ornaments
With longer nights, there's more time to stargaze in the winter months and natural materials like sticks, pinecones, and milkweed pods can make beautiful star-shaped ornaments.
16. Poinsettia ornament
Poinsettias are native to Mexico and Central America and were used by the Aztecs in religious ceremonies. Since these flowers bloom around Christmastime, they've become a symbol of the Christmas season. They're often called "La flor de Nochebuena" or, "The Christmas Eve flower." In this craft, use pumpkin seeds and navy beans to create a poinsettia ornament. 
Holiday decor and other holiday crafts
17. Reindeer
Grab the hot glue, branches, twigs, and maybe even a winterberry for Rudolph's nose.
18. Nature snowflakes
All it takes is a little white paint to really spruce up these twigs and other choice pieces of nature into a dazzling snowflake.
19. Acorn dreidel
Acorns or small pinecones can be used to make DIY dreidels to celebrate Hanukkah.
20. Pomander balls
A pomander is a perfume ball that people would carry around to protect them against infection and disease. While many different fruits were used in the past, oranges are the main choice for pomander balls today. During the Great Depression, oranges were considered a luxury and were often put in stockings when families couldn't afford other holiday gifts. Adding cloves to oranges can make a natural air freshener, decoration, or gift for the holiday season. Fresh pomander balls can last for several days, and dried ones can last for several years. 
21. Pinecone owls
The mysterious nocturnal creatures are just so adorable in pinecone form. 
22. Frosted Pinecones
Once students learn how to adorn these pinecones with "snow," they will want to frost just about everything. 
More wintertime nature connections
For the times when your students need an energy boost in between winter crafting, we've included a few bonus activities that will add to their connection with the great outdoors.
Activities to complement your natural winter craft adventures:
Learn how evergreens provide food and shelter for animals facing harsh winter conditions and use these ideas to bring your students outdoors in winter and observe wildlife.
Adopt a tree. By "adopting" a tree, your student will gain a greater appreciation and understanding of an individual tree of their choosing and its surrounding ecosystem. Students can track a tree's changing characteristics through all of the seasons by journaling and paying it regular visits. Discover some engaging resources to go along with this Project Learning Tree activity here.
Become a tree. Students will have a blast and imaginations will soar with this Project Learning Tree activity that involves them dressing in a homemade tree costume. An added bonus? They will also learn firsthand the parts of a tree and how it functions.
Study animal tracks with this exercise that shows you how to make your own in the snow, or choose this exercise that uses critical thinking to guide you through which critter tracks are around you and what they mean. 
Explore the melting point of ice, simulate an avalanche, and prepare for winter like a polar bear with these 14 interesting experiments and activities recommended by Project Learning Tree. There's even a winter scavenger hunt! 
See all of the holiday crafts made with natural objects listed in this article and more on this Pinterest board.
Did any of these natural crafts stand out to you? Which ones will you try?