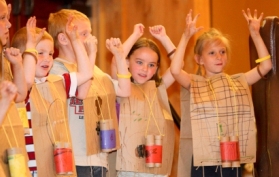 By making a tree costume, children will gain awareness of tree structure and functions.
Doing the Activity
On your next walk, select a tree and ask children to name and identify its component parts (trunk, branch, leaves, bark, roots, etc.).
Collect a few leaves and after heading back inside, invite children to make leaf rubbings by placing leaves (vein side up) on white paper and rubbing over them with the sides of paperless crayons.
Carefully cut out the leaf rubbings, punch a hole in each, and use yarn to string them together into a crown.
Next, use the pattern below to help children create a paperbag vest. This vest can be worn with the leaf crown above to make a tree costume that models real tree parts.
With a child's torso serving as a tree's trunk and their arms as branches, ask children to add these tree parts to their vests:
Bark – glue pieces of bark directly to OR try a bark rubbing on the outside of the vest.
Roots – tape long strands of yarn to the bottom of the vest.
Phloem – glue stirring straws (smaller diameter) to the inside of the vest.
Cambium – attach tissue papeer to the inside of the vest.
Xylem – tape drinking straws (larger diameter) to the inside of the vest.
Heartwood – create a paper chain to wear as a belt.
Ask older children to research phloem, cambium, xylem, and heartwood to better understand the material metaphors used on their tree vests.
Children's Book Recommendation
Are Trees Alive? by Debbie Miller. Discover the ways in which trees and people are alike with this children's book. ISBN: 0802788017 
Get the Full Activity
This family activity is adapted from Project Learning Tree's PreK-8 Environmental Education Activity Guide which can be obtained through an in-person professional development workshop or online course.
All PLT activities are copyright protected. Please remember to reproduce responsibly. 
Click here for our Content Reprint and Adaptation Policy.