It started many years ago.  I was teaching in a small rural elementary school in Kentucky. I had worked hard to establish an outdoor classroom on our school grounds and a science lab in our building.  Back then, both of those were rare in an elementary school setting. To help students feel like scientists at work, I came up with the idea of wearing lab coats.
I painted my first lab coat and wore it into the lab.  My students were enthralled.  It wasn't long before each brought in Dad's over-sized shirts and began painting their learning on them using fabric paints. We wore our lab coats outside the classroom, through the building, and back from lunch. Along the way, everyone stopped my students to ask them about their lab coats. As they discussed their work, I realized they were actually giving other students and teachers a quick review of the science content I had hoped they had learned. The lab coats became a powerful visual tool for our science program.
Modeling Best Practices
I retired from teaching more than ten years ago and went to work at the Center for Integrative Natural Science and Mathematics at our local university, Northern Kentucky University. I now model best practices in science teaching for K-8th grade teachers, while simultaneously working with their students.
If I am modeling best practices, how could I not include Project Learning Tree? The idea of teaching students "how to think, not what to think" is at the heart of our work.  This is when the use of the lab coats began to more extensively take shape.  I started painting lab coats for every concept I was teaching. Many of them relate to specific PLT activities.
The 5 E's
During this time, I began reading about the five "E" model for inquiry. Each E in the model stands for a word that leads students through the inquiry process. They are Engage, Explore, Explain, Elaborate, and Evaluate. 
The lab coats engage students in the learning that was about to take place. Students only have to look at my lab coat and they know what we will be up to that day. Often, during the "teachable moments" students will use my lab coat as a walking bulletin board, to explain major concepts. It really helps when we are down a trail or at a pond to use the visuals on the coat.
It wasn't long before the students stopped calling me Mrs.  Hart and began referring to me as Ms. Frizzle , the eccentric schoolteacher that takes her class on wondrous educational field trips with the help of her very own "magic school bus"!
Spreading the Idea
The lab coats have really caught on. I have now painted about 25 different lab coats. It has become my signature. I do not walk into a school or begin a workshop without wearing one. 
As part of my job, I work with pre-service teachers and facilitate professional development opportunities for them. All of the participants want to make their own lab coats. I can't tell you how many requests for lab coat painting parties I have had by pre-service teachers. 
I also help lead trainings for other educators interested in becoming PLT workshop facilitators. These facilitator trainings are often held over a couple of days at remote facilities in our beautiful parks and lodges. I often bring along lab coats for painting in the evening. Imagine the discussions that go on as participants relax and start painting. At the end of the workshop, we have a red carpet walk for participants to model and discuss their lab coat as a way to share their learning from the workshop. It is a powerful closing.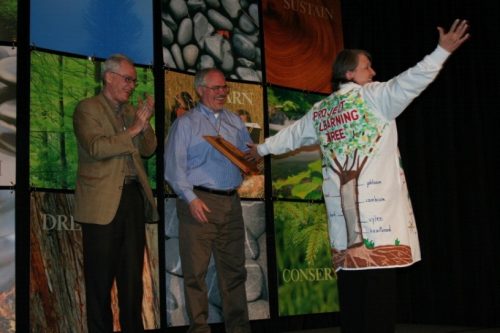 When I was packing for Lake Tahoe to attend PLT's annual conference, I was considering what to wear to accept the Project Learning Tree National Outstanding Educator Award at a special luncheon.  It didn't take me long to decide that I had to come as myself and accept the award in one of my lab coats.  It is who I am and what I do.