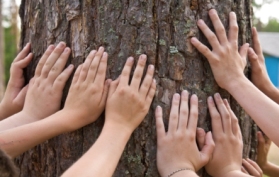 Discover shapes and textures in nature using trees at a local park, a mystery box, and the sense of touch.
Doing the Activity
Before venturing outdoors with children, take a walk yourself and find an area where a few different tree species grow.
Collect one or more objects from the ground underneath the trees.
Place the objects in a "mystery box" so the items can be felt but not seen.
Take the children to your collection spot, have them feel the items in the mystery box, and challenge them to search the collection area to find matching objects.
Ask the children:
What is important about your sense of touch? How do you use it?
What would life be like without your sense of touch?
Can you identify objects by only feeling them?
You can also bring along a blindfold and have children examine trees using only their hands. Can similarities and differences be found?
Resources
Trees, Leaves, and Bark by Diane Burns, ISBN: 1559716282
A book about the unique characteristics of a few American trees.
Get the Full Activity
This family activity is adapted from Project Learning Tree's PreK-8 Environmental Education Activity Guide which can be obtained through an in-person professional development workshop or online course.
A Collection of Fun, Easy to Do Outdoor Activities for Families
Our 58-page guide contains 36 family activities to try while visiting a local park, walking in the forest, or exploring your backyard—plus activities to do around your home and indoors, when you can't get outside.
All PLT activities are copyright protected. Please remember to reproduce responsibly. 
Click here for our Content Reprint and Adaptation Policy.