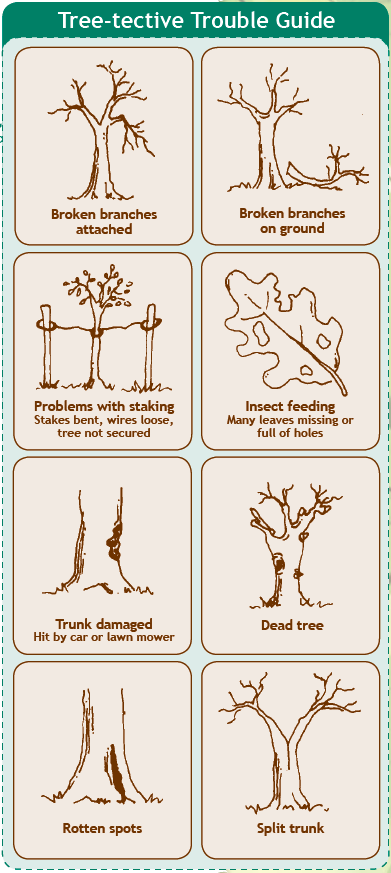 Become "tree-tectives" (tree detectives) by first examining neighborhood trees for signs of poor health and then investigating actions to help trees in trouble.
Doing the Activity
When a person is ill, we look for symptoms to help identify what is wrong.
Help children brainstorm causes, symptoms, and cures for their past ailments, or perhaps those of a family member. Together, explore:
What caused the illness and what were its symptoms
How did the person get better? What was the cure?
Could this illness be prevented in the future? If so, how?
Now, work with children to compare elements that keep humans healthy with those that keep trees healthy.
For example, trees require some of the same things people need to grow and thrive. They need plenty of water, nutrients,room to grow, and a stress-free environment.
When a tree is stressed, it exhibits symptoms that can help determine the problem.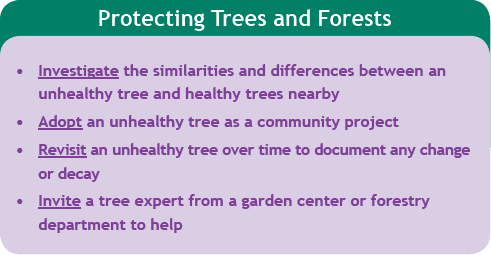 Plan a walk down a tree-lined city sidewalk, in a park, or in the woods, paying particular attention to trees and their symptoms along the way.
Children can use the images on this page to identify some signs of unhealthy trees.
They should take notes and make sketches of their findings to try and identify what caused the damage. 
Get the Full Activity
This family activity is adapted from Project Learning Tree's PreK-8 Environmental Education Activity Guide which can be obtained through an in-person professional development workshop or online course.
All PLT activities are copyright protected. Please remember to reproduce responsibly. 
Click here for our Content Reprint and Adaptation Policy.