September 11, 2018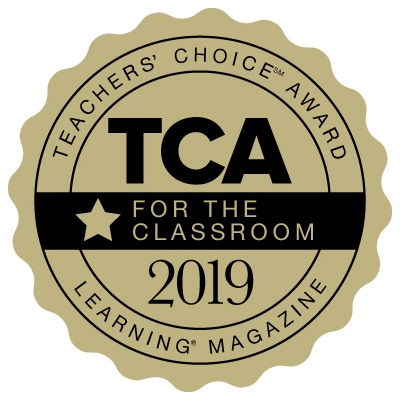 Project Learning Tree's Energy in Ecosystems curriculum for grades 3-5 has been selected a Learning ® Magazine 2019 Teachers' ChoiceSM Award for the Classroom winner! Project Learning Tree is an initiative of the Sustainable Forestry Initiative.
For 25 years, the Learning® magazine Teachers' Choice Awards have heralded the very best in classroom-tested, teacher-recommended products. Each year a nationwide panel of teacher-judges names the standouts in books, classroom supplies, educational games, software, websites, and supplemental materials that teachers need for their classroom. For the 2019 awards for the Classroom, 27 winners (including products from Scholastic and National Geographic, for example) were chosen based on their scores from the evaluations done by a panel of teachers across the country.
Teachers' Evaluation Comments
Teachers who evaluated Energy in Ecosystems praised the unit.
"The Energy in Ecosystems by Project Learning Tree is a fantastic online resource for students in grades 3-5. There are many things I love about it, but I would rank the following as my favorite parts: it's all online, it is super engaging, targets the NGSS standards which are how my school's science standards are aligned, and it also integrates the Common Core standards for English and Math."
Another reviewer said, "The information is extensive and is laid out so concisely and has so many activities to choose from. My students were totally engaged each time I used an activity from the unit. The book lists were great for integrating the activities into our literacy units and everything was adaptable!"
Another teacher who tested the unit with students said, "The students' interests were really kept alive with this program, probably because it was mostly online! I also loved that there were hands-on activities as well, as I feel that science should always be hands-on!"
When asked how the product could be improved to better support their curriculum, the comments from the teacher-judges were unanimous. "I cannot think of a way to improve this product. I loved it as-is," said one teacher.
After receiving top marks, PLT's Energy in Ecosystems e-unit was awarded a 2019 Teachers' Choice Award for the Classroom, earning the seal of approval for outstanding educational value.
About Energy in Ecosystems for Grades 3-5
PLT's Energy in Ecosystems e-unit investigates the ways in which organisms depend on each other to survive and thrive. Students focus on forests—one of the largest and most complex types of ecosystems—and come to understand some of the interactions present in all ecosystems. In doing so, they learn to appreciate the natural systems on which we depend and begin to widen their circle of compassion to include all of nature. Learn more.
About the Teachers' Choice Awards
Here's more information about the Teachers' Choice awards from Learning magazine.
What is the history of the Teachers' Choice Awards?
In 1994, Learning® magazine introduced the first Teachers' Choice Awards program. Over the years, the program has grown to become one of the most recognized and prestigious awards in the educational market. For 25 years, the Learning® magazine Teachers' ChoiceSM Award has spotlighted the very best in classroom-tested, teacher-recommended products.
How are the products evaluated?
A team of teachers evaluates each product in the classroom. The products are evaluated on quality, instructional value, ease of use, and innovation.
How are the winners selected?
Each product is evaluated on its own merit. Only those products that meet Learning Magazine's teachers' stringent standards are chosen to receive a Teachers' Choice Award. 
This is the second time PLT has won a Teachers' Choice Award. In 2010, PLT's Environmental Experiences for Early Childhood guide and CD was awarded a 2011 Teachers' ChoiceSM Award for the Classroom.
PLT is thrilled we made the grade as thousands of teachers trust the TCA seal of approval. CONGRATULATIONS to all!
Get PLT's Energy in Ecosystems e-unit now!